Wholesale Stone Distributors
Suppliers to the natural stone industry are a critical segment of Natural Stone Institute membership and consequently the benefits provided to suppliers are plentiful. The Natural Stone Institute represents the entire natural stone supply chain (from the quarries to maintenance) — which means it is highly likely that many of your customers are Natural Stone Institute members too. When you review the list of supplier benefits showcased below, remember your membership supports services provided to your customers (e.g. fabricators, installers, restoration professionals, etc.), as well as to your firm.
As a member, we thank you for your support! The Natural Stone Institute is the largest trade association in the world representing the dimension stone industry, and for over 65 years, it has been a leader in providing advocacy, networking, marketing/publicity, information/education, professionalism and stone promotion.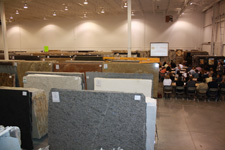 ---
Top Distributor Benefits...
Access, networking, technical support, promotion, discounts, referrals, money savings business services, and supporting the industry are among the top benefits enjoyed by distributor members.
If you have any questions about Natural Stone Institute member benefits, feel free to contact our member services team at membership@naturalstoneinstitute.org or 440-250-9222.
---
Building a Better Industry
Natural Stone Institute membership is powerful. It affords the industry the power to collectively address issues that no one company can tackle on their own. Members subscribe to a code of ethics, proudly display the member logo as the symbol of trust and authority in the natural stone industry, and look to Natural Stone Institute membership as a way to give back to the industry. The natural stone industry needs a strong association to help it to fully succeed and grow. Member firms build a better industry through the Natural Stone Institute.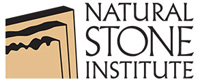 Join your industry colleagues in building a better industry.
---
Supporting Safety Initiatives
Several stone distributor members are actively engaged in several Natural Stone Institute safety committees to develop training resources their employees and for their fabricator customers. In 2011 the Natural Stone Institute will be introducing both English and Spanish versions of the "Safe Stone Slab Handling II" video.
"This is the most comprehensive slab safety program of all time. The amount of effort and dedication that went into this initiative should be commended with the highest honor. This is a wakeup call for the stone industry and this program should be the foundation in every slab handling institution around the world." — Jim Nikolopoulos, Walker Zanger
"We care about our customers, we care about our customers' customer. A safe and healthy industry is good for all of us. This video stresses the importance of safety for everyone's sake." — Gian Luca Fiori, Marble and Granite Inc.
The Natural Stone Institute has several opportunities for stone distributors to get involved in ongoing safety initiatives.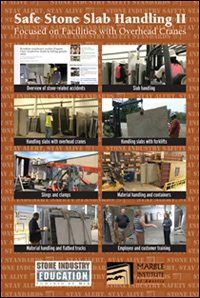 New slab handling video developed and funded by nine stone distributors for the industry.
---
StonExpo Discounts
Natural Stone Institute members receive preferred rates every year for exhibiting at StonExpo/Marmomacc Americas allowing them to pay so much less for booth space that Natural Stone Institute membership typically pays for itself in StonExpo discounts alone.
StonExpo takes place in Las Vegas annually at the end of January.
Natural Stone Institute members SAVE $250 for each 10'x10' booth — the savings for many distributor members exceeds their annual dues.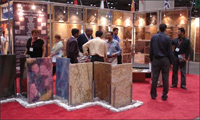 MS International saved more than 6 times their membership fee on exhibit space at StonExpo by being a member.
---
Money Saving Business Services
Shipping
Save money on shipping costs by using the services of FedEx®, Yellow Transportation, and UPS Freight. Even if you ship only occasionally, the Natural Stone Institute Discount Shipping Program is free to Natural Stone Institute members. When signing up you may also want to inquire about the standard, select, and special trade show shipping program. Learn more.
Other Business Programs
The Natural Stone Institute also offers discounts on collections, credit card processing fees, employment practice liability insurance, office supplies and print services, online resume and job posting, utility audit, and website optimization. Learn more.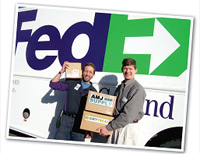 AMJ Supply has been saving thousands of dollars in shipping costs with the Natural Stone Institute Shipping Program. The money saved pays their Natural Stone Institute membership many times over.
---
Access to Natural Stone Institute Members
As part of the Natural Stone Institute "community," you will stay informed, explore new markets, and showcase your business to other Natural Stone Institute members worldwide. Many distributors utilize the Natural Stone Institute newsletter, technical publications, and industry reports to stay informed. Learn more.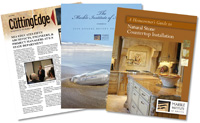 ---
Networking
To compliment access to Natural Stone Institute members, the Institute provides distributors with a number of networking opportunities to connect with customers. The Natural Stone Institute holds many face-to-face events at several industry trade shows and regional educational seminars around the country. The online membership directory, social media sites, and other electronic communication tools connect distributor members with buyer members.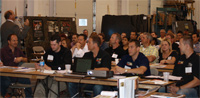 Mondial Granite & Marble hosts a fabricator educational event at their facility in Calgary — a great way to connect with customers.
---
CEU Education
Many distributor members utilize the Natural Stone Institute's education program to network with key stone industry customers. Yet others, who also connect with members of the architectural and design communities, find value in the Natural Stone Institute's CEU (continuing education units) program for architects and designers. Learn more.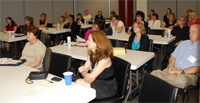 Houston-based MCA Systems hosts a Natural Stone Institute CEU class for interior designers followed by tour/reception at their facility.
---
Sponsorships and Advertising — Reach Professionals and Consumers
Many distributor members showcase their company through advertising and/or sponsoring key industry events. Advertising in the newsletter, banner ads, industry events, and awards programs are just a few of these promotion efforts.
Consider the Natural Stone Institute website as a conduit to expanding your brand image. When you support an industry program, your company logo is always showcased. Learn more.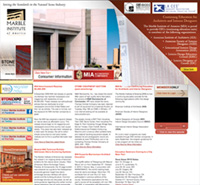 the Natural Stone Institute website averages over 26,000 unique visitors monthly.
---
Supporting Distributor Customers
Fabricators/Installers
Fabricators make up the largest customer group served by distributor members. The Natural Stone Institute has many programs to support fabricator/installers including the coveted accreditation program, awards programs, education, training, financial benchmarking surveys, safety programs, and much more. Many distributors find ways to support these initiatives simply because they are critical to the success of their customers. Ask how you can support these programs.
Others
Natural Stone Institute members also include quarriers, equipment/tooling/chemical suppliers, restoration/maintenance professionals, and importer/exporters. Natural Stone Institute membership helps distributors connect with these industry segments too.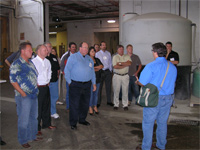 Mont Granite, a Cleveland-based distributor, recently sponsored an OSHA-guided tour of local fabrication shops to showcase safety best-practices for their customers.
---
Sharing Technical Expertise
Many distributors lend their technical expertise on Natural Stone Institute technical committees to assist with writing Natural Stone Institute Technical Bulletins. These bulletins provide an ongoing educational resource to Natural Stone Institute members and the design community at large. Upcoming topics vary covering such subjects as joint sealant design use, air barriers, insulation, crack isolation products, portland cement, flashing designs, etc. They include basic information and will clarify and detail these sometimes troublesome and confusing subjects.
Other volunteer opportunities are available. Learn more.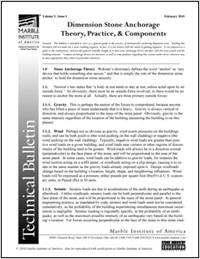 ---