MIA+BSI Partners with Basics/Mines for Compendium of World Dimension Stone Data
Contact: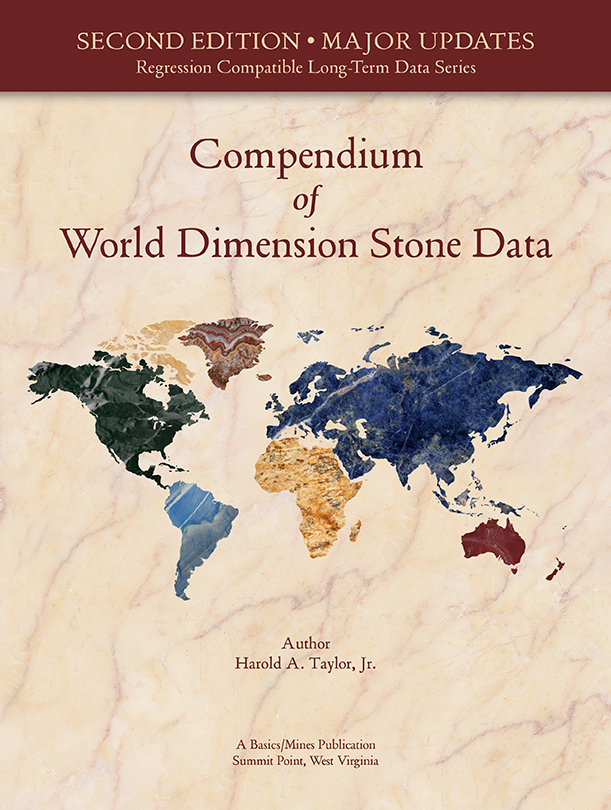 FOR IMMEDIATE RELEASE
(MIABSI0158)
Oberlin, OH, and Chestertown, NY, October 4, 2016 —MIA+BSI: The Natural Stone Institute has announced that Compendium of World Dimension Stone Data—2nd Edition is now available for purchase in the association bookstore.
Compendium of World Dimension Stone Data, written by Harold Taylor and published by Basics/Mines, provides statistical information for dimension stone. Taylor states: "The second edition of the Compendium is an irreplaceable and vital reference source for anyone needing to analyze a dimension stone-related market, especially mathematically." Data is organized by country and includes import and export statistics, production and consumption rates, and a variety of graphs. The newly-expanded second edition of Compendium provides extended statistical coverage, including carefully-selected long term data series that are regression compatible.
A full download of Compendium of World Dimension Stone Data—2nd Edition can be purchased online at www.naturalstoneinstitute.org/compendium.
###
About MIA+BSI
MIA+BSI: the Natural Stone Institute serves more than 1900 members in 55 countries who represent every aspect of the natural stone industry, offering them a wide array of technical and training resources, professional development, regulatory advocacy, and networking events. Two prominent publications—the Dimension Stone Design Manual and Building Stone Magazine—raise awareness in both the industry and the design communities for the promotion and best use of natural stone. Learn more at www.naturalstoneinstitute.org.