CEU Program Names Realstone Systems 2016 Educator of the Year
Contact:
MIA+BSI: The Natural Stone Institute
(440) 250-9222
networking@naturalstoneinstitute.org
FOR IMMEDIATE RELEASE
(MIABSI0176)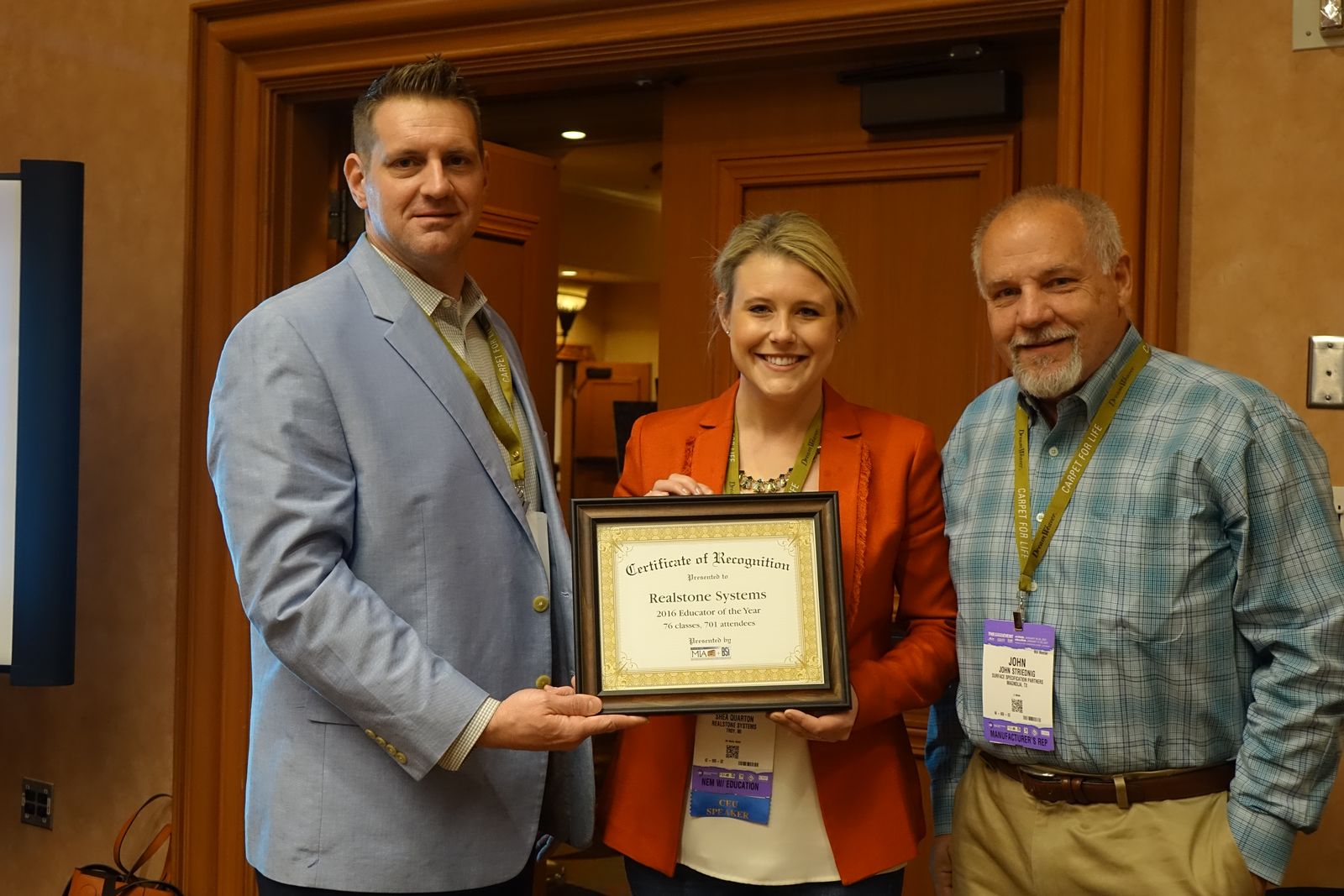 Shea Quarton and John Striednig accept the 2016 Educator of the Year Award from MIA+BSI Education Committee Chair, Rob Bacon (Daltile).
Oberlin, OH and Chestertown, NY, February 23, 2017—Realstone Systems of Troy, MI has been named 2016 Educator of the Year for the MIA+BSI CEU program for the second year in a row. The company presented a total of 76 CEU classes in 2016, a group effort among ten members of the Realstone team led by Shea Quarton, John Striednig, and Jack Millea. Kevin Mahoney, VP of Sales with Realstone Systems commented: "The MIA+BSI CEU courses allow Realstone Systems the ability to start and maintain many successful A&D relationships. While we have impactful products, the ability to get them in front of influencers and decision makers is greatly aided by the class offerings."
2016 was the strongest year for the CEU program to date, with a total of 485 CEU classes held and 5,126 architects and design professionals educated. "This success is partially thanks to the merger of MIA and BSI's CEU programs. It is also an indicator that using education to promote your stone company is working and members are catching on," said CEU Administrator at MIA+BSI, Sarah Gregg.
Three speakers were also honored for their outstanding efforts in educating architects and designers in 2016. Shea Quarton of Realstone Systems, Cynthia Saxe of European Marble & Granite, and Phil Varlese of M S International each received certificates of recognition for their achievements. Quarton commented: "The CEU program has offered me opportunities to present to and meet with some of the largest and most influential firms in the world. Because of this informative course, I have been able to work with some incredible architects and designers who are passionate about using natural stone. It is an invaluable resource!" Varlese echoes these sentiments: "As someone with less than 2 years working in A&D, I found that offering continuing education credits was the best way to get me introduced to some of the firms, and working with MIA+BSI has afforded me that opportunity."
To learn more about the CEU program, please visit www.naturalstoneinstitute.org/ceu.
###

About MIA+BSI
MIA+BSI: the Natural Stone Institute serves more than 1900 members in 55 countries who represent every aspect of the natural stone industry, offering them a wide array of technical and training resources, professional development, regulatory advocacy, and networking events. Two prominent publications—the Dimension Stone Design Manual and Building Stone Magazine—raise awareness in both the industry and the design communities for the promotion and best use of natural stone. Learn more at www.naturalstoneinstitute.org.