MIA+BSI Launches Natural Stone Testing Lab
Contact:
MIA+BSI: The Natural Stone Institute
(440) 250-9222
networking@naturalstoneinstitute.org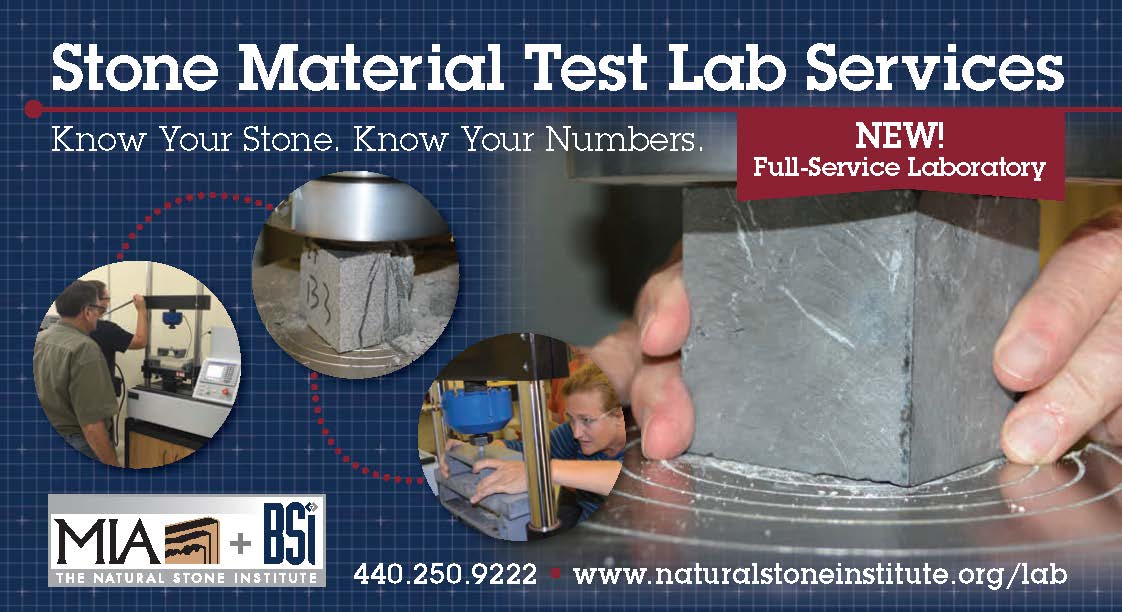 FOR IMMEDIATE RELEASE
(MIABSI0181)
Oberlin, OH, and Chestertown, NY, May 9, 2017—MIA+BSI is proud to announce the creation of a natural stone testing lab. This lab, powered by the association, offers state-of-the-art testing and reporting capabilities for industry members who are introducing new stone, need project-specific testing, or have outdated technical data. Published in June 2014, ASTM C1799, Guide to Dimension Stone Test Specimen Sampling and Preparation, recommends that test data used for stone performance evaluation be generated within the previous three years.
Special pricing for testing is available for MIA+BSI members, large volume orders, and bundled packages. All testing is performed in-house in MIA+BSI's lab. Testing services are available for the following:
• ANSI A137.1 Dynamic Coefficient of Friction Using the BOT 3000
• ASTM C97 Absorption and Bulk Specific Gravity of Dimension Stone
• ASTM C99 Modulus of Rupture of Dimension Stone
• ASTM C170 Compressive Strength of Dimension Stone
• ASTM C880 Flexural Strength of Dimension Stone
• ASTM C1353 "Abrasion Resistance of Dimension Stone Subjected to Foot Traffic Using a Rotary Platform, Double-Head Abraser"
• ASTM C1354 Strength of Individual Stone Anchorages in Dimension Stone
• Freeze/Thaw Testing
MIA+BSI Technical Director, Chuck Muehlbauer, stated: "We believe that MIA+BSI members will find value receiving testing services from its own association. Simply stated, money spent on required testing will stay in the industry. Additionally, the lab will further afford our technical department with the means to produce technical studies and reports of value to the membership and industry."
For a quotation and/or additional information on testing services, please contact Dacia Woodworth (dacia@naturalstoneinstitute.org). Learn more at www.naturalstoneinstitute.org/lab.
###
About MIA+BSI

MIA+BSI: the Natural Stone Institute serves more than 1900 members in 55 countries who represent every aspect of the natural stone industry, offering them a wide array of technical and training resources, professional development, regulatory advocacy, and networking events. Two prominent publications—the Dimension Stone Design Manual and Building Stone Magazine—raise awareness in both the industry and the design communities for the promotion and best use of natural stone. Learn more at www.naturalstoneinstitute.org.