Natural Stone Institute Announces 2017 Pinnacle Award Winners
Contact:
Natural Stone Institute
(440) 250-9222
networking@naturalstoneinstitute.org
FOR IMMEDIATE RELEASE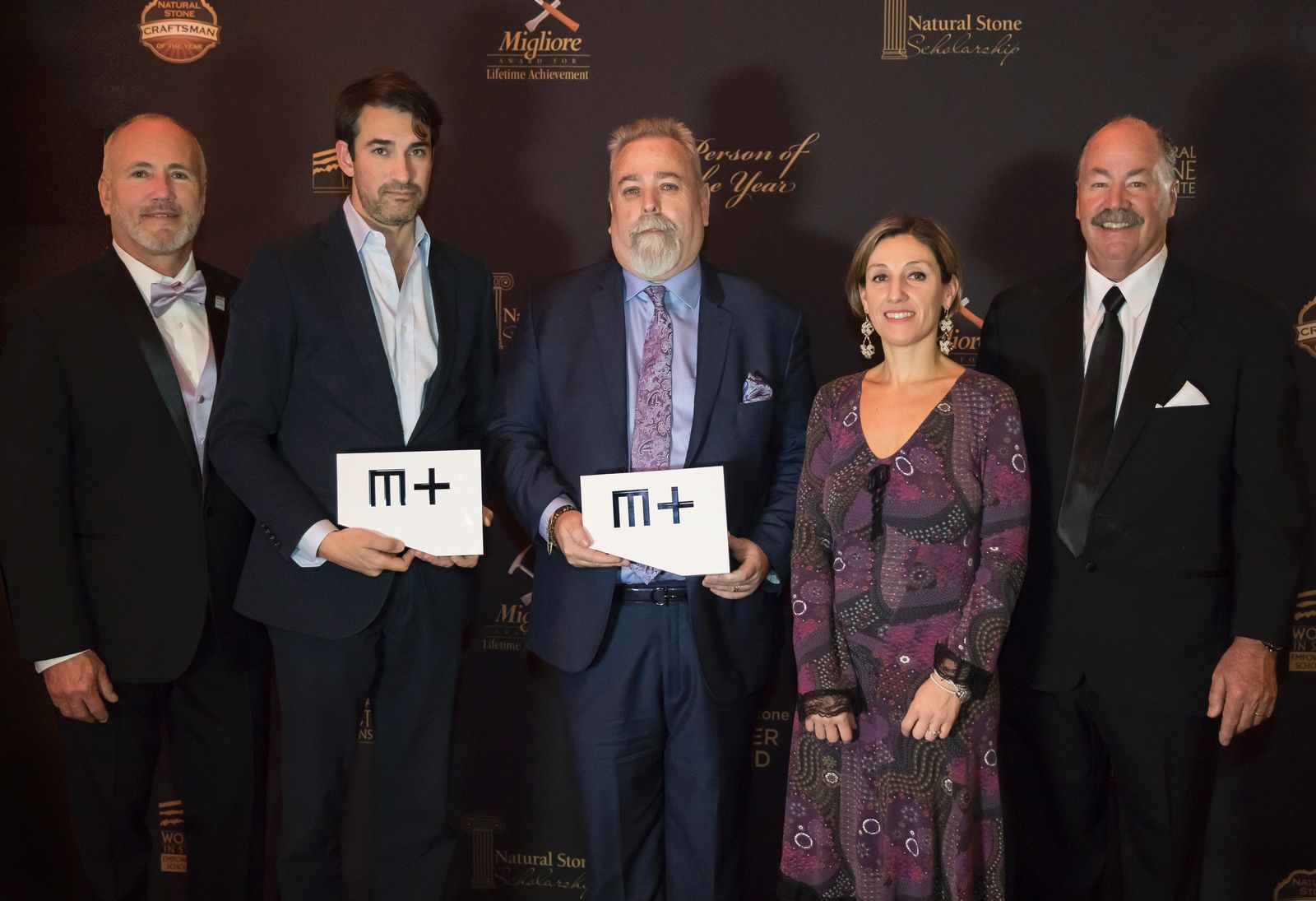 Filipe Pereira (Zaha Hadid Architects), Colin Addley (Port Morris Tile & Marble), and Chiara De Luca (Marmomac) with 2017 BSI President Daniel Wood and 2017 MIA President Jon Lancto.
Oberlin, OH and Chestertown, NY, February 13, 2018—
The winners of the 2017 Pinnacle Awards were announced at the Natural Stone Institute Awards Ceremony during TISE 2018 in Las Vegas, NV. For the tenth year, a Grande Pinnacle Award was presented to the best overall project. The 2017 Grande Pinnacle Award was presented to Port Morris Tile & Marble (Bronx, NY) for their work on the 520 W 28th Street Lobby Feature Wall in New York City.
Envisioned and designed by late renowned architect Zaha Hadid, the 520 W 28th Street project is a futuristic and upscale residential condominium building developed by New York City real estate firm, Related Companies. Apart from the stone work in the condominium's luxurious apartments, the client also commissioned the engineering and execution of an artistic feature stone wall and matching floor design in the lobby area. Artfully carved from Grigio Brasile marble, the wall creates a breathtaking piece of art that expands a dramatic 34 feet across the lobby. This stone was chosen in part due to its highly durable characteristics, as well as its beautiful smoky grey color tones.
The initial phase of the project started with sourcing marble blocks in Greece that were just the right color variations and quantities for the monochromatic design. The next steps involved working closely with Hadid's team to refine the layouts required to accommodate the sizeable blocks, as well as to allow for proper installation of the large three-dimensional portion of the wall.
From Greece, the stone was shipped to Italy for a highly detailed fabrication process, then carefully transported via airfreight to New York, where the expansive blocks of marble were expertly installed like one big vertical puzzle.
The 520 W 28th Street feature lobby wall project exemplifies unique collaboration of creativity, experience and craftsmanship and is now a standing landmark that represents how an inspired vision combined with skill and engineering can push stone design to the limits.
The judges appreciated the beautiful design and flawless execution of this project, calling it a "careful celebration of the stone's natural characteristics." They also called it one-of-a-kind, noting that "the characteristics of the marble used is a big part of the success of the execution."
Eleven Pinnacle Awards of Excellence were given out during the ceremony. The winners are as follows.
Commercial Interior
Euromarble
Carrara, Italy
Brookfield Place Tower 2
Perth, Australia
Commercial Interior
Camarata Masonry Systems Ltd.
Houston, TX
609 Main
Houston, TX
Commercial Interior
Masonry Pte. Ltd.
Singapore
Guoco Tower
Singapore
Commercial Exterior
ROCAMAT Pierre Naturelle
L'Ile-Saint Denis, France
The Russian Orthodox Spiritual and Cultural Center of Paris
Paris, France
Commercial Exterior
Coldspring
Cold Spring, MN
Boston Children's Hospital
Boston, MA
Commercial Exterior
ABC Worldwide Stone, LLC
Brooklyn, NY
Perry World House
Philadelphia, PA
Commercial Exterior
Coldspring
Cold Spring, MN
Riverside Roundabout
Los Angeles, CA
Residential
3D Stone, Inc.
Bloomington, IN
V House
Residential
Stones and Roses International Co. Ltd.
Samutprakarn, Thailand
Baan Phetkasem
Thailand
Renovation/Restoration
Marmi Natural Stone
Norcross, GA
Recreation Pier Baltimore
Baltimore, MD
Renovation/Restoration
H E Satterwhite
Richmond, VA
Buckingham County Primary & Elementary Schools at the Carter G. Woodson Education Complex
Dillwyn, VA
The Natural Stone Institute would like to thank the sponsors of the 2017 Pinnacle Awards: Marmomac (Grande Pinnacle Award), MAPEI (Commercial Awards), GranQuartz (Residential Awards), and Coldspring (Renovation/Restoration Awards).
###
About the Natural Stone Institute
The Natural Stone Institute is a trade association representing every aspect of the natural stone industry. The current membership exceeds 2,000 members in over 50 countries. The association offers a wide array of technical and training resources, professional development opportunities, regulatory advocacy, and networking events. Two prominent publications—the Dimension Stone Design Manual and Building Stone Magazine—raise awareness within the natural stone industry and in the design community for best practices and uses of natural stone. Learn more at www.naturalstoneinstitute.org.