Coldspring Named Natural Stone Institute CEU Educator of the Year
Contact:
Natural Stone Institute
(440) 250-9222
networking@naturalstoneinstitute.org
FOR IMMEDIATE RELEASE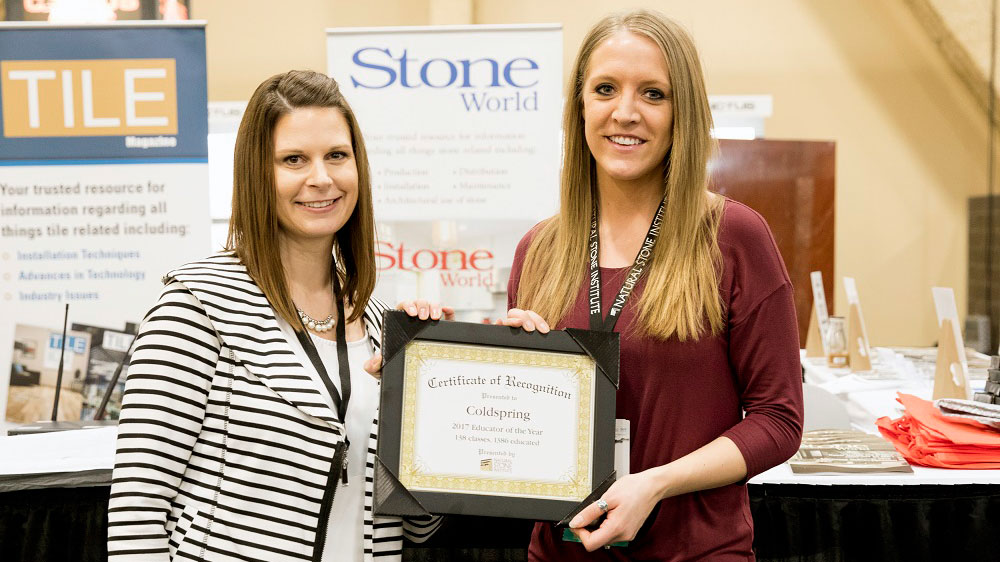 Oberlin, OH and Chestertown, NY, March 6, 2018—
Coldspring of Cold Spring, MN has been named 2017 Educator of the Year for the Natural Stone Institute CEU program. The company presented 144 classes to a total of 1,440 architects and designers last year. These efforts were led by Karen Olah and Bryce Kock. Cari May, Marketing Manager at Coldspring commented: "Continuing education is an essential component to licensing criteria for landscape architects, architects, and designers. Being able to support their need by providing education is a great way for us to continue to enhance our relationships as well as share how and why to use natural stone in their projects." Coldspring was honored during the Stone Pavilion Block Party during TISE 2018.
Don McGee of ABC Worldwide Stone was honored as the Speaker of the Year for presenting 39 classes in 2017.
The Natural Stone Institute CEU Program currently has 277 certified speakers worldwide. With a total of 695 CEU classes presented and 6,934 architects and design professionals educated in 2017, the program continues to make an important impact on the natural stone industry. Sarah Gregg, CEU Administrator for the Natural Stone Institute, commented: "Our members are providing valuable education to the design community about how best to use, specify, and maintain natural stone. This program is part of a strategy for speakers to position themselves as the preferred industry expert within their community."
To learn how your company can get involved with the CEU program, visit www.naturalstoneinstitute.org/CEU.
###
About the Natural Stone Institute
The Natural Stone Institute is a trade association representing every aspect of the natural stone industry. The current membership exceeds 2,000 members in over 50 countries. The association offers a wide array of technical and training resources, professional development opportunities, regulatory advocacy, and networking events. Two prominent publications—the Dimension Stone Design Manual and Building Stone Magazine—raise awareness within the natural stone industry and in the design community for best practices and uses of natural stone. Learn more at www.naturalstoneinstitute.org.