Natural Stone Institute Partners with Architectural Record to Present Natural Stone Academy
Contact:
Natural Stone Institute
(440) 250-9222
networking@naturalstoneinstitute.org
FOR IMMEDIATE RELEASE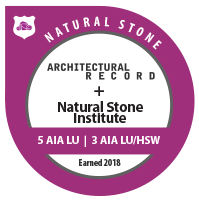 Oberlin, OH, November 6, 2018—The Natural Stone Institute has announced a year-long partnership with Architectural Record to present the Natural Stone Academy, an interactive continuing education platform featuring articles and webinars about natural stone. Architects, designers, and stone industry professionals can take courses in the Academy to earn CEU credits. Individuals who complete all courses will receive a special badge.
There are seven courses available in the Natural Stone Academy, covering the following topics: anchorage systems for natural stone cladding, specifying natural stone, residential design, landmark design, design strategies, the enduring allure of working with natural stone, and the NSC 373 sustainability standard.
Since launching in September, over 1,500 individuals have completed courses through the Natural Stone Academy.
The Natural Stone Institute would like to thank the following companies who have sponsored this program: Alamo Stone, Camarata Masonry Systems, Ltd., Coldspring, Egymar International, International Marble Company, LLC, Lurvey Supply, North Carolina Granite Corporation, PICCO Engineering, Polycor, Raducz Stone Corporation, and Rugo Stone LLC.
To access the Natural Stone Academy, visit www.naturalstoneinstitute.org/academy.
###
About the Natural Stone Institute
The Natural Stone Institute is a trade association representing every aspect of the natural stone industry. The current membership exceeds 2,000 members in over 50 nations. The association offers a wide array of technical and training resources, professional development opportunities, regulatory advocacy, and networking events. Two prominent publications—the Dimension Stone Design Manual and Building Stone Magazine—raise awareness within the natural stone industry and in the design community for best practices and uses of natural stone. Learn more at www.naturalstoneinstitute.org.