Best Use of Carrara Marble Award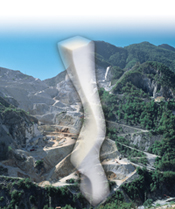 MIA+BSI will present the 2016 Best Use of Carrara Marble in North America Marble Architecture Award at the Carrara Marmotec International Fair in Carrara, Italy, which will take place from the 18-21st of May.
This new award will be given to a project whose beauty, creativity, ingenuity, and craftsmanship exemplify professional mastery in the use of Carrara marble in a commercial or residential application in North America. With generous support from the InternazionaleMarmi E Macchine Carrara SpA, the award winner will receive round-trip economy airfare and complimentary lodging for four nights to attend the Fair.
2016 Winner:
"The Rotunda Renovation" by Rugo Stone, LLC (Lorton, VA)
"The Rotunda Renovation" replaced the 16 marble capitals of the University of Virginia's Academic Village Rotunda, a UNESCO World Heritage Site designed by Thomas Jefferson, the Third President of the United States. An 1895 fire destroyed the original capitals carved by the Ricci family of Carrara, which were then replaced with columns from an alternate source.
In 2013, with the replacement columns crumbling, the University contracted Rugo Stone, LLC to restore the capitals. Lacking a complete capital, detailed photographs, or original drawings, Rugo Stone and its stone carver, Mario Pedrini srl of Carrara, used cutting-edge techniques to recreate the original capitals using the remaining stone fragments. To preserve the Rotunda's integrity and proximal historical structures, Rugo Stone designed an innovative lateral conveyance system that allowed for installation of those heavy and fragile capitals to be completed with 4-5 men, over the course of a few weeks, and without incident.
Click here for more information.