2017 MIA+BSI Convention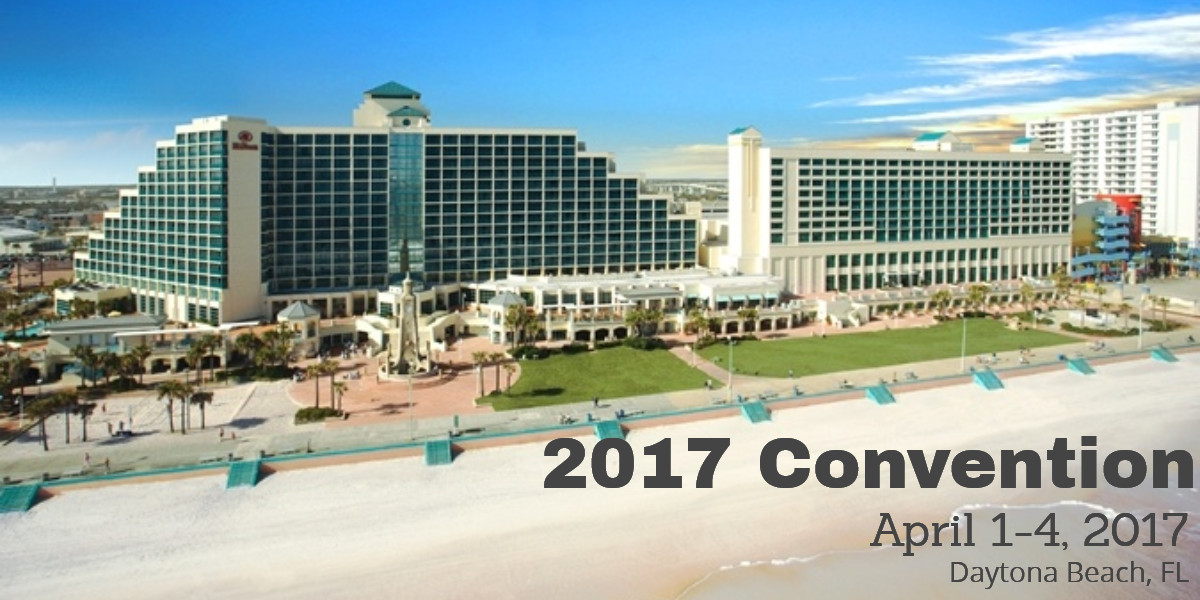 Date: Saturday, April 1-Tuesday, April 4, 2017
Location: Hilton Daytona Beach Resort, Daytona Beach, Florida
NOTICE: If you haven't already set up a log in to access the Member's Only page of the website, you need to do that before you try to REGISTER.

Directions: Click on Register Now button. Scroll down to New User section and create log in (email and password). Type in your email address and create a password. This password will be one that you use anytime you want to access the MIA+BSI Members Only webpage or to register for an event online. If you already have a log in, type that in to Continue.

Once you do that, you will reach another log in screen on the MIA+BSI Annual Convention registration page. Select Find Contact to search for your account. Type in just a few characters of your Last name. A list will pop up. Simply select your listing and the information will self populate in the previous screen fields. Continue to register.
Contact: Jane Bennett or Kayla Carlozzi
Email: jane@naturalstoneinstitute.org or kayla@naturalstoneinstitute.org
Phone: 518-803-4336 or 440-250-9222
Highlights include an opening reception and dinner, a live auction, Town Hall meeting (open to all), Advocacy Group meetings, education sessions, and a track tour of the Daytona International Speedway with closing reception and dinner.
Don't miss out on the LIVE AUCTION Saturday night after the opening reception and banquet! Items are needed – Donate by March 1 to have your item included for bid. Over $34,000 was raised for the Institute at last year's auction. 2017 Live Auction Donation Form
View Sponsors and Donated Items
REGISTRATION:
Inclusive registration rate will include 3 nights ocean view lodging, all advertised meals, tour admission fees, and event transportation. Attendees are encouraged to attend COVERINGS, held in Orlando April 4 - April 7. www.coverings.com
Save $100 pp with Early Bird registration!
Early Bird Full Rate: $1,199.00 pp After February 10 add $100 = $1,299.00pp
Early Bird 2nd in Room Rate: $ 799.00 pp After February 10 add $100 = $ 899.00pp
Non-Lodging Rate: $ 799.00 pp (includes everything but hotel)

REGISTRATION DETAILS
Early Bird rate expires February 10. Registration closes March 8.
Registrations requested after March 8 will be as NON LODGING ONLY. Registrant will need to arrange lodging with Hilton Daytona Beach Resort, on your own. Full event benefits may not be available for registrations made after March 8, and lodging and rate is subject to hotel availability.
CANCELLATION POLICY
Cancellations made prior to March 8 will be eligible for a full refund. Cancellations made after March 8 but before March 20 are eligible for refund less 3 nights lodging and a $125 Administration fee. We regret NO REFUNDS for cancellations made after March 20.
Schedule of Activities for the Event: (times are subject to change)

SATURDAY APRIL 1
3:00 – 5:00PM MIA+BSI Town Hall Meeting - Open to All!
6:00 – 7:00PM Opening Reception and Banquet
8:30 - 10:00PM Live Auction

SUNDAY APRIL 2
8:30 – 9:30AM Introduction to the Natural Stone University
Aaron Dahnke, MIA+BSI Education Manager

9:45 – 10:45AM Continuing Education Program Overview
Sarah Gregg, MIA+BSI Continuing Ed Administrator

11:00AM –12:30PM Advertising to Architects
Panel: Brigham Keehner, Senior Associate, BCJ; Robert Mortensen, FASLA, Mortensen Assocs.; Renae Kwon, Wiss, Janney, Elstner.

1:30 – 3:30PM Team Building Challenge

Evening on Your Own

MONDAY APRIL 3

8:30 – 10:00AM Women In Stone Speed Networking

10:15 – 11:30AM Advocacy Group Breakouts/Group Reports
(Quarries, Distributors, Fabricators, Installers)

11:45AM – 12:45PM Managing Generational Differences at Work
Nancy Clark, Drive Brand Studio
4:30PM – 9:00PM Track Tour and Dinner at Daytona International Speedway
OPTIONAL: MIA+BSI Happy Hour at Coverings, Wednesday April 5, 5:00pm

Additional Information:
Travel
Hilton Daytona Beach Resort is conveniently located and accessible. Just a 1 hour and 15 minute drive from Orlando International Airport or just 15 minutes from the Daytona International Airport.

Climate
Daytona Beach in April - Average High Temperature of 80° F and Average Low Temperature of 58°. Ocean Temperature averages 70-73° F.

Attire
All meetings, education sessions and tour are Business/Resort Casual. Dressy Casual attire is suggested for Saturday night dinner and auction.
Daytona Beach
Looking for more fun in Daytona Beach? Click here to see what there is to do in the area!
Hotel Attractions
Direct oceanfront property
All rooms with water view
Full service Spa
2 Pools
Cardio Gym
7 Restaurants on Premise (indoor & outdoor)
Next door and/or very close to:
Water Park
Small Amusement Park
Shopping Center & Plenty of Restaurants
Movie Theater
Close to Daytona & Orlando Airports