2021 Cleveland Study Tour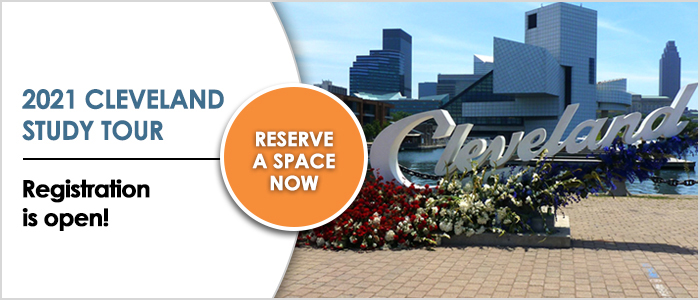 WHEN: Sunday September 12 through Wednesday September 15, 2021
WHAT: Cleveland Study Tour
WHERE: Doubletree by Hilton Cleveland Downtown-Lakeside
1111 Lakeside Avenue E
Cleveland, OH 44114
(216) 241-5100
Register Now Sponsor the Event
HIGHLIGHTS
Join the Natural Stone Institute for four days of in-person networking, stone industry education, and fun in Cleveland, Ohio!
REGISTRATION
Registration closes August 20, 2021.
FULL Registration $750pp
FULL Registration applies to the FULL package rate that includes all planned meals, meal choice, receptions, transportation, entry fees for scheduled activities, and site visits. OPTIONAL activities and lodging are NOT included.
A La Carte Registration


For those NOT attending full event

.

Sunday Walking Tour and Rock Hall of Fame reception $150 pp
Monday Banquet/Auction $125 pp
Wednesday Dinner Cruise $100 pp
OPTIONAL Activity (see list below - select activity from online registration form)

CANCELLATION REFUND POLICY
Pre-registrations may be cancelled without penalty between July 5 and July 9, 2021. Final payments must be received by August 20, 2021.
Full registrations received after July 5 may cancel before August 6, 2021 with a full refund. Cancellation requests made after August 6 but before August 20, 2021 may cancel with a $125 administration fee. No refunds after August 20, 2021.

BOOK A ROOM:
The host hotel, Doubletree by Hilton Hotel Cleveland Downtown-Lakeside, is ready to take room reservations now. Hotel reservations may be cancelled up to 24 hours prior to arrival without penalty*. Room rates start at $119.00/night plus 9.5 % per room/night tax and an 8.0 % per room/night secondary tax.
Reservations by Phone: Call 800-222-TREE and reference NSI 2021 Study Tour or your group code "NSI" to receive the discounted group rate.
Reservations Online: use: Your HiltonLink

*Hotel cancellation policy is independent of the Natural Stone Institute Study Tour registration cancellation policy.


TENTATIVE SCHEDULE – subject to change
Sunday September 12
Attendee Registration 1:00 – 3:30pm Lobby
Architectural Walking Tour 4:00 – 6:00pm
Rock n Roll Hall of Fame 6:00 – 9:00pm

Monday September 13
Breakfast 7:00 – 8:30am
Tour Cleveland Quarries 10:00 – 11:45am - 2 sites (River Rd: Sculptor Nicholas Fairplay /fabrication; quarry/fab facility)
Arrive Hotel 1:00pm
Lunch Buffet 1:00 – 2:00pm
Industry Sector Breakouts (4) 2:00 – 3:30pm / Reports will be compiled and sent to attendees post event.
Banquet 6:00 –8:00pm /Auction 8:00 – 9:30pm at hotel

Tuesday September 14
Breakfast 7:00 – 8:30am
Town Hall Meeting 8:00 – 9:00am
Lakeview Cemetery/Garfield Memorial 9:15 (w/Dave Dunn, Cleveland Quarries - exterior view)
Tour Mont Surfaces Design Center/Slab Showroom 11:00-12:30pm
Grab and go boxed lunch – eat on bus
Arrive hotel 1:15Pm
OPTIONAL* Activities
Women In Stone Reception 6-7pm FREE
Evening on own

*OPTIONAL Activities - fees may apply:
Round trip transportation from the hotel is provided by NSI.
Golf $75pp No club rentals. Must bring own clubs.
Kayak $45pp
Cycle Bus Pub Crawl $30pp
Cleveland Art Museum – FREE

Wednesday September 15
Breakfast 7:00 -8:30am
Depart for Amherst Village 8:45am
Sandstone Scavenger Hunt on Amherst Sandstone Village grounds and around Amherst
Lunch at Amherst Village Pavilion
Natural Stone Institute headquarters/Testing lab tour 1:00 – 2:30pm
Arrive Hotel 3:15pm
Closing Event - Dinner Cruise 5:00 – 8:00pm Goodtime III
AUCTION DONATION and SPONSORSHIP OPPORTUNITIES
Maximize your exposure to study tour attendees through an Auction Donation or Sponsorship. All supporters will receive newsletter, website, social media and on-site signage recognition. Deadline is August 6, 2021.
Auction:

Proceeds benefit the Natural Stone Foundation to create, fund, and/or support programs that directly educate the architecture and design community, consumers, and industry professionals about the features and benefits of natural stone. Last year we surpassed our goal to raise $40,000 and look forward to increasing our donation to the Foundation each year.

Complete the Auction Donor Form and return to Jane Bennett by August 6 by email: jane@naturalstoneinstitute.org.

Sponsorship:
Levels of sponsorship for this event are listed below. To commit your support, please complete the online Sponsorship Form.

- Closing Reception: $1250
- Transportation: $1000
- Team Building Event: $ 750
- Bar/Receptions: $ 750
- Welcome Package: $ 500

Sponsors and companies donating auction items over $1000 in value may include company literature (print or flash drive) or promotional item in the event Welcome Bag. Ship items to arrive no later than September 8, 2021 to:
Natural Stone Institute
Attn: Jane Bennett
380 E. Lorain Street
Oberlin, OH 44074

Auction or Sponsorship questions? Contact Jane Bennett: call 440-250-9222 or email jane@naturalstoneinstitute.org
TRAVEL & LOCATION
Airport: (CLE) Cleveland Hopkins Airport (13.5 miles/20 minutes)
Walking distance to:
Rock & Roll Hall of Fame
First Energy Stadium
Great Lakes Science Center
Willard Park
Lake Erie waterfront
Noble Beast Brewing Company
Winking Lizard Galleria
And more
Nearby to:
The Flats neighborhood
Playhouse Square
Other downtown attractions
Climate: Average high – mid 70's; Average low – low 60's
Attire: Casual attire except for Monday night, where cocktail attire is suggested for the banquet. Otherwise, be prepared for rain or shine. Wear closed toe shoes to all stone operations.
---