Accreditation in Progress: Recommendations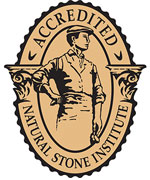 Date: Wednesday, November 11: Recommendations
Time: 2:00-3:00 PM ET
Recommendations are a requirement of the accreditation process. Seeking recommendations gives you an opportunity to follow up on past successes. During this session, we will discuss the recommendations required to become accredited. Learn what recommendations meet this requirement and how to utilize these recommendations to drive sales. Come away with a plan to ask for and receive recommendations that will help your company.
Handouts:
Sample recommendation request letters
Assignment 1:
Letters of Recommendation (Due by November 6, 2021)
Faculty:
Mark Meriaux, Accreditation & Technical Manager
Natural Stone Institute
Registration Cost:
Complimentary with active accreditation application ($250 for members)
Registration will be limited to 20 companies
---
You've requested an application to become accredited by the Natural Stone Institute…now what?
Join us for a six month webinar program as we walk through the process of becoming accredited. For one hour a month, we will create a schedule to help you achieve your goal of becoming an accredited company. You'll hear from fabricators who have been through the process and network with peers who are working through the program. At the end of this six-month program, you will be ready to schedule your on-site audit and officially become an accredited company.