Accreditation in Progress: The Final Audit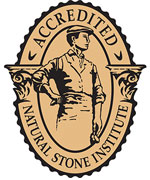 Date: Wednesday, March 9, 2022
Time: 2:00-3:00 PM ET
Your company has submitted the required paperwork, had a voluntary OSHA visit, and passed the accreditation exam. The last requirement in an on-site audit. During this session we will discuss what auditors look for when they visit your site. Review the scheduling process and audit paperwork. Come away with a plan to finalize the process of becoming an accredited company.
Assignment 4:
Schedule Your Final Accreditation Audit
Faculty:
Mark Meriaux, Accreditation & Technical Manager
Natural Stone Institute
Registration:
Complimentary with active accreditation application ($250 for members)
Registration will be limited to 20 companies
---
You've requested an application to become accredited by the Natural Stone Institute…now what?
Join us for a six month webinar program as we walk through the process of becoming accredited. For one hour a month, we will create a schedule to help you achieve your goal of becoming an accredited company. You'll hear from fabricators who have been through the process and network with peers who are working through the program. At the end of this six-month program, you will be ready to schedule your on-site audit and officially become an accredited company.