Creating a Stone Industry Safety Program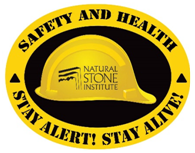 Date: Thursday, March 28, 2019
Time: 2:00 pm to 3:00 pm EST
Presenters: Mark Meriaux, Natural Stone Institute, Mike Loflin, Natural Stone Institute
Join the Natural Stone Institute for a session on creating a safety program for stone companies. Review an inspection checklist and safety policies that will help prepare your company for the unexpected. Leave this session with a safety program that addresses overall training, recordkeeping, noise and silica exposure, baseline testing, and a number of issues your employees will encounter.
Learning Objectives:
Review an inspection checklist that will help in case an OSHA Enforcement Inspector visits your facility.
Discuss consulting options to help you identify risks and develop a plan.
Discuss requirements for recordkeeping, baseline testing options, and how these will protect your employees and company.
Identify tools available to help employers ensure a safe work facility.
Create a safety program that includes training, recordkeeping, engineering controls, reporting, improvement systems, and other issues your employees will encounter.
All attendees will receive an electronic copy of the Stone Industry Health and Safety Handbook
---
Registration Fees:
Complimentary