LABash 2020 at Cornell University (Canceled)
In an effort to remain focused on the health and well-being of campus communities, this event has been canceled. Cornell will still be hosting LABash--just one year later--for LABash 2021.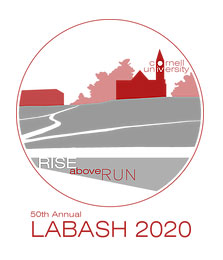 An annual student-led landscape architecture conference!
WHEN: April 2-4, 2020
WHERE: Cornell University
Willard Straight Hall, 136 Ho Plaza, Ithaca, NY 14853, USA

ABOUT LABASH
In 1970, the first LABash was held at the University of Guelph. It has since become a tradition to host the event at different universities each year. Now a full-scale conference hosted by students and attended by both students and professionals, attendees join together to celebrate landscape architecture, learn new skills, network with students and professionals, and gain inspiration for their work.
Learn more about the event here.

THIS YEAR'S THEME
This year's theme for the 50th anniversary of LABash is "Rise Above Run". While this theme was inspired by Cornell's distinct and profound Libe Slope located on our campus' landscape, it means much more to us as it relates to the field of landscape architecture. As emerging landscape architecture professionals, we are constantly challenged to "rise above" the issues that our society is facing and create landscapes that not only acknowledge, but embrace these obstacles through the power of design. Through this year's LABash, we want to challenge designers to ask how landscape architecture can be used as a medium to rise above climate change, rising sea levels, and a multitude of other issues related to social justice and the environment.

OUR ROLE AT LABASH
Key staff members from the Natural Stone Institute will be exhibiting at LABash 2020 and representing natural stone as a preferred building material. We will also be showcasing our Stone Kits to students and educators.