Membership in Action: In-Booth Education at TISE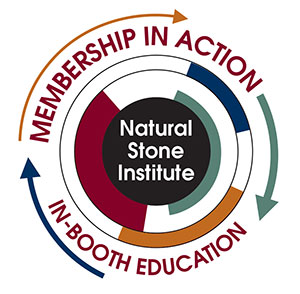 Join us to for a series of brief education sessions designed to showcase key benefits of membership and address important industry issues in an informal and interactive environment. Membership in Action education is FREE.

WHEN: January 28-January 30, 2020
WHERE: TISE show floor in the Natural Stone Institute booth (#3523)
Mandalay Bay Convention Center
3950 S Las Vegas Blvd, Las Vegas, NV 89119
Price: FREE
To register for TISE, please click here.
---
In-Booth Education Schedule
Tuesday, January 28

11:00-11:45am

State of the Stone Industry
Join Jim Hieb and 2020 Natural Stone Institute President Robert Zavagno to learn how industry leaders and peers are addressing issues such as government regulation, competing products, and forecasting market growth.
Add to Calendar

11:45am-12:15pm

Natural Stone Standards at Your Fingertips

Learn how to utilize the technical resources available free of charge in the Natural Stone Resource Library. Mark Meriaux will explain how to access these resources and use them to inform customers of installation standards for natural stone.
Add to Calendar

1:00-2:00pm

Women in Stone Program Overview

Explore the resources and opportunities provided by Women in Stone to recruit, retain, and advance women in the industry. Learn how to get involved with the education, mentorship, and networking opportunities available to program participants.
Add to Calendar

2:00-3:00pm

Silica Exposure and Safety in the Stone Industry

This session will prepare you to create a safety program that addresses silica exposure and baseline testing, as well as reducing silica exposure for employees. Come away with resources for training your team and creating a safe work environment.
Add to Calendar

3:30-4:00pm

Remnants: A Pile of Opportunity
Join us as we discuss remnant management. Review how to reduce, recycle, and reuse remnants. Come away with tips on how to repurpose salvageable pieces while reducing waste costs for unusable pieces.
Add to Calendar

Wednesday, January 29

11:00-11:45am

What Does It Mean to be Sustainable in the Natural Stone Industry?
The Natural Stone Sustainability Standard (NSC373) has great momentum with the green building community. Participate in a discussion on how you can help our industry by getting involved.
Add to Calendar

11:45am-12:15pm

Natural Stone Institute Membership Overview

The Natural Stone Institute provides a number of valuable benefits for stone industry professionals. Join us as we discuss the benefits of membership and how to utilize these resources to create value for your company.
Add to Calendar

1:30-3:30pm

Women in Stone's Amazing Race

Join Women in Stone for an interactive journey through the Natural Stone Pavilion. Participants will love learning via a "race" full of challenges, natural stone trivia, and professional networking. Expect a few "roadblocks" along the way.
Add to Calendar

Thursday, January 30

11:00-11:45am

Tariffs and the Stone Industry

Join us as we explore how the natural stone industry has been affected by tariffs. Learn what products are impacted by tariffs and how industry professionals are dealing with the ramifications. Leave with a plan to build success in the face of new regulations.
Add to Calendar