Women in Stone at TISE: The Power of Communication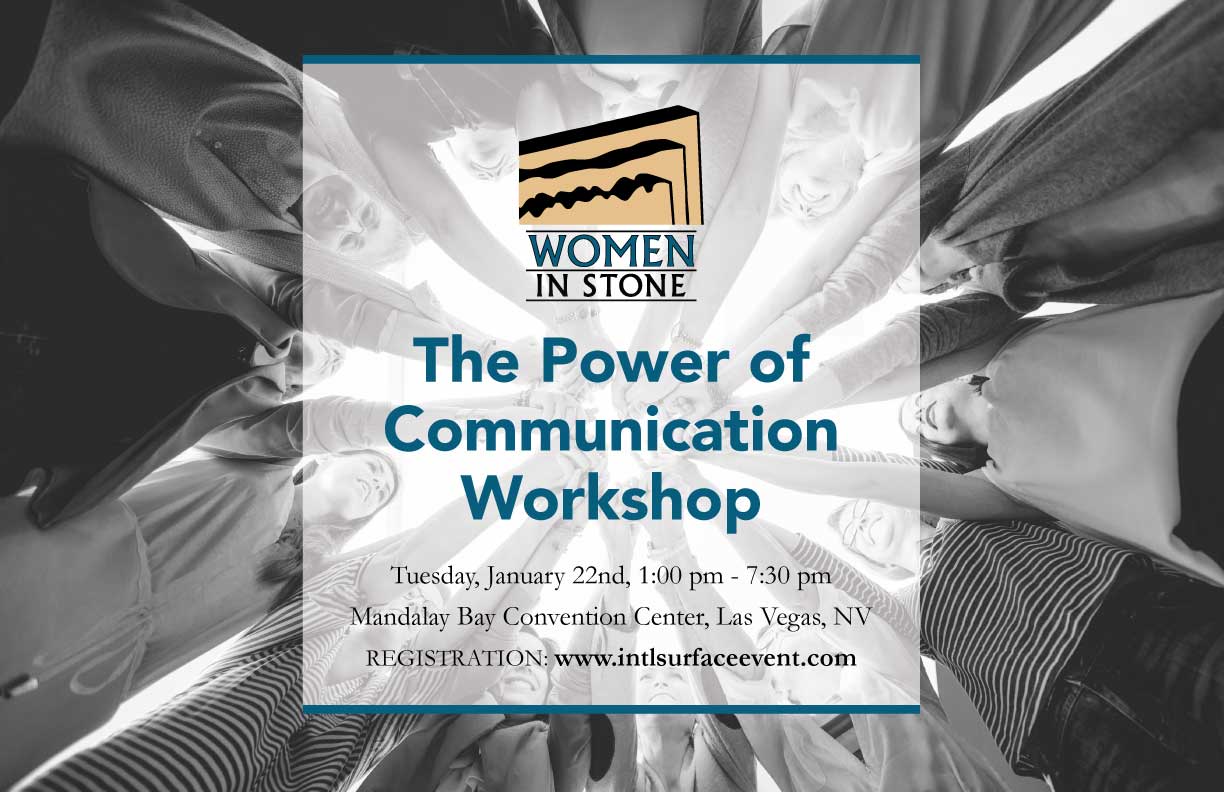 When: Tuesday, January 22, 2019
Workshop 1:00 pm – 5:00 pm
Mentorship Reception 5:30 pm – 7:30 pm
Where: Mandalay Bay Convention Center, Las Vegas, NV
Workshop: Tradewinds E/F
Mentorship Reception: Border Grill (Corridor between convention center and casino)
Registration:
When you register for the show through the TISE website, you will come to a page after Package Selection which lists optional programs including this Women in Stone event.
If you're already registered for the show, you can either log back in to your profile and add it, or you can contact their customer service at 224-563-3145 / 866-860-1975 or e-mail registration@tisewest.com.
If you are not able to attend the full workshop, you can still attend the Mentorship Reception. The cost is $30.
Complete reception registration here.
---
Agenda:
1:00 pm Welcome & Introductions
1:15 pm The Power of Communication- Part 1
2:45 pm Sponsor Recognition & Dress For Success
3:00 pm Break
3:15 pm Mentorship Program & Subcommittees
3:30 pm The Power of Communication- Part 2
5:00 pm Closing Remarks
*David Mitchell will be available to sign books from 5:00 pm - 5:30 pm.
5:30 pm - 7:30 pm Mentorship Reception at Border Grill**
**Short walk just outside of convention center, inside of Mandalay Bay corridor.
More Details
The workshop will include several component parts which are sure to help you improve your communication skills, build your professional network, prepare you for our upcoming mentorship program, and help you to give back to other women making their way in the business world. Here's what you need to know:

David Mitchell
Author and professional speaker, David Mitchell will facilitate the educational portion of the workshop which will focus on unique communication styles. David will explain the power of understanding both your own style and the styles of the people you interact with every day. Some of you will remember him from our inaugural Women in Stone Connection Conference in Miami, FL in 2015.
Dress for Success
Pack an extra outfit for donation to Dress for Success. You can bring your items to the workshop or networking event on Tuesday, or to the Natural Stone Institute booth on Wednesday morning. Clothing and accessories donated should be gently used or new, clean and on hangers. We encourage everyone to get involved, even if you are not able to participate in the whole workshop. The items will help women entering the workforce to build their professional wardrobe. Life events such as divorce, domestic abuse, or addiction should not prevent women from being successful in their careers and this cause helps get them back on their feet.
Mentorship Program
Learn all about the Women in Stone Mentorship Program during our workshop. There are some changes for 2019, so even if you have participated in the past, you will want to hear about our new pairing options and guidance documents. You can register during our event, or online through February 8th.
Mentorship Reunion/Kick-Off Party
The educational portion of the workshop will conclude at 5:00 pm. Then it's party time from 5:30 pm – 7:30 pm at the Border Grill in Mandalay Bay. The reception will double as a reunion for past participants, and kick-off for this year's mentors and mentees. Drinks and appetizers will be served.