2018 Women in Stone Mentorship Program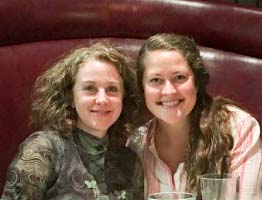 What is the Women in Stone Mentorship Program?
Industry veterans are paired with newcomers and guided through conversation topics to help them get to know each other and their respective career goals. Meetings take place via video chat, phone, or in person if possible, but travel is not required.
Mentor: Stone industry professional with 10+ years of experience who is ready to give back by helping an industry newcomer.
Mentee: Anyone new to the stone industry, including those who have participated in past mentorship programs. Must be proactive and ready to take advantage of this great opportunity.
Registration Closes February 9th
Program Begins March 1st
Commit to (6) One Hour Meetings throughout 2018
Mentorship Program Check List
Registration
Closes Friday, February 9.
This short 5-minute survey asks questions about your experience and career goals. Your answers will be used to match you with a proper mentor/mentee. If you have specific skills/perspectives/people you would like to request, this is your opportunity to do so.
Your Mentor/Mentee Pair
You will receive an email with information about your mentor/mentee pair. If you have immediate concerns about the match, you can request a change. Expect these emails after Monday, February 19th. This process can take up to 2 weeks.
Kick-Off Webinar
These webinars are designed for Mentees but Mentors are also welcome to attend. You will get a full tutorial about how the program works, what to expect, and tips for making the most of it. Recording
Mid-Point Webinar
We will be holding 2 webinars in May. These are not required, but may be helpful for some. This can be a crucial point for some mentorship relationships- after the 'get to know you' phase and leading into where the real progress happens with individual goals. Several people participating in the program, both mentors and mentees, will share their experiences. This will give you a chance to gauge your progress and collect tips for getting to the next point.
To RSVP, email sarah@naturalstoneinstitute.org with the date you would like to attend.
Tuesday, May 22nd, 1:00 pm Eastern
Thursday, May 24th, 4:00 pm Eastern
Guidance Emails
Emails will be sent every month with reminders to schedule a meeting with your mentor/mentee pair. They will also include helpful worksheets to supplement your conversation each month. Because of spam filters, emails are not always a reliable. This also allows you to work ahead of desired. You can access these guidance emails below. (Links coming soon)