Natural Stone Institute Completes 22nd Home with Gary Sinise Foundation
Contact:
Natural Stone Institute
(440) 250-9222
networking@naturalstoneinstitute.org
FOR IMMEDIATE RELEASE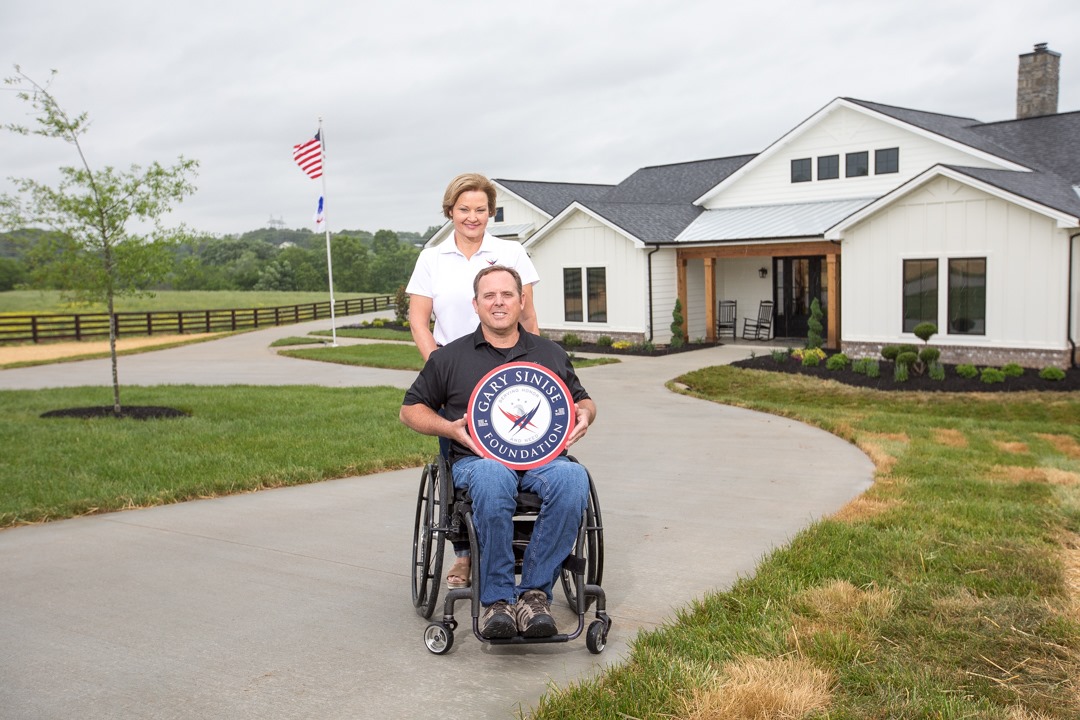 Oberlin, OH, May 15, 2019—The Natural Stone Institute has provided natural stone and fabrication services for its 22nd home with the Gary Sinise Foundation's R.I.S.E. program (Restoring Independence Supporting Empowerment). The R.I.S.E. program builds specially adapted smart homes for severely wounded veterans and first responders. To date, Natural Stone Institute members have been involved in twenty-two completed homes.
Natural stone and fabrication for US Army Chief Warrant Officer 5 Gary Linfoot (Ret.) and his family in Tennessee were provided by Northern Stone Supply, Triton Stone Group, and Smokey Mountain Tops.
Gary Linfoot enlisted in the Army Reserve after graduating high school in the hopes of becoming a helicopter pilot. After attending Flight School and graduating a Warrant Officer in 1990, he joined the Army's elite 160th Special Operations Aviation Regiment (Airborne) (SOAR(A)) in 1997. On May 31, 2008, while conducting operations in Iraq, Gary's helicopter suffered a catastrophic mechanical failure. The helicopter crash-landed, injuring Gary severely. Medics evacuated him to Germany for a spine stabilization surgery and treatment took him from Walter Reed National Military Medical Center, to the Tampa VA Hospital and finally the Shepherd Center in GA. His broken back paralyzed Gary from the waist down. After three months of recovery, Gary returned home to a very new kind of life. Gary and his wife Mari have raised three children over their twenty-six year marriage. They fight to overcome Gary's disability together and have had remarkable success. Wearing an exoskeleton suit, Gary walked his oldest daughter Allysa down the aisle on her wedding day in 2016, and he currently works as a helicopter simulator instructor pilot with the 160th SOAR(A) at Fort Campbell, KY.
Laura Grandlienard (ROCKin'teriors), chair of the Natural Stone Institute R.I.S.E. committee said: "Being involved with the R.I.S.E. program enables our industry to take a leadership role in supporting these veterans and their families who have endured so much to protect our freedoms. We feel tremendous pride in sharing our talents for such an important cause. It's a beautiful feeling to say 'welcome home' to these heroes."
51 Natural Stone Institute members have donated their time, products, and services to this cause since 2016. A list of all donors can be found at www.naturalstoneinstitute.org/RISE. Stone companies interested in getting involved with future projects are encouraged to contact Pam Hammond at pam@naturalstoneinstitute.org.
###
About the Natural Stone Institute
The Natural Stone Institute is a trade association representing every aspect of the natural stone industry. The current membership exceeds 2,000 members in over 50 nations. The association offers a wide array of technical and training resources, professional development opportunities, regulatory advocacy, and networking events. Two prominent publications—the Dimension Stone Design Manual and Building Stone Magazine—raise awareness within the natural stone industry and in the design community for best practices and uses of natural stone. Learn more at www.naturalstoneinstitute.org.