Building Stone Materials Kits
For Architecture, Interior Design, and Landscape Architecture Programs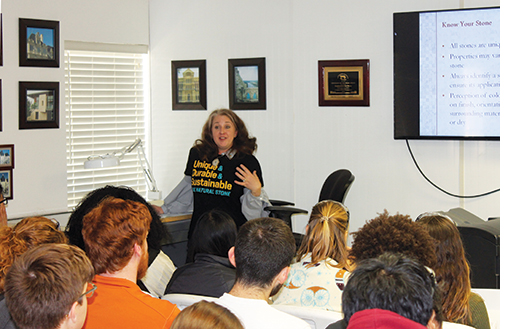 Prior to the start of the Fall 2019 semester, the Natural Stone Institute will mail 100 Building Stone Materials Kits to universities across the country. The kit's resources have been specifically designed to be incorporated into the Building Materials course curriculum within Architecture, Interior Design, and Landscape Architecture programs.
The syllabus includes educational content provided through a combination of video components, stone samples, printable resources, a PowerPoint presentation, and an opportunity to coordinate a live presentation and/or operations tour with a local stone expert. The kit covers topics such as the geology and characteristics of various stone types, what sizes and finishes are commonly available, and how to properly specify them for a design project.
The natural stone industry is discovering that students who are graduating from landscape architecture, interior design, and architecture schools do so with little knowledge about natural stone but with a higher level of design comfort using man-made building materials such as concrete and quartz surfacing. Our goal with these Building Stone Materials Kits is to raise student awareness for the benefits and uses of stone that will influence their recognition of natural stone as a superior building material.
Request a Free Building Stone Materials Kit
To request your Free Building Stone Materials Kit, please complete the form below. Eligibility will be verified and you will receive confirmation of its shipment.