Become a CEU Speaker — Eligibility / Benefits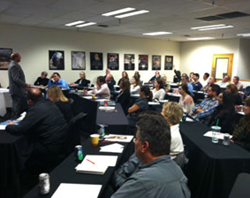 50 architects and designers gather in Seattle for a Natural Stone Institute CEU session jointed hosted by three Institute member firms.
"The Natural Stone Institute CEU program has opened doors for us! This program is well worth the investment and has positioned our company and natural stone in a great light with the design community."
— Scott Lardner, Rocky Mountain Stone
(MIA Past President)
Natural Stone Institute members participating in this program must:
Be an Natural Stone Institute member in good standing.
Submit an Natural Stone Institute/CEU Enrollment Form (one per company)
Submit a 2-page speaker bio for each employee to join the speaker's bureau.
Attend a 'Train the Trainer' Workshop (generally done online). At this session, a complete overview of the program, review of paperwork requirements, and discussion about powerpoint presentations and teaching aides will occur.
Pay a $350 enrollment fee for the primary company location (non-refundable). Additional fees may apply for additional company locations.
Pay a $50 session fee for each seminar provided. The session fee will be waived for applicable bookstore purchases to support the program.
Sign a commitment form (each speaker) agreeing to adhere to the program guidelines (this step is completed after attending the 'Train the Trainer' workshop).
Renew Natural Stone Institute membership annually, as well as renew your CEU provider status.
Benefits to Natural Stone Institute members participating in this program:
Once enrolled, Natural Stone Institute speakers have:
Access to several Natural Stone Institute-developed CEU powerpoints and teaching aides.
Authorization to publicize the organization and educational programs as 'Provided in conjunction with the Marble Institute of America.'
Ability to give a number of approved presentations under the umbrella of the Natural Stone Institute's CEU Provider Number.
Unlimited number of speakers from the single member location.
Listed as a Natural Stone Institute/CEU Provider on the Natural Stone Institute Website.
Use of Natural Stone Institute CEU logos to promote the events.
Opportunity to attend Natural Stone Institute/CEU workshop and training programs.
Receive discounts on key Natural Stone Institute publications to distribute to seminar attendees.
Cultivate relationships in the natural stone industry.
Become a resource for the design community.
Create credibility for your company.
Don't miss this opportunity to enroll in one of the most important programs of your career!