Stone Industry Internships
Thank you for your interest in pursuing an internship in the stone industry. The following companies have opportunities available. Please follow up with potential matches directly using the links displayed.
You can also refer to the NSI Membership Directory for more companies who may consider hosting interns.
For details about the curriculum, please visit the Natural Stone University.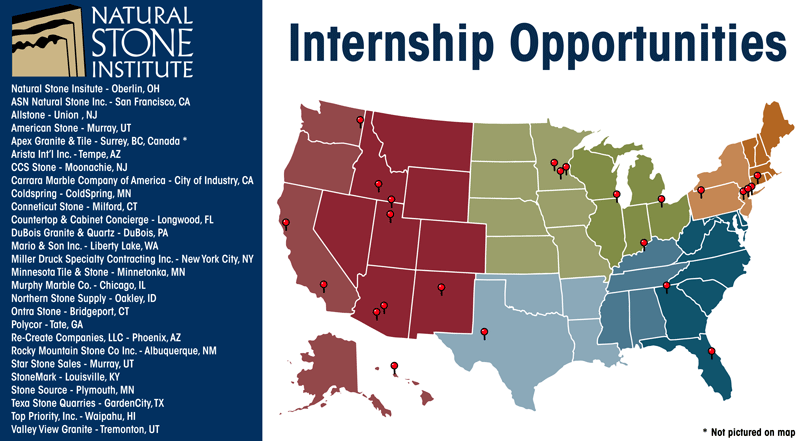 Allstone
Primary Location: Union, NJ
Type of Internship(s): Production/Sampling, Customer Service/Sales
Apply Now
American Stone
Primary Location: Murray, UT
Type of Internship(s): Sales
Apply Now
Apex Granite & Tile
Primary Location: Surrey, BC, Canada
Type of Internship(s): Estimating/Engineering, Accounting
Apply Now
Arista International, Inc.
Primary Location: Tempe, AZ
Type of Internship(s): Purchasing/Administration/Technology
Apply Now
ASN Natural Stone, Inc.
Primary Location: San Francisco, CA
Type of Internship(s): Architectural, Design, Geology, Earth Sciences
Apply Now
Carrara Marble Company of America, Inc.
Primary Location: City of Industry, CA
Type of Internship(s): Project Engineer
Apply Now
CCS Stone
Primary Location: Moonachie, NJ
Type of Internship(s): Marketing, Social Media, Sales
Apply Now
Coldspring
Primary Location: Cold Spring, MN
Type of Internship(s): Many Opportunities
Apply Now
Connecticut Stone
Primary Location: Milford, CT
Type of Internship(s): Sales/Customer Service, CNC Programing/Operation, Masonry, Accounting, Marketing, Website Development, Human Resources, Mechanical
Apply Now
Countertop & Cabinet Concierge
Primary Location: Longwood, FL
Type of Internship(s): Fabrication, Installation, Design
Apply Now
DuBois Granite & Quartz
Primary Location: DuBois, PA
Type of Internship(s): Sales & Marketing
Apply Now
Mario & Son, Inc.
Primary Location: Liberty Lake, WA
Type of Internship(s): Interior Design, CAD/Engineering, Stoneworker, Sales/Marketing/Business Development
Apply Now
Miller Druck Specialty Contracting, Inc.
Primary Location: New York City, NY
Type of Internship(s): Sales, Project Management, Fabrication, Administration
Apply Now
Minnesota Tile & Stone
Primary Location: Minnetonka, MN
Type of Internship(s): Administrative Support
Apply Now
Murphy Marble Co.
Primary Location: Chicago, IL
Type of Internship(s): Drafting, CAD
Apply Now
Natural Stone Institute
Primary Location: Oberlin, OH
Type of Internship(s): Education, Marketing
Apply Now
Northern Stone Supply
Primary Location: Oakley, ID
Type of Internship(s): Quarry Work, Special Projects
Apply Now
Ontra Stone
Primary Location: Bridgeport CT
Type of Internship(s): Fabrication/Installation, Technical
Apply Now
Polycor
Primary Location: Tate, GA
Type of Internship(s): Project Management, Drafting, Many Other Opportunities
Apply Now
Re-Create Companies, LLC
Primary Location: Phoenix, AZ
Type of Internship(s): Estimating/Bidding
Apply Now
Rocky Mountain Stone Co Inc
Primary Location: Albuquerque, NM
Type of Internship(s): Project Management
Apply Now
Star Stone Sales
Primary Location: Murray, UT
Type of Internship(s): Sales
Apply Now
Stone Source
Primary Location: Plymouth, MN
Type of Internship(s): Many Opportunities
Apply Now
StoneMark
Primary Location: Louisville, KY
Type of Internship(s): Field Measuring, Programming, Production, Installation
Apply Now
TexaStone Quarries
Primary Location: Garden City, TX
Type of Internship(s): Office, Production, Marketing, Drafting, Design
Apply Now
Top Priority, Inc
Primary Location: Waipahu, HI
Type of Internship(s): Project Management, Measuring/Templating, CAD Engineering,
Apply Now
Valley View Granite
Primary Location: Tremonton, UT
Type of Internship(s): Administration Assistance, Special Projects, Training, LMS Management
Apply Now