2018 Study Tour

Sunday, September 23 through Friday, September 28, 2018
Registration is closed.
Thank you to this year's Study Tour hosts:
Thank you to this year's Italy sponsors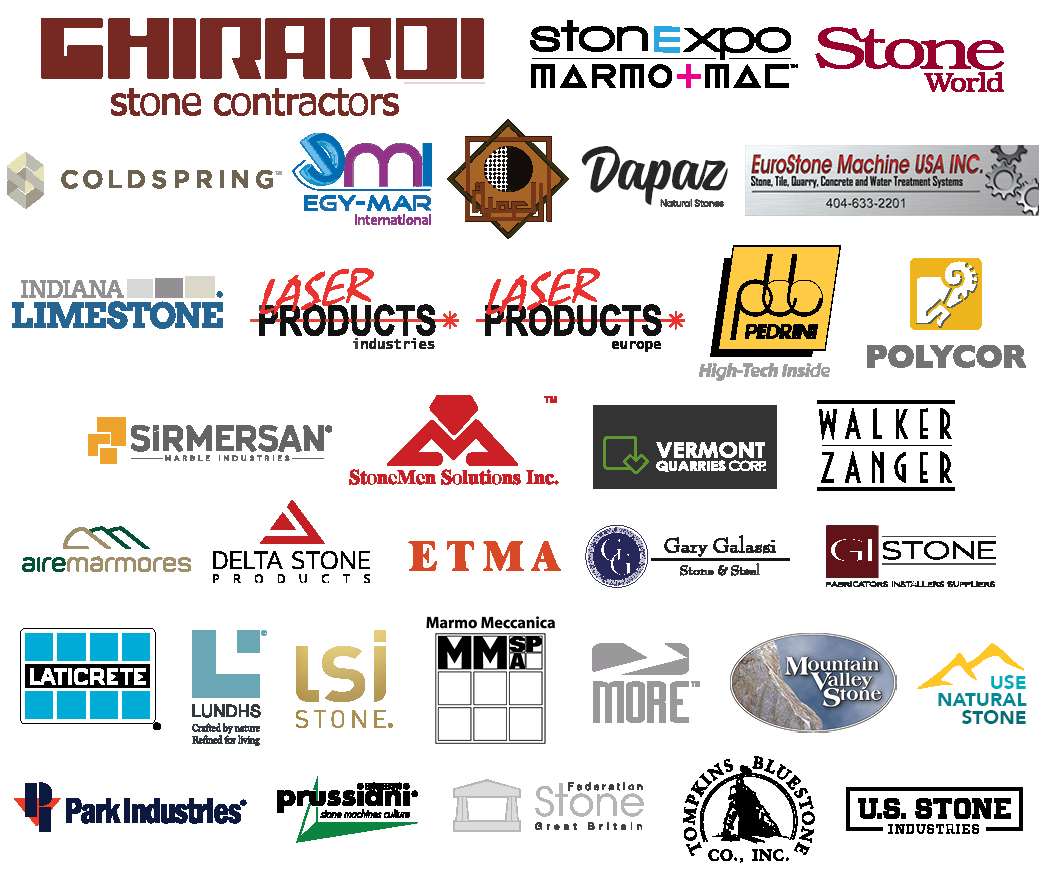 Join us in September in Padova, Italy as we explore some of the natural stone, history and culture of the city and its surrounding regions.
WHERE
NH Hotel Padova
Via Tommaseo, 61,
35131 Padua - Italy
Phone: 011 39 049 8494 111
Fax: 011 39 049 8494444
nhpadova@nh-hotels.com
TRAVEL
Closest Airport: Marco Polo Airport, Venice
Padova Train & Bus Stations: By Foot: Approx. 15-20 min. | By Taxi €10: Less than 5 min
(distance from hotel)
Event Costs (lodging and airfare not included)
$589 Full Event
Includes all tours and events Sunday – Thursday, transportation to sites, and Marmomac Expo pass.
$699 Full Event + Venice
Includes everything above plus optional day in Venice on Friday with departure from hotel at 9am
and return by 5:30pm.
What to expect (subject to change)
Member site visits:
Breton (Monday)
Explore Breton's machine manufacturing facility and witness how their corporate culture and best practices have brought them success.
Testi (Tuesday)
Tour the production floor and inspirational gallery to view examples of their specialized cut-to-size work for high end design and craftsmanship, including the iconic Arco Lamp by Giacomo Castilioni.
Cereser (Tuesday)
Experience Cereser's proprietary consumer technology and tour their impressive slab processing facility.
Grassi Pietre (Wednesday)
Tour their cutting edge fabrication facility and explore historic stone archives in the oldest underground limestone quarry in Italy.

Other Included Adventures:
Optional Tour of Padova (Sunday)
4pm: Get to know the city with a guided tour by local University students.
Villa La Rotonda (Monday)
An exclusive, private tour given by the owner of this Renaissance villa designed by Andrea Palladio.
Explore Verona (Tuesday)
Enjoy the afternoon on your own with drop-off and pick-up transportation provided.
La Montecchia winery (Wednesday)
Vineyard and villa tour with tasting followed by dinner.
Marmomac (Thursday-Includes transportation and Expo entry)
Spend the day at Marmomac and enjoy the Stone Industry Leadership Reception.
Optional day in Venice (Friday)
Includes "shore-to-shore" transportation by bus and boat with a tour of Murano, the most ancient art glass production site in the world. Additional cost required. Select "Full Event + Venice" package.
Hotel Costs at Hotel NH Padova (breakfast included)
Standard and Superior Singles and Doubles available from €150 - €175 / night.
Plus city tax collected directly by the Hotel at check in.
A Congress Form complete with credit card information must be submitted by email or fax to the Natural Stone Institute. We will forward your information to NH Hotel Padova to complete your hotel reservation.
Email: gina@naturalstoneinstitute.org or Fax: 518-803-4336

Dates are in European format. Deadline on form will read 1/7/18 which means July 1st.
Download Congress Form
A La Carte Options for guests not registered for full event.
$150 La Montecchia
Vineyard and villa tour with tasting followed by dinner.
$125 Friday in Venice
Includes "shore-to-shore" transportation by bus and boat with a tour of Murano, the most ancient art glass production site in the world.

Sponsorship Opportunities
The Institute relies on the generous contributions of our sponsors to defray event costs not included in registration fees. Please support the Institute and elevate your company's exposure to the attendees through one of these opportunities.
Each sponsor will receive website recognition and be eligible to submit digital literature for the flash drive handout. Sponsor online during the registration process. Deadline to provide digital literature is August 10th. Email jane@naturalstoneinstitute.org.
$1000 Transportation Sponsor
Bus and onsite recognition
$750 Bar Sponsor
Onsite recognition
$500 Stone Industry Leadership Reception
Onsite recognition
Hotel Amenities
• Generous rooms with Queen or King beds
• Suites with sofa beds are available
• Parnaso Restaurant on the 12th floor serves breakfast (included), lunch and dinner with superlative views.
• In-room dining available
• Equipped gym, free for hotel guests
• Dry-cleaning, laundry service and ironing room
• Free WiFi
Things to Consider
• Valid Passport
• Universal power adapter
• Euro cash. Note: AmEx is not always accepted
• Comfortable walking shoes
• A secure cross-bag or purse
• Extra empty bag or suitcase (lots of local shopping)
• You will see Padua spelled both "Padua" and "Padova"
Nearby Attractions
Basilica of Saint Anthony of Padua - 1.56 km
Padua Cathedral - 2.22 km
Scrovegni Chapel - 1.37 km
Abbey of Santa Giustina - 1.85 km
Torre dell'Orologio - 2.15 km
Anfiteatro romano di Padova - 1.43 km
Palazzo della Ragione - 1.89 km
Climate
Average September High 76° / Average Low 59°F
Very little chance of rain