Building Stone Magazine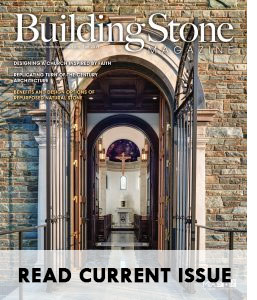 Building Stone Magazine, founded by the Building Stone Institute (BSI) – now the Natural Stone Institute – and published through a partnership with BNP Media, is the trusted source of natural stone information for architects, landscape architects, interior designers and consumers alike.Through editorial and visually inspiring photography of stone installations, Building Stone Magazine provides a direct portal of necessary stone awareness and technical resources to benefit the decision makers who impact our built environment.
Natural stone – by definition – is a natural and sustainable building product. Readily desired for its aesthetic beauty, its versatility in use, enduring life cycle, low maintenance and 100% recyclable qualities substantiate natural stone as a preferred green building product. The members of the Natural Stone Institute, in collaboration with other stone industry groups and the Natural Stone Council, will communicate through Building Stone Magazine how our industry operates in an environmentally, socially & economically responsible manner to further promote natural stone's green attributes that extend beyond LEED points recognition. Our goal is to effectively communicate the benefits of natural stone to those who ultimately will make design and product selections that support a healthier, more sustainable environment.
Next Issue: Spring 2018
Ad Space Reservation: March 29, 2019
Ad Materials Due: April 2, 2018
Mail Date: April 30, 2018
Subscribe
Annual Rates:
$24.00 Domestic Address
$29.00 International Address (including Canada and Mexico)
Single or additional copies – $10 each plus shipping – Please contact the Natural Stone Institute office.
Bulk quantities (approx. 50 per carton) – Please contact the Natural Stone Institute office.
To subscribe to Building Stone Magazine, complete and submit the subscription form below.
To pay by credit card, contact the Natural Stone Institute office at (440) 250-9222.
To pay by check, make check payable to Natural Stone Institute and mail to:
Natural Stone Institute
380 E. Lorain Street
Oberlin, Ohio 44074

Advertise
To Advertise, please contact our Sales Team:
JANELLE MINGHINE
Regional Advertising Mgr.
(734) 340-5211
minghinej@bnpmedia.com
STEVE SMITH
Regional Advertising Mgr.
(406) 522-4163
smithsc@bnpmedia.com
Do you have an idea for editorial submission?
Contact our Editor:
JENNIFER ADAMS RICHINELLI
Editor
(201) 291-9001
richinellij@bnpmedia.com
Archives

The below archive issues are Adobe Acrobat format (PDF):