Building Stone Magazine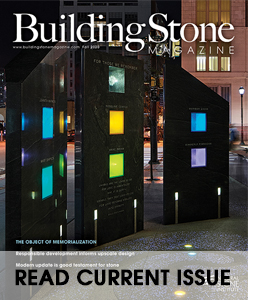 Building Stone Magazine, founded by the Building Stone Institute (BSI) – now the Natural Stone Institute – and published through a partnership with BNP Media, is the trusted source of natural stone information for architects, landscape architects and interior designers. Through editorial and visually inspiring photography of stone installations, Building Stone Magazine provides a direct portal of necessary stone awareness and technical resources to benefit the decision makers who impact our built environment.
Natural stone – by definition – is a natural and sustainable building product. Readily desired for its aesthetic beauty, its versatility in use, enduring life cycle, low maintenance and 100% recyclable qualities substantiate natural stone as a preferred green building product. The members of the Natural Stone Institute, in collaboration with other stone industry groups and the Natural Stone Council, will communicate through Building Stone Magazine how our industry operates in an environmentally, socially & economically responsible manner to further promote natural stone's green attributes that extend beyond LEED points recognition. Our goal is to effectively communicate the benefits of natural stone to those who ultimately will make design and product selections that support a healthier, more sustainable environment.
Next Issue: Spring 2021
Ad sales close, Ad materials due date and Mail date: TBD

What to look forward to in our Spring 2021 issue:
An interior marble restoration of a 1914 Beaux Arts landmark faced challenges caused from a mid-century renovation effort in which important ornate carved finishes were discarded, and because one of the quarries identified as a matching stone resource had been closed for decades.

Inspired by massive quarry blocks and surface textures formed by the quarrying process, prominent artist Brad Goldberg creates impressive granite sculptures that would become entry portals defining boundaries for a new park envisioned to preserve a rare natural open space surrounding the Dallas-Fort Worth Metroplex.

Drawing inspiration from its surrounding mountains and local agrarian heritage, the design of a New England inn creates a building deeply rooted in its landscape thanks to a harmonious use of pattern-rich Connecticut granite on the facade, base, and terraces, while making a nod to contemporary forms of construction and detailing.