Building Stone Magazine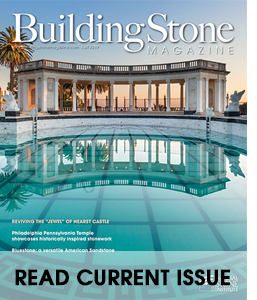 Building Stone Magazine, founded by the Building Stone Institute (BSI) – now the Natural Stone Institute – and published through a partnership with BNP Media, is the trusted source of natural stone information for architects, landscape architects and interior designers. Through editorial and visually inspiring photography of stone installations, Building Stone Magazine provides a direct portal of necessary stone awareness and technical resources to benefit the decision makers who impact our built environment.
Natural stone – by definition – is a natural and sustainable building product. Readily desired for its aesthetic beauty, its versatility in use, enduring life cycle, low maintenance and 100% recyclable qualities substantiate natural stone as a preferred green building product. The members of the Natural Stone Institute, in collaboration with other stone industry groups and the Natural Stone Council, will communicate through Building Stone Magazine how our industry operates in an environmentally, socially & economically responsible manner to further promote natural stone's green attributes that extend beyond LEED points recognition. Our goal is to effectively communicate the benefits of natural stone to those who ultimately will make design and product selections that support a healthier, more sustainable environment.
This digital issue is sponsored by:

Next Issue: Spring 2020
Ad Space Reservation: March 27
Ad Materials Due: April 3
Mail Date: May 5
What to look forward to in our Spring 2020 issue:
Massive spindle columns, elaborated artifacts, column capitals and balustrades shaped from a rare and completely white Greek marble adorn a Mosque in Russia, that required impressive implementation of stone consultation, marble supply, and installation work.
One of Chicago's finest examples of Beaux Arts-style Classical Revival architecture is converted from prime office space to usage for retail and hotel, as part of the building's adaptive re-use program.
Telling the story of stone: exploring the sustainability performance of natural stone.
Fall 2020
Ad sales close: September 4
Ad materials due: September 11
Mail date: October 13

Due dates may shift slightly.