Building Stone Magazine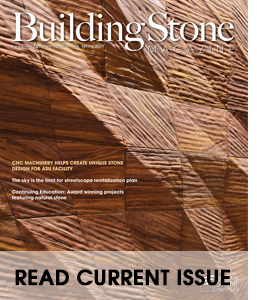 Building Stone Magazine, founded by the Building Stone Institute (BSI) – now the Natural Stone Institute – and published through a partnership with BNP Media, is the trusted source of natural stone information for architects, landscape architects and interior designers. Through editorial and visually inspiring photography of stone installations, Building Stone Magazine provides a direct portal of necessary stone awareness and technical resources to benefit the decision makers who impact our built environment.
Natural stone – by definition – is a natural and sustainable building product. Readily desired for its aesthetic beauty, its versatility in use, enduring life cycle, low maintenance and 100% recyclable qualities substantiate natural stone as a preferred green building product. The members of the Natural Stone Institute, in collaboration with other stone industry groups and the Natural Stone Council, will communicate through Building Stone Magazine how our industry operates in an environmentally, socially & economically responsible manner to further promote natural stone's green attributes that extend beyond LEED points recognition. Our goal is to effectively communicate the benefits of natural stone to those who ultimately will make design and product selections that support a healthier, more sustainable environment.
Next Issue: Fall 2020
Ad sales close: September 14
Ad materials due: September 21
Mail date: October 19

Due dates may shift slightly.
What to look forward to in our Fall 2020 issue:
Unexpected and contemporary uses of marble and limestone.
Granite veneer walls, stone plinths and sustainable practices combine in an ambitious, refined and enduring site design.
Floor-to-ceiling vein-matched marble appear as if it emerges from the ground as a solid block form.