Board Elections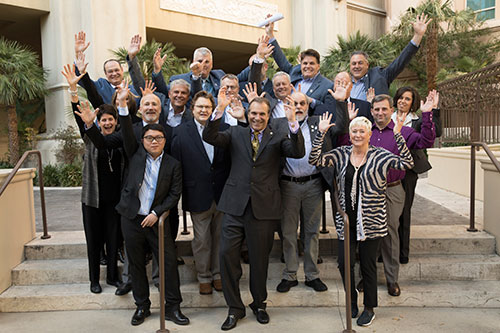 Natural Stone Institute
Board of Directors Nominations
2018 Call for Candidates
(2019-2022 Term on the Board of Directors)
Nominations are being accepted until August 31, 2018. You can make a difference. Download nomination form here.
Here's your chance to help lead the association dedicated to enhancing the professionalism and success of the natural stone industry. The Natural Stone Institute is currently seeking stone industry professionals to serve a four-year term (2019-2022) on its board of directors from the following zones:
• Zone 5: South Central: Arkansas, Louisiana, Mississippi, Oklahoma, and Texas
• Zone 7: Pacific: Zone 7: Pacific: Alaska, California, Hawaii, Oregon, and Washington
THE BENEFITS PACKAGE
A significant role in advancing the industry.
An opportunity to enhance the value of the Institute to the stone industry community.
Access to up-to-date information about the challenges facing the industry and the Institute in the future.
The chance to exchange ideas and perspectives with other volunteer leaders.
QUALIFICATIONS
The Nomination Committee has identified a number of desired attributes that will be part of the selection process for new board members:
Commitment – Demonstrated commitment to the Institute and the natural stone industry. This commitment must include the ability to participate in 3 board meetings per year (basic travel and lodging expenses to attend board meetings are reimbursed). The board may also be asked to assist with member recruitment/retention and to provide financial support for special projects and/or campaigns (i.e. promotion, scholarship, etc).
Leadership / Collaboration – Positive leadership attributes, emotional intelligence, and ability to work collaboratively and engage in appropriate debate and discussion when needed.
Experience – Relevant expertise in the disciplines of organizational management. Examples include but are not limited to, branding, fundraising, component relations, finance, international, social responsibility, diversity and strategic alliances.
Visionary and strategic thinker with demonstrated ability of new and innovative programs within their sphere of influence. Examples include but are not limited to incorporating strategy, leadership, future focus, risk taking and an entrepreneur spirit.
Stone Industry Involvement – Strong background in industry initiatives and volunteer work including work for the Institute, NSC, and other stone association committees, councils, commissions, and task forces. Involvement at StonExpo and/or Coverings should also be referenced.
Eligibility – must be the official company representative from the "regular member" category which is a company that is actively engaged in one or more of the following: quarrying/producing, manufacturing, finishing, fabricating, installing, exporting, importing, brokering, maintaining, and/or restoring natural stone. Associate Members (a company that supplies equipment, tools, supplies, chemicals, etc. to the industry) are not eligible for this election. NOTE: The associate member seat will again be up for election in 2022.
QUESTIONS / INQUIRIES
If you are interested in serving, or know of potential board members from one of the above listed board zones, please contact:
Jon Lancto, 2018 Nominating Committee Chair
Big Fish Consulting
405 Station 12
Sullivans Island, SC 29482
Phone: 843.860.4150
Email: jlancto@icloud.com
ALSO RECOMMENDED:
Contact the current board member to obtain perspectives about the organization's strategic initiatives
Review the "prospective board member" orientation online
DOCUMENTATION REQUIRED / SUGGESTED
Required – Submit the "Call for Candidates" form – Click here to download form
Optional – Resume/Work History, Letters of Support
Nominations must be received no later than August 31, 2018.
Thank you for your interest!
Jon Lancto, 2018 Nominating Committee Chair
David Carnevale, 2018 Board President
James A. (Jim) Hieb, CAE, Chief Executive Officer