Chester A. Smith receives MIA Migliore Award for Lifetime Achievement
Contact:
Marble Institute of America
(440) 250-9222
networking@marble-institute.com
FOR IMMEDIATE RELEASE
Cleveland, OH, February 21, 2011 — Chester A. Smith of Chester A. Smith, Inc. in Columbus, OH, has been awarded the 2010 Migliore Award for Lifetime Achievement by the Marble Institute of America.
In nominating Smith, former MIA president, S. Kenan Manson said, "I am nominating Chester, as his life epitomized the early members and founders of the MIA. The first meeting held in 1944 to organize the MIA was held in Cincinnati, but the first MIA Annual Convention was hosted by Chester in Columbus in 1945 and consisted of 45 people. It had a lot to do with Chester's enthusiasm, and because of the caliber of the men forming it, that the MIA has grown to what it is today."
Chester's lifetime of work began in 1912 as a draftsman for Columbus Marble Works. When that company went out of business, he joined the Wege Marble & Tile Co. and spent 16 years with that firm. In 1928, he formed Chester A. Smith, Inc. and concurrently operated the Detroit Marble Works in Detroit.
"Chester is so deserving of this award not only because of his lifetime of leadership in the stone industry, but because of his dedication to the MIA," said Garis Distelhorst, executive vice president of the MIA. "Chester served as the only president of the MIA to be elected twice in a row and also served as the organization's treasurer for five terms. This honor was deserved and overdue."
The Migliore Award for Lifetime Achievement is named for the late Vincent Migliore, long-time technical director for the MIA and the first winner of the award. Smith was presented the award at MIA's Annual Awards Luncheon at StonExpo/Marmomacc Americas in Las Vegas, January 26, 2011. Other winners of the Migliore Award for Lifetime Achievement are Joe Kapcheck, Malcolm Cohen, Bernie Polak, Vic Green, Louie Carnevale and Terry O'Neill.
About the Marble Institute of America
For over 65 years the Marble Institute of America (MIA) has been the world's leading information resource and advocate for the natural stone industry. MIA members include marble, granite, limestone, sandstone and other natural stone producers and quarries, fabricators, installers, distributors and contractors around the world.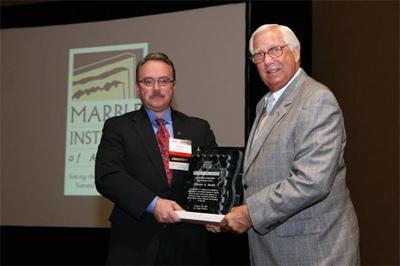 2010 MIA President, Brett Rugo of Rugo Stone in Lorton, VA, presenting the Migliore Award to Paul Smith, son of 2010 Migliore Award winner, Chester A. Smith.