Jimmy Ternent of Rugo Stone LLC is Honored as Marble Institute's 2010 'Craftsman of the Year'
Contact:
Marble Institute of America
(440) 250-9222
networking@marble-institute.com
FOR IMMEDIATE RELEASE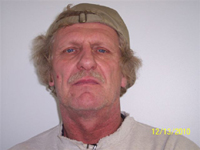 CLEVELAND, OH, March 24, 2011 — The Marble Institute of America, Inc. (MIA) is pleased to announce Jimmy Ternent, VP of Construction at Rugo Stone LLC in Lorton, VA, as the 2010 recipient of the MIA Natural Stone Craftsman of the Year.
A six member panel of stone industry veterans selected Ternent from a pool of nominees in a competition sponsored by the leading industry supplier, Campolonghi Italia. The award, a beautifully crafted and unique plaque, was presented to Brett Rugo on behalf of Jimmy Ternent at the MIA annual Awards Luncheon during StonExpo/Marmomacc Americas in Las Vegas on January 26th, 2011.
In 1971, Ternent joined the natural stone industry as a laborer. By 1992, he had progressed to the position of mason foreman while employed with Ron Bratti Associates. From 1992 to 1996, he served as superintendant with Harmon Contracting, and in 1996 he joined Rugo Stone in Lorton, VA as their Vice President of Construction & Corporate Officer where he continues to serve the stone industry today.
"I had the good fortune to have started in this field at a very young age, and I have come into contact with over 1000 workers and supervisors in the last 30 years," said Brett Rugo. "Jim Ternent is without question the finest marble mason and supervisor I have ever met." Rugo continued, "Starting with Jim's layout skills, combined with his ability to read and proof drawings, he was like no one I had ever met on a job. Jim personally installed many of the most complex and precious stone projects we have contracted, and his stone setting ability is excellent."
In his free time, Ternent likes to watch football and go fishing. He says one of the greatest things about the stone business is that he never gets bored. "There's always something new or something changes, so there's always a challenge."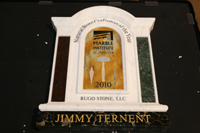 The Natural Stone Craftsman of the Year Award is an annual MIA competition to honor the men and women who truly reflect the best of the natural stone industry and bring stone to life through love of the material, craftsmanship, and attention to detail.
About the Marble Institute of America
For over 65 years the Marble Institute of America (MIA) has been the world's leading information resource and advocate for the natural stone industry. MIA members include marble, granite, limestone, sandstone and other natural stone producers and quarries, fabricators, installers, distributors and contractors around the world.