Eddie Mendoza Awarded with 2011 MIA Natural Stone Scholarship Award
Contact:
Marble Institute of America
(440) 250-9222
networking@marble-institute.com
FOR IMMEDIATE RELEASE
(MIA0021)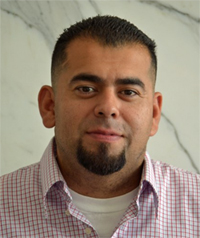 CLEVELAND, OH, February 2, 2012 — Eddie Mendoza, a service technician with All American Stone and Tile Care in Victorville, CA, has been awarded the 2011 MIA Natural Stone Scholarship Award. The selection was made by a panel of 5 judges, consisting of MIA board directors and past presidents.
Mendoza submitted a 500 word essay explaining his commitment to the natural stone industry. In his introductory paragraph, Mendoza wrote, "the lyrics from the classic Queen Song, 'We Will, We Will, Rock You', now have a new meaning in my life. I had no idea coming into the stone industry the unlimited design and installation possibilities natural stone provides. After just one year in the industry, my intent is to be a valuable craftsman. One of the greatest things about working with stone are the challenges I face everyday, which require patience and intuition." He continued "Attending StonExpo would give me an opportunity to excel to the next level of my career. The potential knowledge I could receive from an event like this would maximize my skill and value to my employer. It would be my honor to be the first person to receive this award, representing the renovation/restoration segment of this industry. I am very grateful to have been given this opportunity."
In a letter of recommendation from the president of his company, David B. Walton said, "Eddie has shown a good mechanical aptitude and is self-motivated. He has been a steady learner and enjoys the craft he is developing. He is entering the phase of his development where he understands what the project at hand should look like in the end and has a good feel for varying techniques to achieve that result. We look forward to him continuing his development into the craftsman he has the ability to become."
MIA Executive Vice President, Garis Distelhorst, agreed with Walton, "Eddie is a fantastic representative of the younger workers in the natural stone industry. It was inspiring watching him soak up every piece of information he could find at StonExpo. Eddie was at education seminars first thing in the morning…he took full advantage of this opportunity and I sincerely hope the knowledge he gained at StonExpo helps him in his career."
This scholarship was established in 2004 to provide educational opportunities for aspiring fabricators, installers, or administrative apprentices interested in furthering their careers within the natural stone industry. Funds are made available through the generous donations of MIA members worldwide.
About the Marble Institute of America
For over 65 years the Marble Institute of America (MIA) has been the world's leading information resource and advocate for the natural dimension stone industry. MIA members include marble, granite, limestone, sandstone, and other natural stone producers and quarriers, fabricators, installers, distributors, and contractors around the world.