Danny Catania of Miller Druck Specialty Contracting Company Wins the 2011 MIA Craftsman of the Year Award
Contact:
Marble Institute of America
(440) 250-9222
networking@marble-institute.com
FOR IMMEDIATE RELEASE
(MIA0024)
CLEVELAND (March 5, 2012) — The Marble Institute of America, Inc. (MIA) is proud to announce that Danny Catania of Miller Druck Specialty Contracting Co. in New York, NY, as the 2011 recipient of the MIA Natural Stone Craftsman of the Year Award.
A six member panel of stone industry veterans selected Catania from a pool of nominees in a competition sponsored by the leading industry supplier, Campolonghi Italia. The award, a beautifully crafted and unique plaque, was presented to Catania at the annual MIA Awards Luncheon held during StonExpo/Marmomacc Americas 2012.
Danny Catania began his career shortly after graduating from college in 1978. Not sure what he wanted to do, his uncle who happened to be in the stone business, asked him if he wanted a job. He began as a helper, then an apprentice setter; but his capability and diversity of skills soon advanced him to full mechanic and eventually to the top tradesperson.
Barbara Cohen, president of Miller Druck Specialty Contracting said, "Danny has worked worldwide and is creative in solving every installation detail; always able to adapt to the local requirements and availability of tools and equipment. He thinks ahead to solve fabrication and installation details for a long term solution. He uses his vast experience to rig equipment safely, and gently handles marble and stone, and always finds the most economical, practical and appropriate detail to insure the integrity of the architect's design."
When Miller Druck Specialty Contracting Company was awarded the Canary Wharf Project in London, it was intended that local labor would be used. However, as the job began, it became apparent that the skill for the type of quality and precision demanded was not available in the local market place. Danny traveled on a moment's notice to London where he became the master mechanic and was known as the "stone king" for the entire Canary Wharf Commercial Center. He immediately developed a rapport with all the existing contractors, taught all their workers how to properly set stone, guided them on how to read the drawings, and ended up building a team of 200 workers to complete the entire project. Danny stayed in London for over 5 years and was cherished by the guys he taught and led. Those workers, now stone trades people, had acquired a trade for life because of Danny.
As he traveled to many different locales, he always sought out the personal talent in each of the workers whether it be as expert mechanic, a helper, the forklift driver or the person to mix the sand and cement. He treated each and every one equally with respect, recognizing and appreciating the contribution that each person made to the team. "Danny has this amazing ability to get along with everybody and to make them feel part of his team, no matter where they come from because he has the basic respect of talent," Cohen said. She continued, "Besides his accomplishments, Danny is hardworking, sincere, dedicated, honest, straightforward, witty, clever and a kind human being."
When he is not working on natural stone projects around the world, Danny enjoys playing his guitar, which he inherited from his grandfather.
The Marble Institute of America salutes Danny Catania of Miller Druck Specialty Contracting Co. for winning this prestigious award.
About the Marble Institute of America
For over 65 years the Marble Institute of America (MIA) has been the world's leading information resource and advocate for the natural dimension stone industry. MIA members include marble, granite, limestone, sandstone, and other natural stone producers and quarriers, fabricators, installers, distributors, and contractors around the world.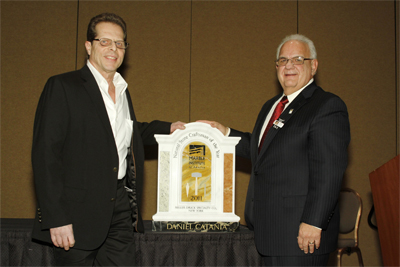 2011 MIA President GK Naquin (right) Presents the MIA Craftsman of the Year Award to Danny Catania (left).