John Kunz of KEPCO+ Wins the 2012 MIA Craftsman of the Year Award
Contact:
Marble Institute of America
(440) 250-9222
networking@marble-institute.com
FOR IMMEDIATE RELEASE
(MIA0048)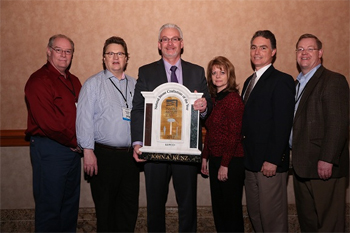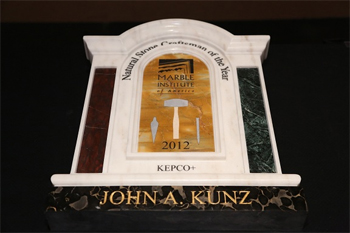 Cleveland, OH, February 25, 2013 — The Marble Institute of America, Inc. (MIA) has announced that John Kunz of Kepco+ in Salt Lake City, Utah is the 2012 recipient of the MIA Natural Stone Craftsman of the Year Award.
You only have to spend a few minutes with John Kunz to feel the passion he has for the natural stone business. Few men have had more diverse experiences than Kunz, who has been in the stone business for 34 years. He began working as an apprentice stone mason for a residential contractor doing interior walls, floors, and countertops, exterior walls and planters. Little did he know at that time, with each stone he set, he was laying the foundation for a career that would take him to 44 cities and allow him to work on stone projects totaling over 2.8 million square feet of stone, including several of the nation's most impressive and historic projects.
After four years in the business, he became a full-fledged journeyman. Three years later, he earned an associates degree in construction engineering from Dean Technical Institute in Pennsylvania. In 1985, Kunz began working on his first large commercial stone project as a craftsman. Within two weeks, he was promoted to shop foreman and responsible for plant operations where he oversaw the project's panel production for 18 months.
Kunz credits a lot of his management skills to a 62-year-old superintendent at Continental Marble and Granite, who urged him to show up for work a half hour early every day so he could teach him the trade.
Kunz eventually took his talents to New England and then to San Diego, where he met Bruce Knaphus, president of Salt Lake City-based KEPCO+. "Kunz tracked us down about a specific job we had down in Rancho Bernardo at the time," Knaphus remembers. "He walked in and looked the part. And when we started chatting, he spoke the part. He was strong and knew his way around the stone business. It has proved to be the case for 20 years."
In 1992, Kunz began working for KEPCO+ as a seasoned journeyman setter and crew trainer. Within a few months he was elevated to foreman, and in 1998 he was promoted to General Superintendent. In 2004, he was promoted to his current role of Field Operations Manager.
"John brings a wealth of resources from the field perspective," says Knaphus. "He's probably the most professional field foreman who has come up through working with his hands that I've ever seen."
Part of a team that has won nine MIA Pinnacle Awards in the past decade, Kunz has been the point man in the field for Kepco+ for projects including: the Cottonwood Corporate Center in Salt Lake City, Utah; Eccles Egyptian Theater/Convention Center in Ogden, Utah; 24 story Grand America Hotel in Salt Lake City, Utah; Nauvoo Temple Re-Creation in Nauvoo, Illinois; New York City's 90 West Building Renovation; Utah State Capitol Expansion; Utah State Capitol Renovation; and, the LDS Temple in British Columbia, (Canada); to name just a few.
In addition to Kunz's technical resume, those that work with him recognize his intuitive ability to manage his team. He has the ability to see problems before they start and works well with his partners. His understanding of the trade has earned the respect of general contractors, architects and owners. Kunz's expertise is recognized by his clients, and he is often requested to be a part of the project when negotiating with the client.
Kunz always remembers the helping hands he received while growing up in the business and readily shares his knowledge with younger craftsmen. This is a major factor in his selection as Natural Stone Craftsman of the Year.
Kunz added, "I like to give back to the guys today, work with them, give them a chance to grow and give them the opportunity to learn in the field of stone masonry."
In spite of all Kunz' years of experience in the field, perhaps his best quality is his dedication to his wife and his two children. The definitive "Hockey Dad", Kunz's support and commitment to his family is second to none. Through the years, he has dedicated his home life to attending hockey events with his son and horseback riding with his daughter — horse, trailer, and all!
About the Marble Institute of America
For over 65 years the Marble Institute of America (MIA) has been the world's leading information resource and advocate for the natural dimension stone industry. MIA members include marble, granite, limestone, sandstone, and other natural stone producers and quarriers, fabricators, installers, distributors, and contractors around the world. MIA is a registered provider to the AIA/CES program and offers training related to natural stone. Visit www.marble-institute.com for information on natural stone.