Sam Arcot Awarded 2013 MIA Natural Stone Scholarship Award
Contact:
Marble Institute of America
(440) 250-9222
networking@marble-institute.com
FOR IMMEDIATE RELEASE
(MIA0073)
Cleveland, OH, March 24, 2014 — Sam Arcot, Manager - Residential & Special Projects at Rugo Stone in Lorton, Virginia, has been awarded the 2013 MIA Natural Stone Scholarship Award. The selection was made by a panel of 5 judges, consisting of MIA board directors and past presidents.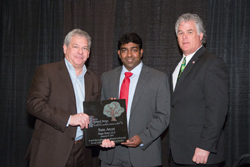 Jonathan Zanger, MIA 2013 President; Sam Arcot; Rugo Stone and Dan Rae, Coldspring
Arcot's selection was based on a 500 word essay explaining his commitment to the natural stone industry. Arcot writes in his opening paragraph that his passion towards natural stone stems back to a brief exposure to the natural stone industry through his paternal uncle who was in the business. Arcot said, "I was fascinated by the fact that naturally occurring materials can be made into beautiful forms and be used by human beings. I am astonished by the beauty and uniqueness of each type of species of natural stone. My goal is to help Rugo Stone become the number one stone supplier and fabricator in the Northern Virginia, DC and Maryland residential market. I'm committed to improving material and fabrication quality standards, enhance customer experience and also to create a benchmark in customer service."
Brett Rugo, President of Rugo Stone, in his letter of recommendation said, "To me, Sam represents a new generation of young stone professionals. He is highly educated, speaks multiple languages and has a great passion to perform the work in an expert fashion. Sam has an excellent mind and is extremely fast and accurate in any task that he takes on. He has become a very valuable member of our management team."
This scholarship was established in 2004 to provide educational opportunities for aspiring fabricators, installers, or administrative apprentices interested in furthering their careers within the natural stone industry. Funds are made available through a grant from Coldspring and the generous donations of MIA members worldwide.
The award was presented to Arcot at the MIA Awards Luncheon at StonExpo/Marmomacc Americas in Las Vegas on January 29, 2014. Applications for the 2014 Pinnacle Awards Program are now being accepted. For more information visit: www.marble-institute.com.
About the Marble Institute of America
Headquartered in Cleveland, Ohio, the Marble Institute of America (MIA) has served as the authoritative source of information on standards of natural stone workmanship and practice and the application of natural stone products for 70 years.
Membership in the association is worldwide and includes over 1,600 natural stone producers, exporters/importers, distributors/wholesalers, fabricators, finishers, installers, and industry suppliers committed to the highest standards of workmanship and ethics.
MIA offers an industry accreditation program for fabricators and installers, markets a range of technical publications and consumer pamphlets on natural stone, sponsors business and technical meetings and seminars on industry-related topics, provides educational programming for architects and construction specification professionals, and conducts the annual Pinnacle Awards competitions recognizing outstanding natural stone projects worldwide.
MIA is also a leading promoter of stone usage in the commercial and residential marketplaces, producing consumer education materials on the use of natural stone and its proper care and maintenance. More information can be found on the association's website: http://www.marble-institute.com.