Regis Studeny Named 2015 Natural Stone Craftsman of the Year
Contact:
FOR IMMEDIATE RELEASE
(MIA-0140)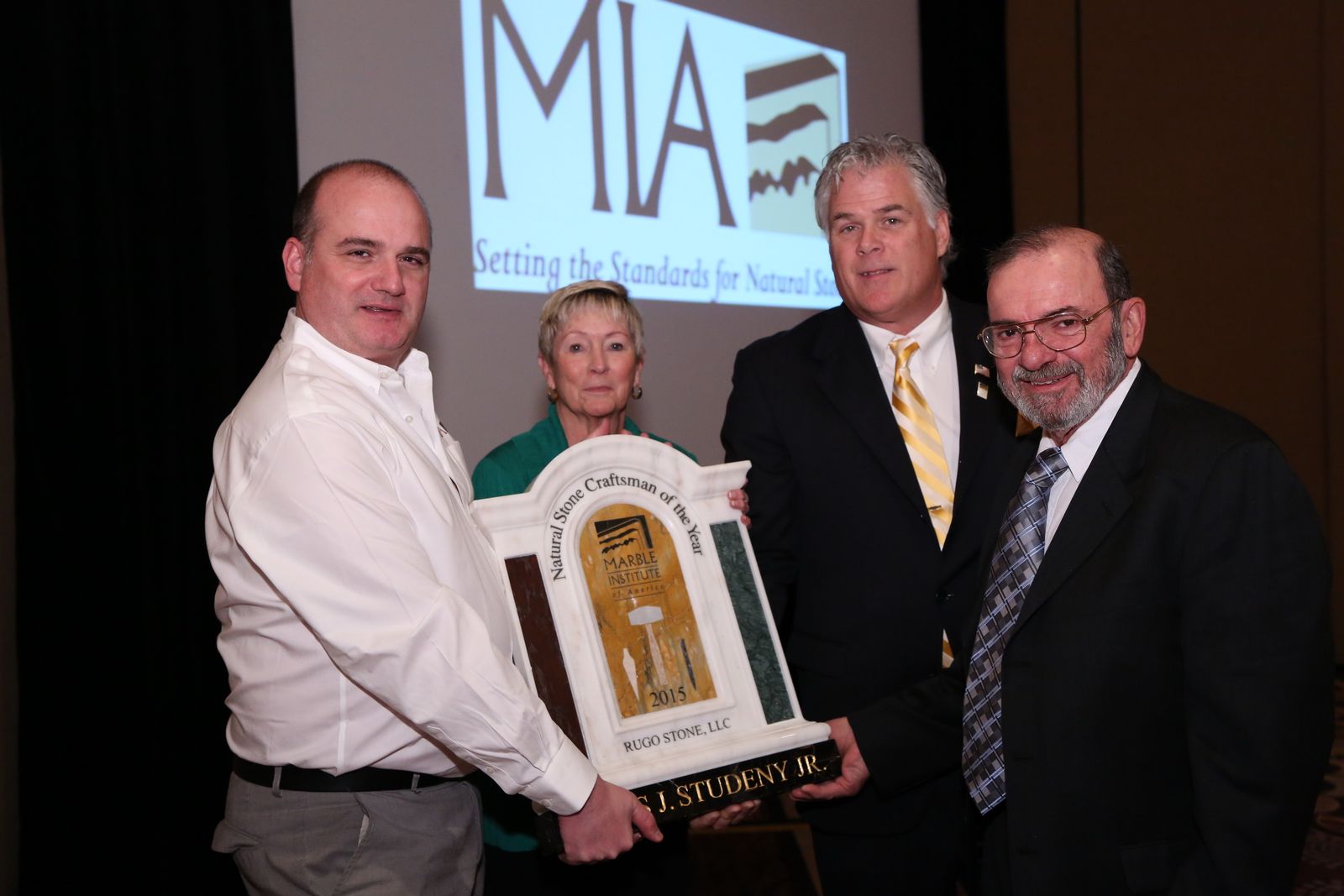 Regis Studeny (far right) accepts the 2015 Natural Stone Craftsman of the Year award from award sponsors Patrick Perus (Polycor) and Brenda Edwards (TexaStone Quarries) and 2015 MIA President, Dan Rea (Coldspring).
Oberlin, OH, and Chestertown, NY, February 11, 2016 —Regis Studeny, project manager at Rugo Stone in Lorton, VA, has been named 2015 Natural Stone Craftsman of the Year. The award was presented to Studeny at TISE 2016 in Las Vegas, NV.
Studeny began his career with apprenticeships with Georgia Marble and Atlas Tile and Marble, where some of his first projects were on the Library of Congress and National Gallery of Art. He joined Rugo Stone in 1993 after nearly two decades in the stone industry. In addition to playing a critical role in six MIA Pinnacle Award-winning projects, Studeny's work has been honored with awards from organizations such as the International Masonry Institute, the Washington Building Congress, the Baltimore Building Congress, and the American Institute of Architects. In 2011, Studeny was elected into the Washington Building Congress Hall of Fame.
In a letter nominating Studeny for this award, Brett Rugo, President of Rugo Stone, commented: "Regis is a true marble craftsman. His stone setting skill is excellent, but what separates Regis from so many other foremen is his in-depth knowledge of each job's stone types and their limits, and his ability to provide a constant, steady onsite leadership presence. In a day when most people are satisfied with mediocracy, Regis has stood out as a true craftsman, and I cannot think of anyone more deserving than this man for this award."
When accepting the award, Studeny was quick to thank his coworkers at Rugo Stone, saying: "From really coming from nothing to where I am today—it feels good. Knowing I have done some good things, it makes a guy feel proud that you get acknowledged. Even though my name is the only one on this plaque, I couldn't have done this alone."
For more information on the MIA+BSI awards program, please visit www.marble-institute.com/awards.
###
About MIA+BSI
MIA+BSI, the Natural Stone Institute, serves more than 1900 members in 55 countries who represent every aspect of the natural stone industry, offering them a wide array of technical and training resources, professional development, regulatory advocacy, and networking events. Two prominent publications—the Dimension Stone Design Manual and Building Stone Magazine—raise awareness in both the industry and the design communities for the promotion and best use of natural stone. Learn more at www.marble-institute.com and www.buildingstoneinstitute.org.