Suzanne Marzullo Receives 2015 MIA Natural Stone Scholarship Award
Contact:
FOR IMMEDIATE RELEASE
(MIA-0141)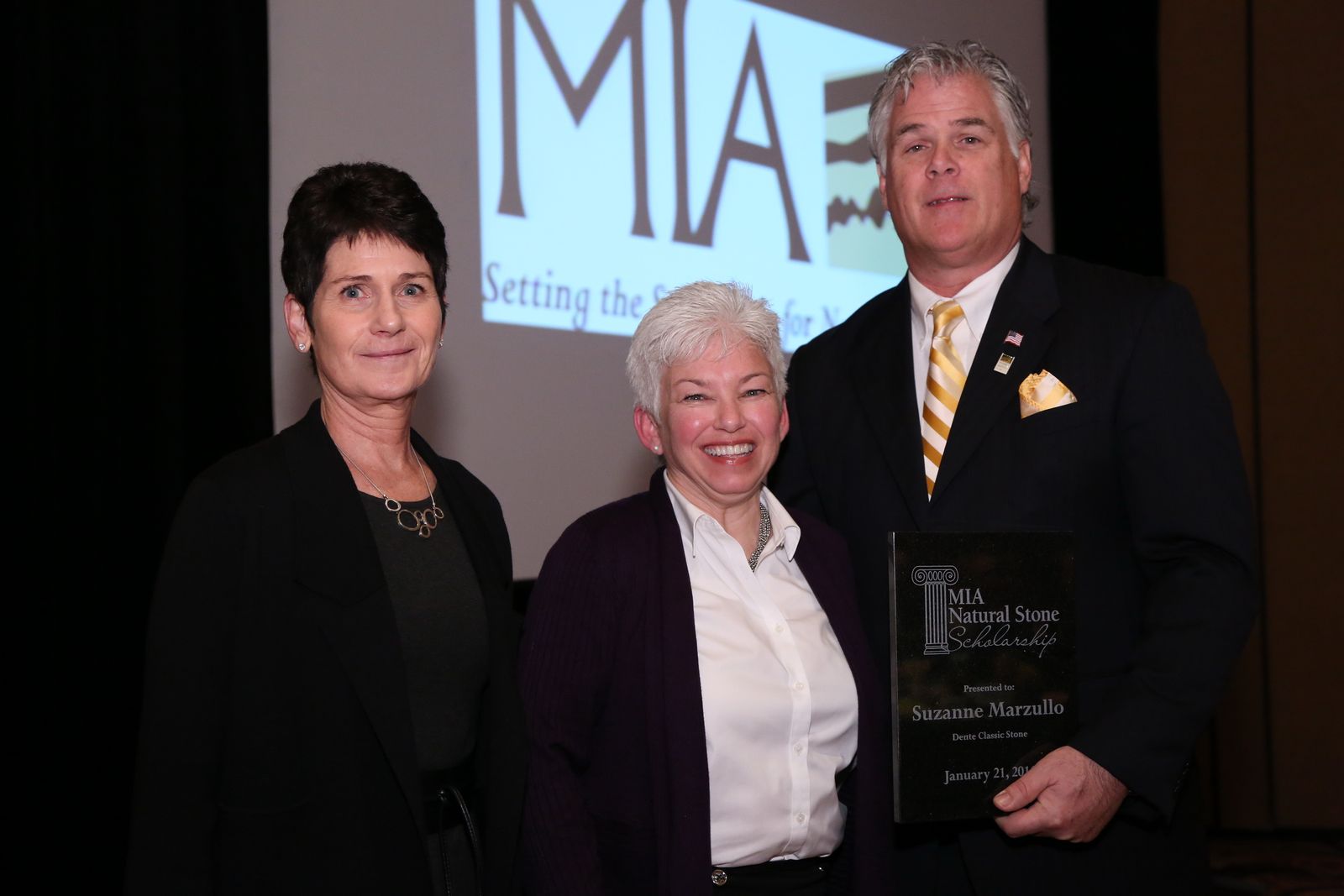 Suzanne Marzullo (center) accepts the 2015 MIA Natural Stone Scholarship Award from award sponsors Kathy Spanier (Coldspring) and 2015 MIA President Dan Rea (Coldspring).
Oberlin, OH, and Chestertown, NY, February 18, 2016 —Suzanne Marzullo, Sales Manager at Dente Classic Stone in Pittsburgh, PA was the 2015 recipient of MIA's Natural Stone Scholarship Award. The award was presented to Marzullo at TISE 2016 in Las Vegas, NV.
Marzullo joined Dente Classic Stone in 2014 in a clerical positon, but her leadership skills and knowledge from her previous experience as an interior designer helped her quickly get promoted to Sales Manager. She now works directly with architects, designers, and consumers. In her essay, Marzullo expressed hope that winning the Natural Stone Scholarship would benefit not only her own future, but also those around her. "As a woman in the stone industry, my hope is that this opportunity will raise the standard for Dente Classic Stone, the fabricators we supply, and our customers' appreciation of the product they use and enjoy every day."
In her letter of recommendation for Marzullo, Elizabeth Baker, Vice President at Dente Classic Stone, commented: "Suzanne has impressed me with her work ethic and professionalism. Her integrity towards her work is unquestionable, as has been evident from her demeanor in the short time she has been with us. She comes to work every day eager to learn more about the process of quarrying, fabricating, and installing natural stone."
The Natural Stone Scholarship Award covers travel and registration expenses for TISE West and is designed to help aspiring stone industry professionals gain valuable technical and practical knowledge, meet and network with leading stone professionals, and explore potentials for future leadership. To learn more about the Natural Stone Scholarship Award and other MIA+BSI awards, please visit www.marble-institute.com/awards.
###
About MIA+BSI
MIA+BSI, the Natural Stone Institute, serves more than 1900 members in 55 countries who represent every aspect of the natural stone industry, offering them a wide array of technical and training resources, professional development, regulatory advocacy, and networking events. Two prominent publications—the Dimension Stone Design Manual and Building Stone Magazine—raise awareness in both the industry and the design communities for the promotion and best use of natural stone. Learn more at www.marble-institute.com and www.buildingstoneinstitute.org.