G.K. Naquin Receives 2016 Migliore Award for Lifetime Achievement
Contact:
MIA+BSI: The Natural Stone Institute
(440) 250-9222
networking@naturalstoneinstitute.org
FOR IMMEDIATE RELEASE
(MIABSI0170)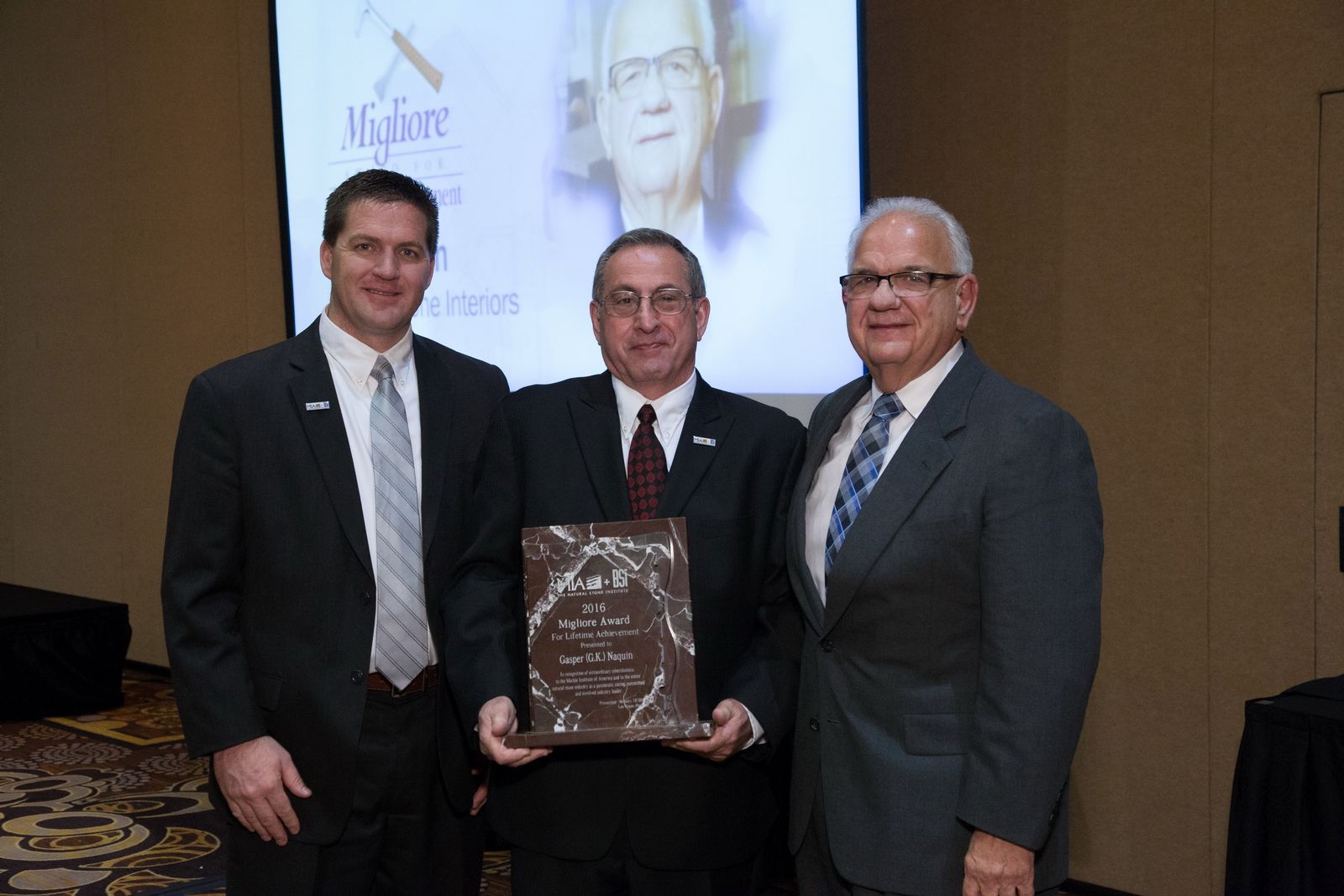 G.K. Naquin with
2016 BSI President Aaron Hicken
and
2016 MIA President David Castellucci
.
Oberlin, OH and Chestertown, NY, February 2, 2017—G.K. Naquin, President of Stone Interiors in Loxley, AL, is the recipient of the 2016 Migliore Award for Lifetime Achievement. The award was presented to Naquin at the MIA+BSI Awards Luncheon at TISE in January.
Naquin's career in the stone industry began in 1974, when he joined a startup stone company, Intrepid Enterprises. He served as CFO for Intrepid Enterprises for 25 years before starting his own company, Stone Interiors, in 1997. Locations in Gaston, SC and New Orleans, LA were opened in 2002 and 2007. Naquin has been an active member of MIA+BSI since 2003, and served as MIA President in 2011. His passion for bettering the industry can be found in his involvement in the Accreditation and Education programs. In the past twelve years, Naquin has facilitated 40 Stone Industry Education Series events, and at least 50 other sessions at industry trade shows and conventions.
Letters from industry colleagues nominating Naquin for this award speak volumes. Tony Malisani (Malisani, Inc.) wrote: "G.K. has been an advocate for many, a mentor to some, but an inspiration to all." Eric Tryon (Premier Surfaces) agrees: "G.K. and his companies have made astounding contributions and advancements to promote the stone industry. However, it is his eagerness and ability to impart his knowledge to others that have been central to his legacy."
Naquin stressed the importance of involvement with industry associations like MIA+BSI: "If you're in an industry where you're making a profit and you plan to build your life around that business, you should be part of an association that promotes that industry. Why would I be in an industry I didn't support? I know it's going to support me."
For more information on the MIA+BSI awards program, please visit www.naturalstoneinstitute.org/awards.
###
About MIA+BSI
MIA+BSI: the Natural Stone Institute serves more than 1900 members in 55 countries who represent every aspect of the natural stone industry, offering them a wide array of technical and training resources, professional development, regulatory advocacy, and networking events. Two prominent publications—the Dimension Stone Design Manual and Building Stone Magazine—raise awareness in both the industry and the design communities for the promotion and best use of natural stone. Learn more at www.naturalstoneinstitute.org.