Andrew Swinley Named 2016 Craftsman of the Year
Contact:
MIA+BSI: The Natural Stone Institute
(440) 250-9222
networking@naturalstoneinstitute.org
FOR IMMEDIATE RELEASE
(MIABSI0174)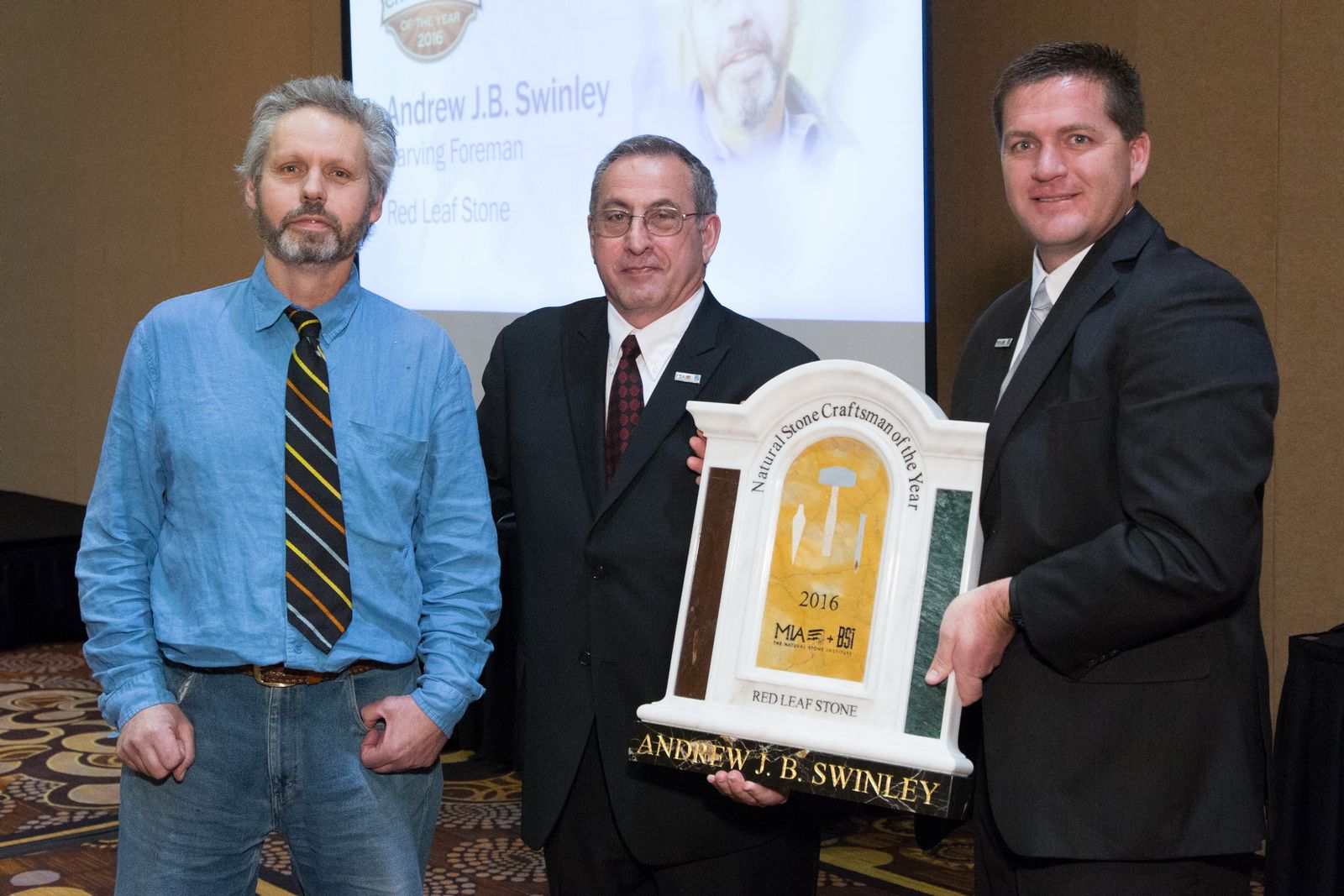 Andrew Swinley with 2016 MIA President David Castellucci and 2016 BSI President Aaron Hicken.
Oberlin, OH and Chestertown, NY, February 16, 2017—Andrew Swinley, carving foreman at Red Leaf Stone in Abbottsford, British Columbia, has been named 2016 Craftsman of the Year. This award was presented to Swinley at the MIA+BSI Awards Luncheon at TISE 2017.
Swinley began his career at the age of twenty as an apprentice stone mason, where he focused almost entirely on restoration. He then pursued a degree in Figurative Sculpture from the City and Guilds Art School in London. After twenty years as a self-employed stone carver, Swinley accepted a position at Architectural Stonemasonry, a division of Red Leaf Stone.
Tony Rogac, shop manager at Red Leaf Stone, commented: "Andrew is a traditional stonemason and architectural carver; a man passionate in promoting the skills of his craft. His training and experience give him a unique insight into what is possible in stone. When you are passionate about something, you want to see excellence. When you have excellence in yourself, you want to see that brought out in others. That's what Andrew does."
Swinley is grateful for this award and the opportunities it will bring, saying: "Winning this award is meaningful, because it was given to me by my peers. It is gratifying to finally get recognition in my field."
To learn more about the MIA+BSI Awards Program, visit www.naturalstoneinstitute.org/awards.
###
About MIA+BSI
MIA+BSI: the Natural Stone Institute serves more than 1900 members in 55 countries who represent every aspect of the natural stone industry, offering them a wide array of technical and training resources, professional development, regulatory advocacy, and networking events. Two prominent publications—the Dimension Stone Design Manual and Building Stone Magazine—raise awareness in both the industry and the design communities for the promotion and best use of natural stone. Learn more at www.naturalstoneinstitute.org.