R.I.S.E. Program
Since 2016, The Natural Stone Institute has been partnering with the Gary Sinise Foundation to support its R.I.S.E. (Restoring Independence Supporting Empowerment) program.
What is the R.I.S.E. program?
Through its R.I.S.E. program, the Gary Sinise Foundation builds 100% mortgage-free specially adapted smart homes for our nation's most severely wounded heroes. They also provide home modifications, mobility devices, and adapted vehicles to injured, wounded, ill, and aging heroes. To learn more, visit GarySiniseFoundation.org/RISE.
How will Natural Stone Institute members support this program?
Natural Stone Institute members will provide natural stone materials, fabrication, and installation for R.I.S.E. specially adapted smart homes across the country. This will include both interior stonework (countertops, facades, etc.) and exterior stonework (exterior cladding, etc.). We anticipate involvement in approximately 10 homes annually. NOTE: Natural Stone Institute will be providing only 100% natural stone for these projects.
Get Involved
For additional information about the program, please contact Pam Hammond (440) 250-9222 or rise@naturalstoneinstitute.org.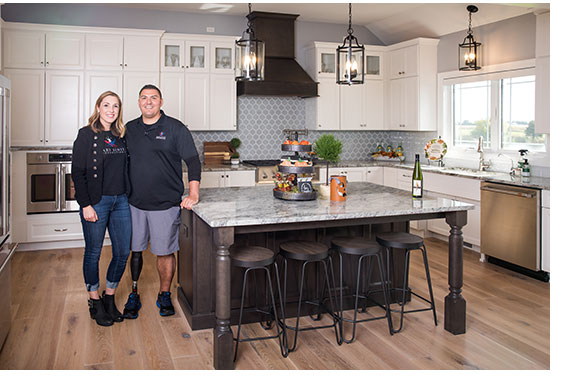 David Fell Spirit of Service Award
The David Fell Spirit of Service Award is presented to a company and/or individual who participated in the Gary Sinise Foundation R.I.S.E. program to recognize their efforts for demonstrating the qualities and characteristics of leadership within their company, the community, and beyond.
---
Thank you to the following member companies
The Natural Stone Institute thanks the following members for donating natural stone material and services to the Gary Sinise Foundation's R.I.S.E. program. Their contributions are making a real difference in the lives of our nation's severely wounded veterans, first responders, and their families.
AGM Imports
Alpha Granite
Andrew Lauren Surfaces
Architectural Granite & Marble (Austin)
Arizona Tile (Albuquerque)
Arizona Tile (Anaheim)
Arizona Tile (Salt Lake)
Arizona Tile (Tucson)
Artistic Stone Works
Artistic Tile
Bedrock Quartz Surfaces
Bedrosians
Big Creek Granite
BMJ Stone
Carved in Stone, LLC
Columbia Stone, Inc.
Concept Elite Enterprises
Continental Cut Stone
Cosentino USA
Cutting Edge Countertops, Inc.
daltile (Atlanta)
daltile (Raleigh)
daltile (Salt Lake)
Dee Brown, Inc.
Delta Granite & Marble, Inc.
Delta Stone Products, Inc.
Dente Trading Co., Inc.
Distinctive Marble & Granite
Distinctive Surfaces of Florida, Inc.
Earthworks Inc
Eden Stone Company
Eden Valders Stone
Epic Stone, LLC
European Wholesale Countertops
Exodus Stone Surfaces, LLC
Favrstone, LLC
FLOFORM –Seattle
Florida Bath & Surfaces, Inc.
Florida Custom Marble
Ford Marble & Tile, Inc.
George Schofield Co Inc.
Global Granite & Marble
Granite Group International, LLC
Graniterra
Grazzini Brothers & Co.
Hands of Stone
Halquist Stone Company
Inland Counter Tops
Majestic Kitchen & Bath Creations
Marble and Granite, Inc.
Marble Line
Marjan Stone Inc.
Martellaro Marble & Granite
Marva Marble & Granite, Inc. –Richmond
Mont Surfaces By Mont Granite
MSI –Dallas
Multistone Enterprises, Inc.
Murphy Marble Co.
Natural Stone Designs
Natural Stone Veneers International, Inc.
Northern Stone Supply, Inc.
Ontra Stone Concepts
Pacific Shore Stones (Fresno)
Picasso Tile & Design Inc.
Precision Countertops
Prestige Marble & Granite, Inc.
Pyramid Marble & Granite
Quality Marble & Granite
Quality Stone Company
Real Stone & Granite Corp.
Real Stone Veneers of Tennessee
ROCKin'teriors
Rocksolid Surfaces
Rocky Mountain Stone Co., Inc.
Rugo Stone LLC, Natural Stone & Mosaic Contractors
Salado
Schofield Stone/Outdoor Living Supply
Siloam Stone Inc.
Smokey Mountain Tops, Inc.
Southeast Stone Restoration LLC
Stone Interiors
Stone Source
Stoneworks Cutting Edge
Stoneworld (Knoxville)
Terrazzo Marble & Supply Company
TexaStone Quarries
The Countertop Factory-Midwest
The Granite Place
Tony Sciarrino Stone, Inc.
Trindco
Triton Stone (Nashville)
Triton Stone Group of Austin
Triton Stone Group of Lenexa
Triton Stone Group of Mobile
True Blue Surfaces-Austin
Unique Countertops
Unique Stone Concepts, LLC
United Materials Inc.
Valley View Granite
Walker Zanger
Washington Marble & Granite Co.
As of November 1, 2022