MIA Honors AKDO as Educator of the Year for CEU Program
Contact:
Marble Institute of America
(440) 250-9222
networking@marble-institute.com
FOR IMMEDIATE RELEASE
(MIA0113)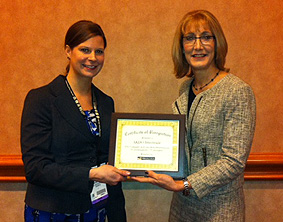 MIA's Sarah Gregg presents a certificate to Diane Hayden, AKDO's Showroom Supervisor. AKDO was named MIA's CEU Educator of the Year for 2014.
OBERLIN, OH, June 30, 2015 — The Marble Institute of America (MIA) recently honored AKDO as "CEU Educator of the Year" for presenting the most MIA CEU classes in 2014. 19 speakers from the Bridgeport, CT, company presented 61 classes, with a total of 747 attendees. CEU class topics included:
Natural Stone 101: Everything You Need to Know about the World's Oldest Building Material
Natural Stone & Green Design
Marble Use in the Kitchen
Stone Care: What You Should Know
MIA CEU classes are designed for architects, designers, and construction professionals to gain continuing education credits to satisfy yearly requirements set by associations including AIA, IDCEC, LACES, NKBA, and GBCI.
Robert Bacon (Daltile), chair of MIA's CEU Education Committee, said: "Congratulations to AKDO for leading the continuing education charge in 2014. In fully embracing MIA's CEU program, AKDO has illustrated a true understanding of the mutual benefits available through this program." Diane Hayden, AKDO's Showroom Supervisor, stated: "AKDO strives to be a go-to source for information about natural stone, and partnering with MIA helps us accomplish our goals. It's exciting to work with MIA. There is a constant flow of new information and research that benefits our entire industry, and AKDO is grateful for that."
MIA's CEU program benefits the natural stone industry as well as the architecture, design, and construction communities. "The general goal is to help these professionals become more knowledgeable on stone and its uses for building and design," said Sarah Gregg, MIA CEU Administrator. "They become better equipped to answer consumer questions regarding stone. The CEU class attendees are more likely to promote and specify stone for future installations." Bacon agrees: "Promoting the proper use of genuine stone in construction projects is vital for the continued success of the stone industry."
Hayden spoke highly about the benefits of joining the MIA CEU speaker's bureau: "Participating in the speaker's bureau has resulted in stronger relationships with the designers, architects, and industry professionals we work with day-to-day, because they know we can help with their stone questions."
For more information about MIA's CEU program, and to learn how to join the speaker's bureau or schedule a presentation, please visit www.marble-institute.com/ceu.
#####
About the MIA:
The Marble Institute of America (MIA) has served as the authoritative source of information on standards of natural stone workmanship and practice and the application of natural stone products for 70 years. Membership in the association is worldwide and includes over 1,700 natural stone producers, exporters/importers, distributors/wholesalers, fabricators, finishers, installers, and industry suppliers in 55 countries committed to the highest standards of workmanship and ethics. MIA offers an industry accreditation program for fabricators and installers, markets a range of technical publications and consumer pamphlets on natural stone, sponsors business and technical meetings and seminars on industry-related topics, provides educational programming for architects and construction specification professionals, and conducts the annual Pinnacle Awards competitions recognizing outstanding natural stone projects worldwide. More information can be found on the association's website: www.marble-institute.com.