Samy Beshara of Marmi Natural Stone is MIA Natural Stone Craftsman of the Year
Contact:
Marble Institute of America
(440) 250-9222
networking@marble-institute.com
FOR IMMEDIATE RELEASE
(MIA0071)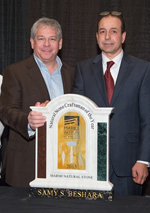 Cleveland, OH, March 4, 2014 — Samy Beshara of Marmi Natural Stone in Norcross, GA been awarded the 2013 Natural Stone Craftsman of the Year Award by the Marble Institute of America (MIA). Beshara, a native of Alexandria, Egypt accepted the award at the annual MIA Awards Luncheon held during StonExpo/Marmomacc Americas 2014 in Las Vegas, NV.
Beshara's first stop in the stone business was at the age of 21 as an apprentice to a family friend in the marble business in Alexandria, Egypt. Because of an inherent drive to understand the intricacies of marble stone fabrication, he sought work in Italy, the epicenter of the stone industry. Armed with his apprenticeship and broad training in Italy, Samy became interested in all areas of the stone trade: he bought blades, sold blades, designed and built his own equipment and fabricated a plethora of stone objects including columns, fireplace surrounds, fountains, corbels, and even complete building facades.
Samy came to the United States in 2003 and settled in Michigan with his wife, Gehan, and their two daughters. He worked in a small stone shop for about a year. Having come from Egypt, Michigan weather was too harsh for Samy and his family. As Samy tells it: "The weather was too different for us. It was too cold." So Samy connected with a family friend in Atlanta who planned to start a significant stone fabrication business. As a result, Samy moved to Atlanta, joined Marmi Natural Stone, and soon became a superstar craftsman.
"Samy is obsessed with quality," said Magd Riad, president of Marmi Natural Stone, the U.S. Division of Marmomil, headquartered in Cairo, Egypt. "He wants to make a client happy and he wants the job to be perfect. And these are two very important qualities that Samy brings to Marmi Natural Stone. Samy is a real artist. He's got a lot of passion and he's brought a lot of artistry into countertops, fireplaces and other types of stone installations."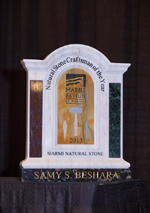 Matthew Quinn, Principal with Design Galleria Kitchen and Bath Studio, who has worked with Samy on many projects, adds: "Samy's confidence and solution-oriented mindset highlight the many attributes which make him valuable to our team and the interior designers, and homeowners with whom we work. I use Marmi Natural Stone consistently because of Samy and Marmi Natural Stone's uncompromising standards of service, craftsmanship and commitment to excellence. In a field in which the attention to detail sets companies apart, Samy's expertise and his diligence in double and triple checking his work exemplify his extraordinary level of commitment to his trade."
While Samy is thrilled with the Natural Stone Craftsman of the Year honors, there is still more great work to come in the future. As only Samy can say it: "This is not the end. I still have more to learn and more I'd like to learn. I know it will pay off." Spoken like a true MIA Natural Stone Craftsman of the Year.
For more information on Samy Beshara or any of the other Pinnacle Award winners, visit www.marble-institute.com/programs/awards/awards-overview/.
About the Marble Institute of America
Headquartered in Cleveland, Ohio, the Marble Institute of America (MIA) has served as the authoritative source of information on standards of natural stone workmanship and practice and the application of natural stone products for 70 years.
Membership in the association is worldwide and includes over 1,600 natural stone producers, exporters/importers, distributors/wholesalers, fabricators, finishers, installers, and industry suppliers committed to the highest standards of workmanship and ethics.
MIA offers an industry accreditation program for fabricators and installers, markets a range of technical publications and consumer pamphlets on natural stone, sponsors business and technical meetings and seminars on industry-related topics, provides educational programming for architects and construction specification professionals, and conducts the annual Pinnacle Awards competitions recognizing outstanding natural stone projects worldwide.
MIA is also a leading promoter of stone usage in the commercial and residential marketplaces, producing consumer education materials on the use of natural stone and its proper care and maintenance. More information can be found on the association's website: http://www.marble-institute.com.