Tom Schlough Receives 2015 Migliore Award for Lifetime Achievement
Contact:
FOR IMMEDIATE RELEASE
(MIA-0139)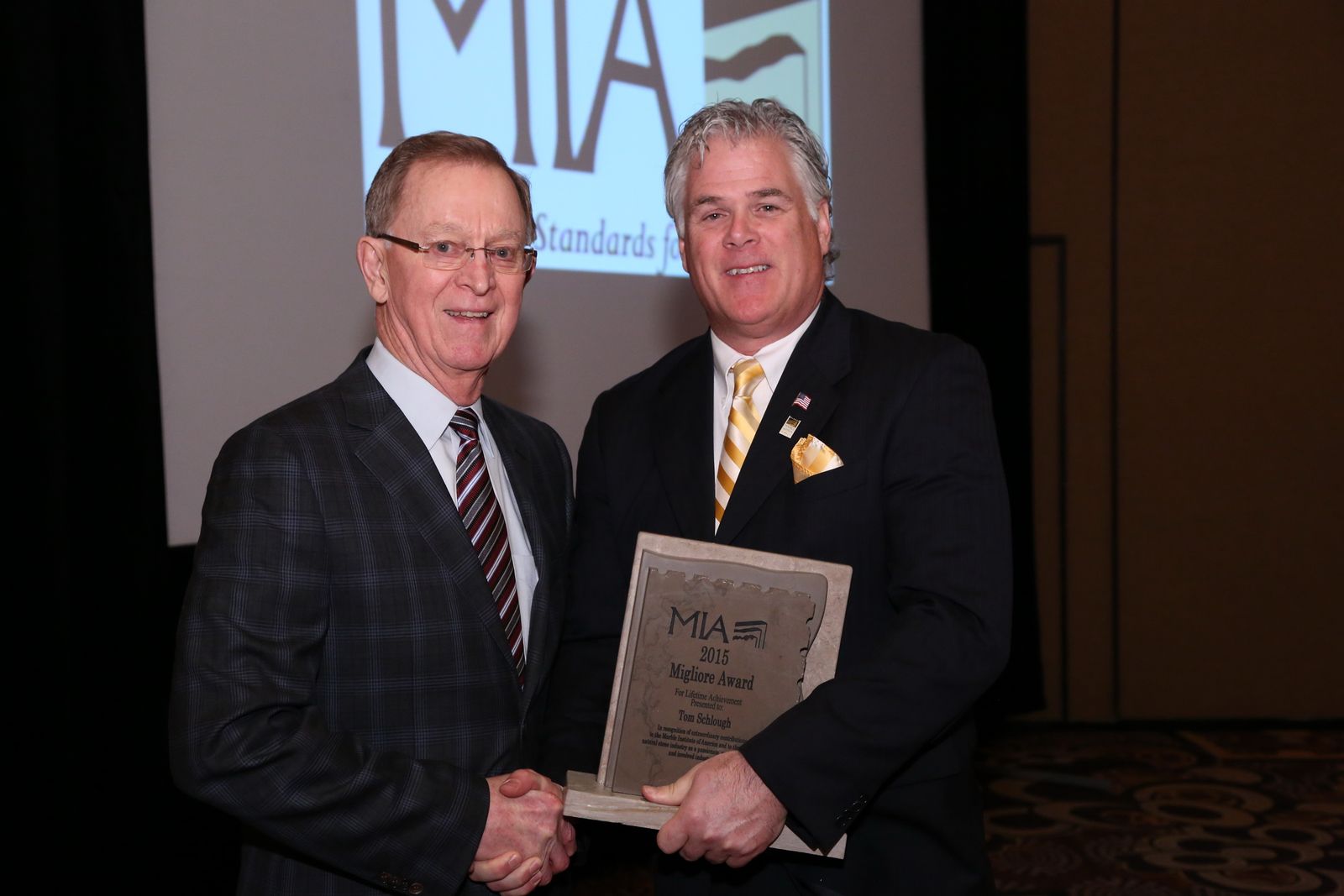 Tom Schlough receives the Migliore Award for Lifetime Achievement from 2015 MIA President, Dan Rea (Coldspring).
Oberlin, OH, and Chestertown, NY, February 11, 2016 —Tom Schlough, owner of Park Industries in St. Cloud, MN, is the recipient of the 2015 Migliore Award for Lifetime Achievement. The award was presented to Schlough at TISE 2016 in Las Vegas, NV.
Under Schlough's leadership, Park Industries became a leading pioneer in the development of stone processing solutions. Schlough's creativity led the company to many achievements, including introducing the first diamond-tipped disc saw for cutting granite slabs (1979), developing a CNC router for dimensioning, shaping, and cutting marble and granite (1998), and introducing a system to process full dimension stone into thinstone veneer (2003). Schlough's entrepreneurial spirit and driving desire to further expand the stone processing industry has also resulted in numerous patents. Although Schlough retired from day-to-day operations at Park Industries in December 2013, he and his wife remain involved in the company as principal owners.
In a letter nominating Schlough for this award, Joan Schatz, Chief Operating Officer at Park Industries, wrote: "For over 48 years, Tom Schlough has demonstrated a strong commitment to quality, ethical business practices, growth, and professional excellence for the stone industry." Brenda Edwards, owner and general manager at TexaStone Quarries, who has worked with Schlough through several stone associations, said: "Tom has benefited the stone industry in so many ways. He is well-respected, not only in the industry, but in his community. He gives of himself to everyone around him. I am very proud to have been a business associate, board member, and friend with Tom during his reign at the helm of Park Industries."
When accepting the award, Schlough thanked his family, coworkers, and customers, commenting: "Customers first—you are the reason we are here. Everybody has good and bad days—and together, we can get through." Schlough reflected: "In retrospect, it wasn't always easy, but if I had known then what I know now, I would have done the same thing. It has been a great ride."
For more information on the MIA+BSI awards program, please visit www.marble-institute.com/awards.
###
About MIA+BSI
MIA+BSI, the Natural Stone Institute, serves more than 1900 members in 55 countries who represent every aspect of the natural stone industry, offering them a wide array of technical and training resources, professional development, regulatory advocacy, and networking events. Two prominent publications—the Dimension Stone Design Manual and Building Stone Magazine—raise awareness in both the industry and the design communities for the promotion and best use of natural stone. Learn more at www.marble-institute.com and www.buildingstoneinstitute.org.