Lucja Lawniczak Receives 2017 Natural Stone Scholarship
Contact:
Natural Stone Institute
(440) 250-9222
networking@naturalstoneinstitute.org
FOR IMMEDIATE RELEASE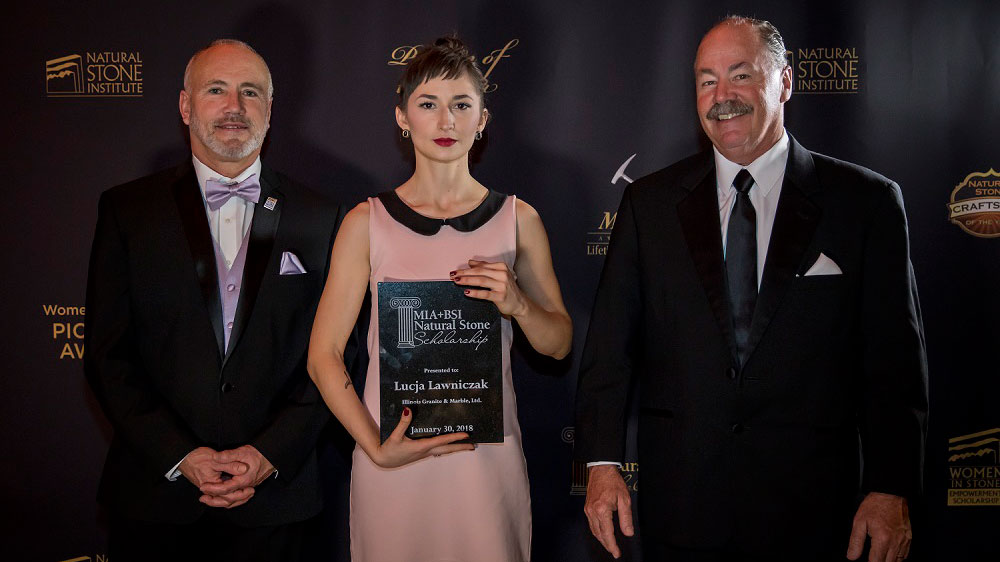 Oberlin, OH and Chestertown, NY, March 1, 2018—
Lucja Lawniczak, Showroom Sales at Illinois Granite & Marble LTD in Elk Grove Village, IL, was the recipient of the Natural Stone Institute's 2017 Natural Stone Scholarship.
Lawniczak first experienced the natural stone industry while working as a video producer for a local stone fabricator. With a strong appreciation for arts and aesthetics she was immediately taken by the beauty of stone and left that day in awe of the fabrication process. She writes: "For the first time that day I got to see slabs of pure beauty being lifted and placed gently on a table, to allow for smooth cuts through Earth's most durable material. To me, the jingle of the saw sounded sweet, and the finished product, polished to perfection, seemed like the most tangible of all rewards." She immediately began looking for a position in the field and joined Illinois Granite & Marble in 2016.
In a letter supporting her application, IGM President Tom Waclawski wrote: "Lucja is eager to learn and able to apply new skills and knowledge in terms of efficiency and creativity. We are honored to have her on our team and I believe that the natural stone industry will continue to bloom in the hands of such people."
Reflecting on her experience attending TISE for the first time as the result of the scholarship, Lawniczak commented: "I came to TISE with a list of questions, and although not all of them got answered, I found people who can point me in the right direction. This industry keeps me in awe of the generosity and accessibility of the field's veterans. I felt welcomed, and although there was a factor of intimidation, my fears were short lived."
###
About the Natural Stone Institute
The Natural Stone Institute is a trade association representing every aspect of the natural stone industry. The current membership exceeds 2,000 members in over 50 countries. The association offers a wide array of technical and training resources, professional development opportunities, regulatory advocacy, and networking events. Two prominent publications—the Dimension Stone Design Manual and Building Stone Magazine—raise awareness within the natural stone industry and in the design community for best practices and uses of natural stone. Learn more at www.naturalstoneinstitute.org.