Stone Safety and Health in Canada
FREE download of Health and Safety in the Stone Business now available in English & French.
Download the 64 page guide on safety procedures for personal protective equipment, respiratory protection, hazard communication, equipment operations, slab handling, and much more. It incorporates the content of the various Natural Stone Institute safety videos and is the perfect handout for use by natural stone fabricators and distributors for employee safety meetings and employee orientation.
Recommended for fabricators, importers, and stone distributors. This guide is based on the Natural Stone Institute technical module, Safety in the Stone Business, used by U.S. stone companies. Revisions for the Canadian complement include pertinent references to Ontario's OHS Act, Health Canada's Workplace Hazardous Materials Information System (WHMIS), Canadian Standards Association (CSA), etc.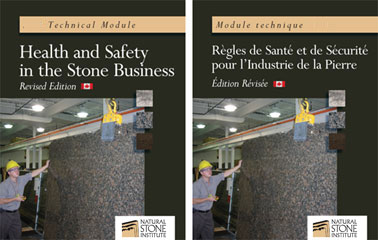 The Natural Stone Institute would like to extend a thank you to:
Infrastructure Health & Safety Association (Ontario) for their careful review and suggestions to make sure this guide had applicability in Ontario.
Granquartz Canada and Polycor for their contributions for the French translation.
Natural Stone Institute Safety Committee Members listed below.

The Natural Stone Institute Serves Stone Companies In Canada
Many the of the Natural Stone Institute's worldwide members are from Canada.
14 Natural Stone Institute CEU presentations are used to offer learning credit to architects and designers in Canada.
Canadian fabricators and installers are eligible for Natural Stone Institute Accreditation, the highest third-party credential available in the stone industry.
Several Canadian firms have been recognized for outstanding quality through the Natural Stone Institute Pinnacle Awards program.
One seat on the Natural Stone Institute board of directors is reserved for a stone professional from Canada (currently Mike Picco).
The first female Natural Stone Institute board president was from Canada. Three Canadians have served as Natural Stone Institute president over its 70 year history.
Thank you to our Safety Committee Members.