Speaker Resources
We strive to provide our Certified Speakers with the tools and resources they need to successfully present CEU's both in-person and online. If you're here to learn more about joining the program and becoming certified, welcome!

For Prospective Certified Speakers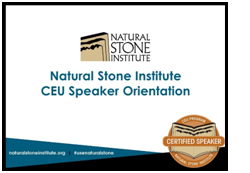 The Natural Stone Institute CEU Program is a great opportunity for our current members to get involved with NSI and help us educate our industry. Information on the many benefits to membership can be found here.
Please take some time to access our CEU Program Orientation for an in-depth overview of program offerings, enrollment and fees, and how involvement can benefit your company.
The following offerings are supported and facilitated by NSI CEU staff:
Access to nineteen turn-key authorized courses
An online dashboard for creating events and presenting on the go
Support for the creation and approval of unique courses for your organization
The opportunity to help shape our program with the CEU Education Committee
Certified Speaker Resources
CEU Events access is granted via email invitation after the steps to certification have been completed. If you can't locate your invitation, contact kris@naturalstoneinstitute.org or (440) 250-9222.
Distance Learning
Stay connected with your audiences virtually: all courses in the Natural Stone Institute CEU Program can be given via webinar as long as they are presented live with interaction between the speaker and attendees. Webinars cannot be pre-recorded and played back on demand.
A videoconferencing software such as Gotomeeting, Zoom, Microsoft Teams, Google Hangouts or Webex will be needed. For a more detailed explanation on how to schedule and present utilizing webinars, please watch the Speaker Refresher Course in the Natural Stone University.
CEU Education Committee
One of the unique benefits to the CEU Program is the opportunity for involvement in creating and updating our program's education. We look to our industry professionals to provide feedback and expertise in their fields, and also to ensure our information is current and relevant.
We are always accepting insightful volunteers! To learn more, contact Education Coordinator Kristopher Caccamise or call (440) 250-9222).