Natural Stone Foundation Donors
Leadership Society
The Natural Stone Foundation Leadership Society is comprised of the leaders and believers who are investing in the future of our industry.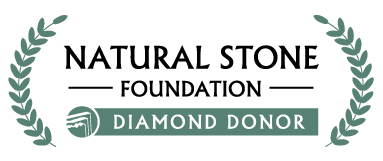 DIAMOND
$100,000+
Camarata Masonry Systems, Ltd. *
Dee Brown, Inc.*
Brenda Edwards †
MSI Charitable Trust *
Gary Mullard *
Natural Stone Institute *
Annual Auction
Triton Stone Group *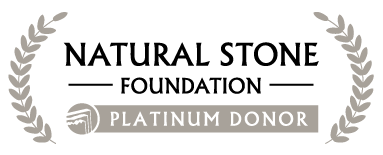 PLATINUM
$50,000-$99,999
Antolini *
Genesee Cut Stone & Marble Co. *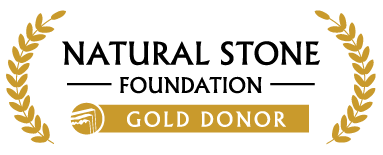 GOLD
$20,000-$49,999
Alpha Professional Tools
Jose Antonio Alva *
Arizona Tile *
BG Hoadley Quarries & Patsy Fell-Barker * †
Miles Supply *
Buddy Ontra * †
Ontra Stone Concepts * †
PICCO Engineering*
Precision Stone *
TAB *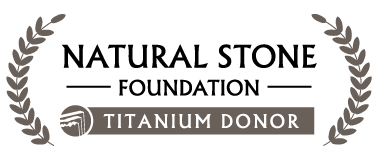 TITANIUM
$10,000-$19,999
3D Stone Inc.*
Brekhus Tile & Stone, Inc. / Jeff Brekhus & Scott Polak *
Cactus Stone & Tile
Cleveland Marble Mosaic
Continental Marble, Inc.*
Grazzini Brothers & Co.*
Halbert Mill Company *
John A. Papagiannoulis Bros S.A.*
Kingsway-The Surface Care Experts*
Leon & Hanna Zanger Foundation
StoneLoads, LLC*
Rawi & Jacqueline Tabbah / International Stoneworks *
Vermont Quarries Corp.*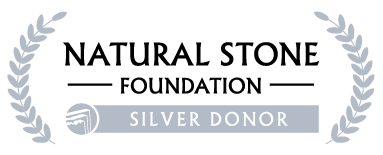 SILVER
$5,000-$9,999
Artisan Group
Artistic Tile * †
Cutting Edge Countertops, Inc.
Jim & Christa Hieb * †
Innovative Surfaces, Inc.
Lyons Sandstone *
Bob & Charlotte Paul
Valley View Granite †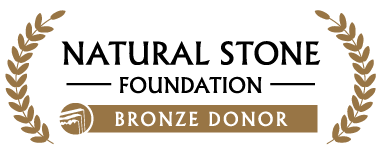 BRONZE
$1,000-$4,999
Kent Barnow
Bernard Buster
David & Daniela Carnevale
Coldspring
Joe Dellacroce
Doug & Pam Hammond * †
Brian & Wendy Kornet * †
Josh Levinson * †
Malisani, Inc.
Tony & Karen Malisani * †
John Malyshko
Marjan Stone, Inc.
Ralph Morgan
Susan Myers †
Duane Naquin * †
Northern Stone Supply, Inc.
Greg & Kari Osterhout †
Michael Picco
Quality Marble & Granite
Ramos Marble and Granite, Inc. †
Jack Seiders †
Bob & Bobbie Stasswender *
Tennessee Marble Company *
TexaStone Quarries
Tompkins Bluestone Co., Inc.
United Marble
US Stone Industries †
Via Dell'Arte Inc.
Dacia Woodworth
Robert Zavagno
---
FRIENDS • $999 and under
Amazon Smile Fundraiser
Anonymous †
Sam Arcot
Nancy Atkinson †
Jane Bennett
Oscar E. Bolivar BSIE, MBA
Bonstone Materials †
Brachot Belgium
CCS Stone, Inc. †
Connecticut Stone Supplies, Inc. †
Denise Daniels
Peter de Kok †
David Eastham
Endless Mountain Stone Co.†
Monica Gawet †
Marcette Gordon
Mariavittoria Grassi
Sarah Gregg †
Aaron Hicken
Egon & Becky Hinss
Intermac America
Claudia Jaskulski
Rich Katzmann
Lynn Kovach
LATICRETE International
Lurvey Supply
John Malyshko
Cari May
MB Stone Care Natural Stone Consulting Group LLC
Park Industries, Inc.
Jeff Pavic
Reminger Foundation
Rockheads USA
Michael Schumacher †
Kathy Spanier
TexaCon Cut Stone
Michele Valentino-Skezas
Susan Van Etten
WF Meyers Co., Inc.
Women In Stone †
Xiamen R+M International Stone
---
Thank You for Making a REAL Difference!
* Denotes a multi-year commitment.
† Denotes tribute gifts made "in honor of" or "in memory of".
List current as of March 8, 2023.