Natural Stone Institute Staff
Find out who to contact about Natural Stone Institute Programs & Resources

James A. Hieb, CAE, CEO
Jim serves as the lead advocate for natural stone. In this role, he is responsible for the strategic development and execution of the association's advocacy mission in the areas of industry promotion, membership advocacy, and advancing safety/educational programming. In his free time, Jim enjoys participating in the Oberlin Rotary Club and camping with his two sons who are active in Boy Scouts. Jim is a graduate of the University of South Dakota and Bowling Green State University. Note: CAE = Certified Association Executive.

Jane Bennett, Executive Vice President
Jane Bennett joined the BSI staff as Executive Vice President in June of 2009 coming from within the natural stone industry and bringing diverse experience from previous tourism, manufacturing, marketing and promotional employment. Her role with The Natural Stone Institute continues to be heavy in event planning, member engagement and promotion. Of key interest is her work on the Natural Stone Promotional Campaign and, together with the BNP Media group, will remain committed to strengthening and broadening Building Stone Magazine's awareness and educational components for both members and our target audience in the design and specifying communities.

Chuck Muehlbauer, Technical Director
Chuck is responsible for overseeing development and revision of all association technical documents, including the Dimension Stone Design Manual, technical bulletins, and the technical content of videos and other publications. He also serves as the primary contact for member technical questions, and provides consultative assistance to industry design professionals using natural stone products. The association offers evaluation, inspection, and dispute resolution and technical opinion services on a fee basis for both member and nonmember companies. Chuck is the sole individual performing site visits and authoring reports on behalf of The Natural Stone Institute. Site audits for Commercial A and B Accreditation candidates are also performed by him. Chuck is a frequent speaker at venues such as StonExpo, Coverings, CONSTRUCT, The Natural Stone Institute/Stone World, and AIA. Chuck represents the interests of the assocation membership (and the natural stone industry) on 7 national technical committees, including ASTM, ANSI, and other. Chuck is a graduate of the St. Cloud Technical College.

Jeff Handley, Member Relations Manager
Jeff is responsible for recruitment and retention of member companies, affinity programs, and all data and marketing efforts involved with member services. He is the first point of contact for new and prospective members, and provides additional administrative and fulfillment services for The Natural Stone Institute. Jeff managed jewelry stores for over a dozen years before moving up to bigger and better stones. He is an avid reader that enjoys spending time with family and friends. Jeff is a graduate of the University of Toledo. Contact Jeff if you would like to:

Update your company information.
Add/ remove additional employees to the company record.
Create a payment plan to keep your membership up to date.
Request a mailing list of fellow Natural Stone Institute members. (Note: it is Natural Stone Institute policy that we do not share email information electronically.)
Network with a fellow member that is out of your market.
Get more information on Endorsed Partner Programs.
Nominate a non-member company for membership.
Join the membership welcome committee.

Michael W. Loflin, Industry Research & Information Manager
Mike supports the Technical Department editing Technical Bulletins, Modules and Design Manual revisions in addition to fielding calls from consumers and assisting member companies, designers, architects and contractors by providing answers to a variety of technical questions concerning the use of natural stone. He maintains the 'Statistics' and 'Safety' pages on our website and manages association health and safety initiatives. Mike's contributions to our newsletter, Cutting Edge, include the 'Safety Tip of the Month' and the 'Here and There' column. He is a member of ASTM E60 Committee on Sustainability. He and his wife reside in Oberlin, OH where he chairs the city's Civil Service Commission. Mike is a graduate of The Ohio State University and Kent State University (EMBA).

Aaron Dahnke, CAE, Education Manager
Aaron is responsible for leading the association's education/training programs which include: stone related training at major industry tradeshows, The Natural Stone Institute/Stone World regional education program, delivery of CEU credits to the design community (managed by Sarah Gregg), and resources from the association bookstore. Aaron is also involved in The Natural Stone Institute's Chapter program. He resides in Westlake and is a graduate of Ohio University, where he earned both bachelor's and master's degrees.

Mark Meriaux, Accreditation and Technical Manager
Mark is responsible for leading the Accreditation program and responding to general technical inquiries. He helps applicants with accreditation requests, processing applications, managing the online exams, and coordinating site visits. He communicates with accredited members about program enhancements and opportunities, and works with leading design firms, general contractors, specifiers, and owners promoting The Natural Stone Institute standards and advantages of working with accredited companies. Mark also works with Chuck and Mike to provide technical assistance for members and design professionals. He joins our technical team in maintaining The Natural Stone Institute documents including DSDM, technical modules, technical bulletins, safety manuals, videos, and the member newsletter. Mark entered the stone industry in 2002 when he was an owner/operator of a countertop fabrication shop in Atlanta, GA. He has worked in various roles in stone sales, commercial project management, and technical support prior to joining the Natural Stone Institute team. Mark is a Mechanical Engineering Technology graduate of Kennesaw State University.

Terri Hewlett, Office Administration
Terri's is the first voice you will hear when you call the Natural Stone Institute. Not only does Terri handle the phones at the Natural Stone Institute, she processes and fulfills Natural Stone Institute Bookstore orders. She is also responsible for scheduling many of our social media posts, press releases and e-bulletins. Terri lives in the Oberlin area with her husband and 2 children.

Sarah B. Gregg, CEU Administrator
Sarah serves as the point of contact for member inquiries, enrollment, and utilization of the CEU program. She also administers the Women in Stone initiative by organizing meetings and providing support for the steering & subcommittees. In 2005, while working as marketing coordinator at an MIA member fabrication company, she was announced the winner of the MIA Natural Stone Scholarship Award. Throughout her career she has become very involved in serving the marketing needs of granite countertop fabrication companies; through in house positions and freelance projects. She holds a degree in Sales, Marketing, & Management from Northwestern Technical College in Moorhead, MN.

Amy Oakley, Communications Manager
As Communications Manager, Amy works to "tell the story" of the association and natural stone through articles, press releases, and social media posts. She edits the newsletter and works with industry professionals and freelance writers to create content for the Natural Stone Promotional Campaign and other projects. Amy is originally from Youngstown, Ohio and holds an M.A. from Carnegie Mellon University and a B.A. from Malone University. She spends her free time reading and traveling as much as possible.

Pam Hammond, Executive Administrative Assistant
In her role with the Natural Stone Institute, Pam provides direct administrative support to the CEO by overseeing a wide array of functions which lend themselves well to her past association experience. Pam first fell in love with nonprofits having worked nearly 11 years for the National Association of College Stores, Inc. (NACS). Here, she developed an appreciation for charitable organizations serving as the NACS Foundation's program manager executing a full range of development events, grant administration and managing their fundraising activities. Pam resides in Oberlin with her husband Doug and their three children in their historic home –part of the family's original 180 year old homestead. In her spare time, she enjoys watching her children's sports and musical activities, riding horses, helping her husband with his landscape business and gardening.

Gina De Nardo, Special Events Coordinator
Gina De Nardo has joined the staff in the NY office as a Special Events Coordinator. She is a past, part-time employee of the BSI (2011 – 2012) and assisted with the Vermont Study Tour, Carlsbad Annual Convention, and the St. Louis Tucker Design Awards. Bringing a creative element to the NY staff, she will primarily partner with EVP Jane Bennett in planning Natural Stone Institute networking events, awards programs and design community trade expos, and will lend her skills in further transitioning the website to reflect the joined association. Gina has previous stone industry experience through her former communications role and freelance work with local quarries. She holds a BFA in Graphic Design from The College of Saint Rose and has been working as an independent designer for many years.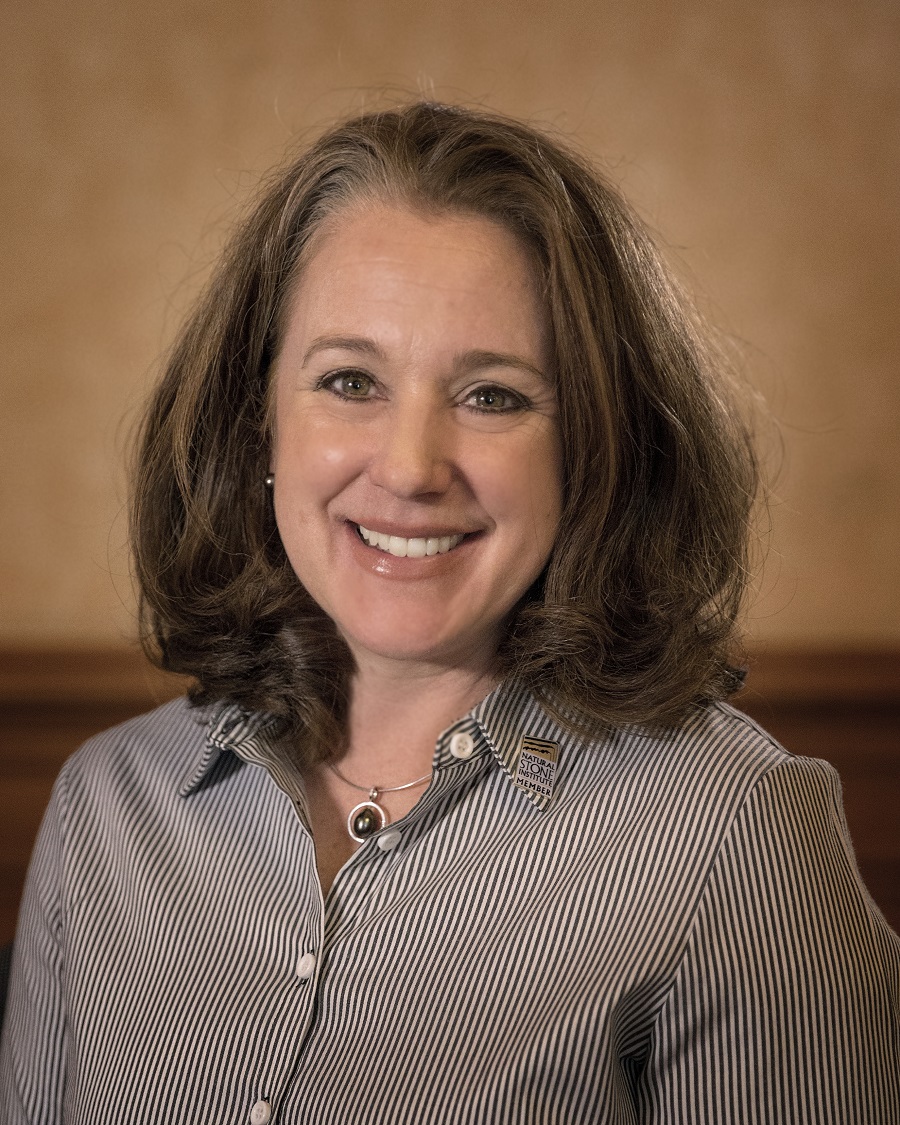 Dacia Belisle Woodworth, Architect & Design Community Liaison and Special Projects Manager
Dacia is a past board member who has served as an active volunteer with many Natural Stone Institute programs, including Women in Stone and the CEU program. She has worked in the natural stone industry since 2001 in a variety of roles including project management, sales and marketing, education, and technical assistance.