International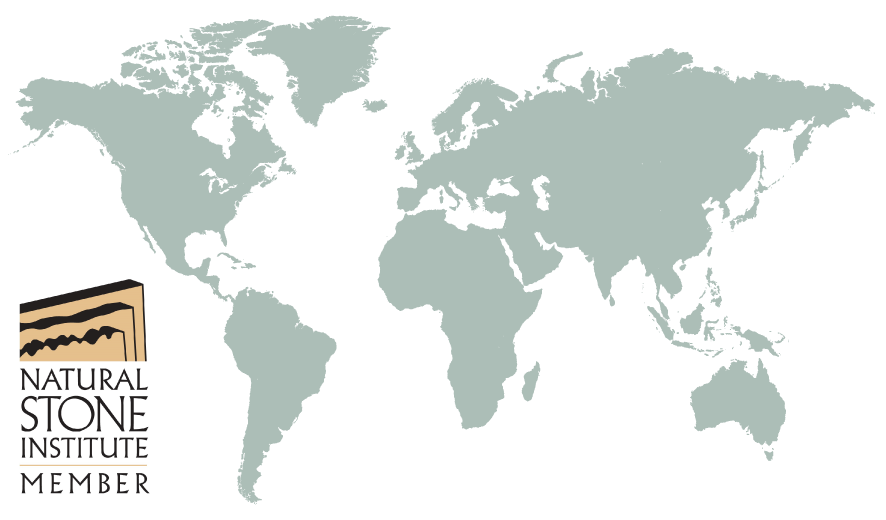 Thank you for your interest in The Natural Stone Institute. Over 12% of The Natural Stone Institute membership is from outside North America and growing.
Why Membership?
The Natural Stone Institute is your connection to the world's largest dimension stone market! Access, networking, technical support, promotion, and referrals are among the top reasons to join today.
Access
To connect to the world's largest dimension stone market, the Natural Stone Institute helps you stay informed, explore new markets, and showcase your business to other Natural Stone Institute members worldwide.
Networking
Become part of The Natural Stone Institute's worldwide community with unlimited networking opportunities.
Technical Support
Free copy of the Dimension Stone Design Manual (the U.S. stone industry's single source reference for dimensional stone design and construction specs and details).
Promotion
Free use of the The Natural Stone Institute member logo on your website, business cards, and brochures. Company listing on the Natural Stone Institute website (the most utilized website in the stone industry).
Referrals
From the Natural Stone Institute's online directory by others wishing to source stone and equipment. The Natural Stone Institute website receives over 1.2 million hits monthly.
Professionalism
The Natural Stone Institute member certificate to showcase your membership status.
---
The Natural Stone Institute International Directors
Six (6) of the thirteen (19) Natural Stone Institute board members are from outside the U.S. Meet the board.
---
Notable International Highlights
June 2015 - MIA Hosts Organizers of the Xiamen Stone Fair at the MIA Headquarters in Ohio USA
May 2015 - MIA Technical Expertise Showcased at the Middle East Stone Show
April 2015 - MIA Networking Reception Brings Together Over 550 Stone Professionals from Around the World
March 2015 - MIA member reception (happy hour) scheduled to occur at Coverings on April 15th from 5:30pm to 7:00pm.
February 2015 - Revista Rochas de Qualidade (Quality Rocks Magazine) - a leading stone trade magazine in Brazil - conducted an interview with MIA president Dan Rea.
January 2015 - International directors to meet at StonExpo to review new "Supplier to Buyer Stone Manual" slated to debut in 2015.
December 2014 - MIA to work with AEMA to translate the Dimension Stone Design Manual into Spanish. In discussions with Abirochas (Brasil) for a Portuguese translation.
November 2014 - MIA Receives Macael Award in Spain from the Asociación de Empresarios del Mármol de Andalucía (AEMA).
September 2014 - MIA recruits new members at Marmomacc and hosts first annual "Stone Industry Leadership" reception.
August 2014 - MIA on schedule to present six educational seminars at May 2015 Middle East Show in Dubai.
April 2014 - MIA releases Canadian Stone Safety Manual
February 2014 - MIA renews relationship with Vericore to provide "collections" services for members at discounted rates.
November 2013 - MIA publishes two new studies to confirm worker safety (radon) in granite quarries and fabrication facilities.
September 2013 - MIA exhibits at Marmomacc in Verona Italy for 10th consecutive year.
August 2013 - MIA Dimension Stone Design Manual posted to Australian Stonemasonry School's online intranet library.
June 2013 - MIA launches first "MIA chapter" outside of U.S.
May 2012 - MIA introduces stone industry statistics online (www.marble-institute.com/data).
November 2011 - MIA accredits first Canadian Company.
October 2010 - Deutscher Naturwerkstein-Verband e.V, of Germany joins MIA at MARMOMACC 2010.
May 2010 - CDOS, The Centre for Development of Stones, joins MIA at Coverings 2010.
February 2010 - MIA attends China Xiamen International Stone Fair.
October 2009 - MIA's CEU Program, (Continuing Education Unit) is adopted by international member Lundhs AS of Norway, as part of their education program for Architects and Designers.
January 2009 - Gary Distelhorst, MIA's CEO travels to Vitoria Fair in Brazil to present a Stone Industry State of the Union address.
October 2008 - Euro-Roc Joins MIA at MARMOMACC 2008.
October 2008 - Union of Stone & Marble Industry Palestine joins MIA at StonExpo 2008.
August 2008 - CENTROROCHAS joins MIA. In October 2008, CENTROROCHAS makes a substantial donation to the Truth About Granite (TAG) Fund. The TAG fund helps MIA scientifically refute unsubstantiated claims regarding radon in granite. MIA would go on to raise over $1 Million USD to scientifically study and confirm the safety of granite for use in the home.
June 2008 - The Australian Stone Advisory Association Approaches MIA to adopt the Dimension Stone Design Manual for use in Australia.
April 2007 - TUMMER, recognizes MIA for its "Interest, support, contribution, and kind approach to TUMMER."
December 2006 - TUMMER, the Turkish Marble, Natural Stone & Machinery Manufacturers Association, joins MIA.
June 2005 - MIA produces its safety training program in Spanish.
June 2002 - The Stone Federation of Great Britain joins MIA, and the two organizations allow online access to each other's technical documents.
January 1978 - The first international member company joins MIA.
---
The Natural Stone Institute in the News
May 2017 – Stone testing lab available to association members
April 2017 – Member networking reception at Coverings draws record crowd of 756 people
March 2017 – Centrorochas (Brazil) renews commitment to support the Natural Stone Promotional Campaign in 2017
March 2017 – Member delegation attends Xiamen Stone Fair
January 2017 – International board members attend meeting in Las Vegas to chart direction for 2017
December 2016 - Belgian Stone Federations support MIA+BSI's Natural Stone Promotional Campaign
November 2016 - Herwig Callewier, Chairman of Beltrami N.V., and Ali Kader, President and CEO of Egy-Mar International join MIA+BSI Board of Directors.
November 2016 – Natural Stone Supplier-to-Buyer Manual published to establish industry standards and best practices for domestic and international suppliers and buyers of natural stone.
October 2016 – Canadian wins first Women in Stone Empowerment Scholarship.
September 2016 – MIA+BSI sends delegation to Marmomac
May 2016 – Spanish safety poster set introduced
April 2016 - Rugo Stone, LLC Wins 2016 "Best Use of Carrara Marble in North America" Award
March 2016 – MIA+BSI provides education at the Xiamen Stone Fair
February 2016 – Vitoria Stone Fair honors MIA+BSI "Kitchen of the Year" and "Bath of the Year" winners
---
"The Natural Stone Institute connects me with some of the most progressive, prestigious and quality-minded organizations worldwide." —Giovanni D'Angiolo, ITALY
(Natural Stone Institute International Director)