Natural Stone Institute Announces 2018 Pinnacle Award Winners
Contact:
Natural Stone Institute
(440) 250-9222
networking@naturalstoneinstitute.org
FOR IMMEDIATE RELEASE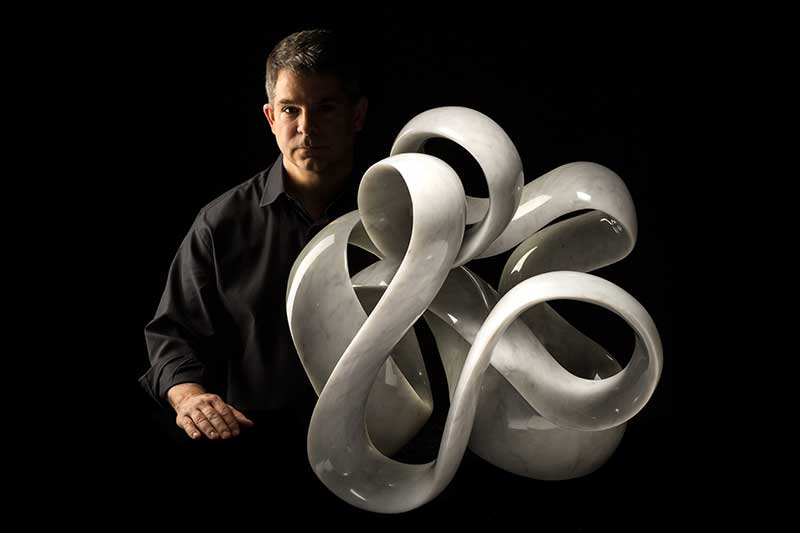 Oberlin, OH, January 30, 2019—The winners of the 2018 Pinnacle Awards were announced during the Natural Stone Institute Awards Ceremony at TISE 2019 in Las Vegas, NV. Fourteen projects were honored with Awards of Excellence, and the best overall project was selected for the Grande Pinnacle Award. The 2018 Grande Pinnacle Award was presented to Mario & Son (Liberty Lake, WA) for their work on Aura.
Carrara marble conjures thoughts of elegance, timelessness and refined taste, begging to be caressed and admired. Aura is as much about the marble as it is the spaces in between, conveying a light and airy feel, a startling juxtaposition to what one typically associates with heavy, rugged stone.
The stone needed to be solid and dense enough to retain structural integrity when carved thinly with a lot of negative space. An eight cubic foot, half ton block of statuary grade Bianco Carrara C marble was sourced in Pietrasanta, Italy and meticulously tested for any fissures. It would ultimately be reduced down to a mere eighty pounds, while retaining most of the original volume. Inside this framework is a continuous band, weaving in and out of itself, playing with light and shadow among suggestively feminine curves. The luminous nature of the stone allows light to penetrate the thin edges producing a glowing halo effect, hence the title of the sculpture, Aura.
The sixteen month execution of this work began as a small metal ribbon bent into a pleasing, asymmetrical shape, capable of being displayed and viewed from multiple perspectives, with no defined "base." Utilizing modern technology, this metal prototype was digitally scanned and refined within a 3D computer modeling program, and eventually 3D printed to scale in plastic. An Old-World measuring device, the Macchina di Punta, was employed to mark specific points on the model that were transferred to the block, allowing the shape to be copied into the marble by hand, in the tradition of the Old Masters. Hammer and chisel methods eventually had to yield to hand-held, rotary abrasives, as the piece became thinner and more fragile. The entire piece was meticulously hand sanded to achieve the deepest and most spectacular polished finish.
The judges commented: "Never before in my forty years in this industry have I seen anything as creative. Non-traditional choice—we have never chosen a piece of art for this award. This is the type of project that makes one ask: 'that was done in stone?'"
The full list of Pinnacle Awards of Excellence winners are as follows:

Commercial Interior
Rugo Stone, LLC
Lorton, VA
2000 L Street Alexander Court
Washington, DC
Commercial Interior
Columbia Stone, Inc.
Tualatin, OR
Apple Steve Jobs Theater
Cupertino, CA
Commercial Interior
MM Galleri by Sharikat Stone
Singapore
Bent and Light Singapore Showroom
Singapore
Renovation/Restoration
TexaStone Quarries
Garden City, TX
Eggemeyer's General Store
San Angelo, TX
Commercial Exterior
TAB India
Hosur Taluk, India
The James Museum of Western and Wildlife Art
St. Petersburg, FL
Commercial Exterior
Dan Lepore & Sons Company
Conshohocken, PA
LDS Philadelphia Pennsylvania Temple
Philadelphia, PA
Renovation/Restoration
Carnevale & Lohr, Inc.
Bell Gardens, CA
Neptune Pool
San Simeon, CA
Public Landscapes/Parks/Memorials
Las Vegas Rock
Jean, NV
The Park at MGM Resort
Las Vegas, NV
Renovation/Restoration
Delta Stone Products
Heber City, UT
Provo City Center Temple
Provo, UT
Commercial Interior
Rugo Stone, LLC
Lorton, VA
Sacred Heart Cathedral
Knoxville, TN
Residential Single Family
Continental Cut Stone
Florence, TX
Urban Villa
New Orleans, LA
Commercial Interior
SMG Stone Company, Inc.
Sun Valley, CA
Waldorf Astoria Hotel
Beverley Hills, CA
Architectural Carving/Lettering/Sculpture
Andrusko Group
Portland, OR
Winged Goddess of Victory
Portland, OR
The Natural Stone Institute would like to thank the sponsors of the 2018 Pinnacle Awards: Marmomac (Grande Pinnacle Award), MAPEI (Commercial Awards), GranQuartz (Residential Awards), and Coldspring (Renovation/Restoration Awards).
###
About the Natural Stone Institute
The Natural Stone Institute is a trade association representing every aspect of the natural stone industry. The current membership exceeds 2,000 members in over 50 nations. The association offers a wide array of technical and training resources, professional development opportunities, regulatory advocacy, and networking events. Two prominent publications—the Dimension Stone Design Manual and Building Stone Magazine—raise awareness within the natural stone industry and in the design community for best practices and uses of natural stone. Learn more at www.naturalstoneinstitute.org.