Natural Stone Institute Receives Pillar Award
Contact:
Natural Stone Institute
(440) 250-9222
networking@naturalstoneinstitute.org
FOR IMMEDIATE RELEASE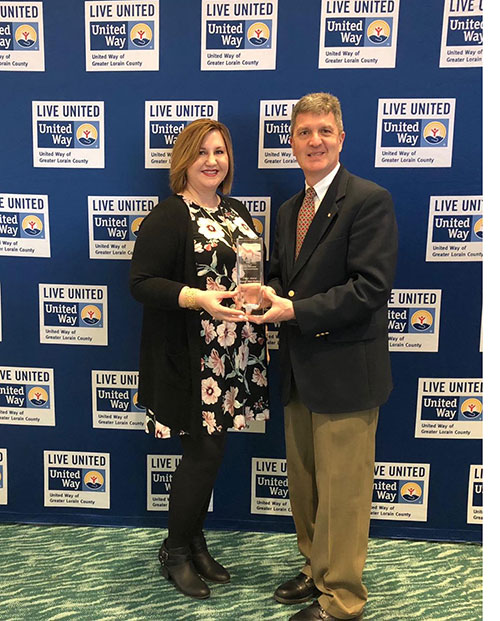 Oberlin, OH, April 30, 2019—Natural Stone Institute has been presented with the United Way of Great Lorain County's Pillar Award. The award was presented during United Way's Annual Celebration of Community Impact.
The Pillar Award acknowledges organizations with the largest percentage increase in employee participation by size of company. Natural Stone Institute staff began volunteering and making financial contributions to the United Way in late 2018.
Natural Stone Institute CEO Jim Hieb commented: "It has been rewarding and invigorating to see our staff get involved with United Way over the past few months. We incorporated these efforts into a team-building exercise at our last staff retreat, and employees in our Ohio office have volunteered with several local United Way programs, including a local food bank for seniors. Although we are a global association, it is important for us to remember that there is much to be done in our local communities. We look forward to continuing to support United Way throughout 2019 and beyond."
Photo caption: Natural Stone Institute's Pam Hammond and Jim Hieb accepted the Pillar Award at United Way's Annual Celebration of Community Impact.
###
About the Natural Stone Institute
The Natural Stone Institute is a trade association representing every aspect of the natural stone industry. The current membership exceeds 2,000 members in over 50 nations. The association offers a wide array of technical and training resources, professional development opportunities, regulatory advocacy, and networking events. Two prominent publications—the Dimension Stone Design Manual and Building Stone Magazine—raise awareness within the natural stone industry and in the design community for best practices and uses of natural stone. Learn more at www.naturalstoneinstitute.org.