Natural Stone Institute Completes Two Homes with Gary Sinise Foundation
Contact:
Natural Stone Institute
(440) 250-9222
networking@naturalstoneinstitute.org
FOR IMMEDIATE RELEASE
Oberlin, OH, March 19, 2019—The Natural Stone Institute has provided natural stone and fabrication services for two homes with the Gary Sinise Foundation's R.I.S.E. program (Restoring Independence Supporting Empowerment). The R.I.S.E. program builds specially adapted smart homes for severely wounded veterans and first responders. To date, Natural Stone Institute members have been involved in twenty-one completed homes.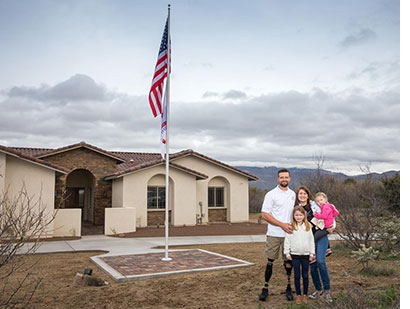 Natural stone and fabrication for US Army Sergeant First Class Caleb Brewer and his family in Arizona were provided by Arizona Tile and Picasso Tile & Stonework.
Caleb Brewer enlisted in the Army Reserves as an Intelligence Analyst in 2005. On his 31st birthday in 2016, while deployed to Afghanistan, a pressure plate IED detonated beneath Caleb. Seeing his own right leg missing, Caleb immediately applied a tourniquet. His teammates rushed to his aid and took him to safety. Caleb suffered bilateral leg amputations and severe infections, blood clots, and blood loss from the blast. Three months later, at Brooke Army Medical Center, Caleb learned to walk on a single prosthetic leg. Achieving goals that were set early on, Caleb relearned to surf, shoot, run, and rock climb with his new prosthetic legs. A positive support network, excellent medical care, and hard work helped him complete events such as the Army 10 Miler run and the Bataan Memorial Death March.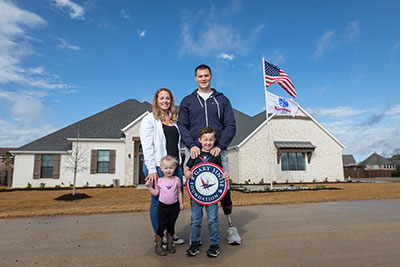 Natural stone and fabrication for US Army Captain Jake Murphy and his family in Texas were provided by Salado, MSI, and Dee Brown, Inc.
A graduate of West Point, Jake Murphy deployed to Kandahar, Afghanistan as the executive officer of his platoon. In 2011, while on a mission in the Regional Command South area, a pressure plate IED detonated beneath Jake, immediately taking his left foot and causing an anoxic brain injury that put him in a coma. Jake was evacuated to Germany for treatment, where doctors informed his family Jake may never wake up. While in Germany, Jake's right leg was amputated. Against all odds, Jake emerged from his coma four weeks later. He then was flown to Walter Reed National Military Medical Center where his left leg was amputated above the knee, leaving Jake a double amputee. With his wife Lisa always by his side, Jake has learned to walk with prosthetic legs.
Laura Grandlienard (ROCKin'teriors), chair of the Natural Stone Institute R.I.S.E. committee said: "Being involved with the R.I.S.E. program enables our industry to take a leadership role in supporting these veterans and their families who have endured so much to protect our freedoms. We feel tremendous pride in sharing our talents for such an important cause. It's a beautiful feeling to say 'welcome home' to these heroes."
51 Natural Stone Institute members have donated their time, products, and services to this cause since 2016. A list of all donors can be found at www.naturalstoneinstitute.org/RISE. Stone companies interested in getting involved with future projects are encouraged to contact Pam Hammond at pam@naturalstoneinstitute.org.
###
About the Natural Stone Institute
The Natural Stone Institute is a trade association representing every aspect of the natural stone industry. The current membership exceeds 2,000 members in over 50 nations. The association offers a wide array of technical and training resources, professional development opportunities, regulatory advocacy, and networking events. Two prominent publications—the Dimension Stone Design Manual and Building Stone Magazine—raise awareness within the natural stone industry and in the design community for best practices and uses of natural stone. Learn more at www.naturalstoneinstitute.org.