Bernie J. Polak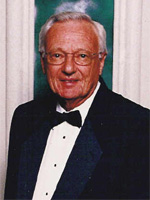 The MIA is pleased to present the 2006 lifetime achievement award to Bernie J. Polak. Bernie Polak started in the stone industry in 1955 as a 20 year old marble finisher. In 1977, when the owner of the Denver Mantle and Tile Company, his long time employer, decided to retire, Polak took over the reigns as its proprietor and renamed the firm, the Denver Marble Company. Polak has worked with architects, designers, and contractors to create some of Denver's most memorable structures, including the Denver Airport, the Denver Art Museum, the United Bank Building, and many others. The company is also renowned for its residential work in the resort areas of Colorado, and high-end residential projects in Wyoming, Montana, and Ohio.
Polak and Denver Marble joined MIA in 1982 and 10 years later became its president. Polak generously shared his love and knowledge of the stone business with many others, including several persons who now operate their own successful stone businesses. His sons, Mark, Greg, and Scott are now involved in the Denver Marble Company.
Mr. Polak was presented with his lifetime achievement award on November 10, 2006.