Migliore Award for Lifetime Achievement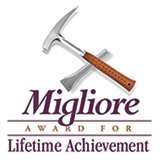 This award was established in 2003 to recognize an individual who has made extraordinary contributions to the natural stone industry and the association. The award is named for MIA's long-time Technical Director, the late Vincent R. Migliore, who was its first recipient. Award winners are chosen by a panel of judges including the Natural Stone Institute Board of Directors and Past Presidents from nominations submitted by The Natural Stone Institute membership.
Selection Criteria
Successful and notable accomplishments within the framework of a professional career in natural stone;
The intensity of involvement and dedication to the activities and objectives of The Natural Stone Institute;
Contributions made to furthering professionals within the natural stone industry;
National recognition, competence, or contributions to other associations and organizations serving the natural stone industry.
Entry Deadline: May 20
Current Recipient
Past Award Recipients
2021 — Brett Rugo, Rugo Stone
2020 — Barbara Cohen, Miller Druck Specialty Contracting
2019 — Jack Seiders, Architectural Granite & Marble
2018 — Peter de Kok, GranQuartz
2017 — Jim Hogan, Carrara Marble Company of America
2016 — G.K. Naquin, Stone Interiors
2015 — Tom Schlough, Park Industries
2014 — Jeffrey Matthews, Trade International, Inc.
2013 — Jesús González III, MARBLE WORLD, S.A. DE C.V.
2012 — Paul Vigna, Artisan Tile and Marble Company of New Jersey, Inc.
2011 — Ronald (Ron) Alan Busse, Busse Marble Company
2010 — Chester A. Smith, Chester A. Smith, Inc.
2009 — Terry O'Neill, Columbia Marble Company, Inc.
2008 — Louie Carnevale, Carnevale & Lohr, Inc.
2007 — Vic Green, VIC International
2006 — Bernie J. Polak, Denver Marble Company
2005 — Malcolm Cohen, Miller Druck Specialty Contracting Co.
2004 — Joe Kapcheck, J. Kapcheck & Company
2003 — Vincent R. Migliore, Marble Institute of America