Certified Stone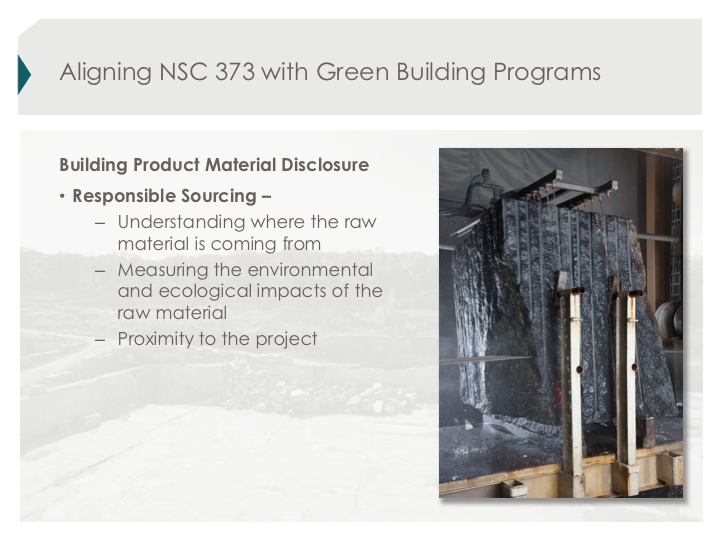 AIA Course Number: NSI14, 1 LU/HSW
IDCEC: 105465, Subject Code: 5.20, 0.1 HSW CEU
LACES Course Number: NSI14, 1.0 HSW
GBCI: 0920008691, 1CE Hour

CEU Course for architects & designers
Why Specify Certified Stone | How the Natural Dimension Stone Sustainability Standard can Assist Green Building Projects
This course highlights how the dimension stone sustainability standard (ANSI/NSC 373) can assist projects with sustainability goals. The standard examines and verifies through a third party, numerous areas of stone production such as: water usage, custody and transportation, site and plant management, land reclamation, corporate governance, energy, waste, chemicals, worker health and safety and innovation credits. It also includes a companion Chain of Custody (COC) program, which ensures traceability of certified stone from the quarry to processing and throughout the supply chain and ultimately to their journeys end.
Learning Objectives Include:
Understand the basic principles of the standard's Chain of Custody (COC) to recognize efforts natural stone quarries, processors and their distribution chains make to verify a dimensional stone product has been produced and transported in an environmentally preferable manner consistent with the principles of sustainability
Interpret how compliance to the Natural Dimension Stone sustainability standard's environmental, ecological, human health and social responsibility requirements for stone quarrying and production satisfy the growing demand for products that exhibit high performance in Life Cycle Assessment.
Compare attributes of the certified natural stone to sustainability measuring requirements of the most widely accepted green building programs such as LEED - Leadership in Energy and Environmental Design, LBC - the Living Building Challenge and IGCC - International Green Construction Code, to enhance appreciation for the use of natural stone as a leading sustainable building material.
Design/Landscape Architects & Specifiers will benefit from understanding how this standard supports the growing demand for rigorous environmental documentation for building product material.